Volvo excavators key to Tervita's strategy on the road to continued growth in scrap recycling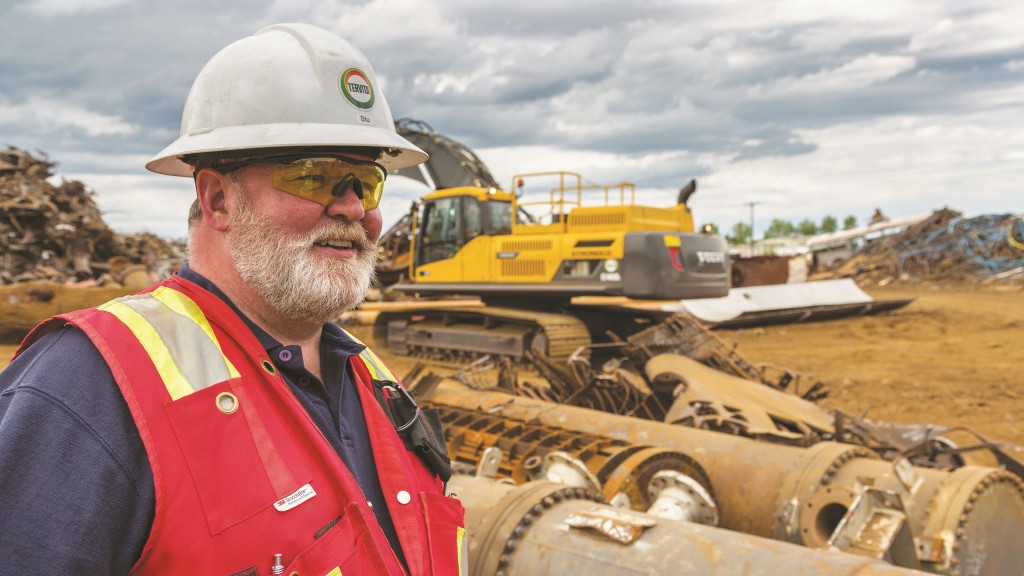 Early every morning when general manager Stuart Sharpe and his team arrive at the sprawling Tervita Metals Recycling worksite, located in northeast Red Deer, Alberta, they gaze over tons and tons of what others would call junk. But their eyes see nothing but treasure. This massive 17-acre site is the headquarters of Tervita's metal recycling operation. From above, it looks like a maze created from every type of scrap metal imaginable. There are damaged railcars, rows of worn railcar wheels, expired city buses, kilometres of used gas-field piping, expendable parts from oil wells, drill rigs, bitumen concentrators, cooling radiators and heating units and parts from gas refineries.
Tervita Metals Recycling, a division of Alberta-based Tervita Corporation, also has satellite operations in Peace River and Fort McMurray, Alberta. With over 2,000 employees in Canada and the U.S., Tervita Corporation is a leading environmental solutions provider and sustainability partner to a growing number of North American oil, gas, mining and industrial operations.
Sharpe and his team at Tervita Metals Recycling collect their scrap in a variety of ways. The company has a series of dumpsters placed at strategic locations throughout central Alberta, provides on-site demolition and metals reclamation for industrial customers, and they purchase scrap metal from the public.
Unique to the company is their rail salvage operation. Currently, this division is under contract to Canada's two major railways – Canadian Pacific and Canadian National – and is on standby 24/7. Sharpe notes that time is always of the essence for this division. Should there be an accident or derailment, Tervita gets the call to clear the track and salvage the damaged railcars and rails.
The oil and gas industry is also a key source of materials for Tervita, which provides on-site demolition and metal reclamation services for a number of Canada's major producers, including Suncor and Shell.
Lighter shears enable smaller carriers
When scrap metal is brought into Tervita's yard, it's weighed and checked for any form of contamination, including radiation. Once cleared, it's sorted into ferrous and nonferrous material, then processed and cut into marketable dimensions, bundled, sold and shipped by rail to mills in Canada and the U.S., and by rail and ship overseas.
It's at the sorting and cutting stage that the need for heavy, tracked equipment comes into play. Currently, in Tervita's Red Deer yard, they have five hydraulic shears and four large, track-mounted crawler excavators for handling scrap. These machines were supplied by Volvo Construction Equipment through their local dealer partner, Strongco. In fact, the last four crawler excavators Tervita has purchased have been Volvo, including EC340, EC350 and EC380 models, and their most recent purchase, an EC480D.
Their new 50-ton, 373-hp Volvo EC480D crawler excavator, like their smaller machines Tervita says, is an ideal shear carrier for their operations, due to its high reach, excellent lifting power and more than adequate hydraulic pressure. Plus, with an overall width of only 11 feet, 11 inches, their EC480D is easy to transport and capable of working well in tight quarters.
"Typically, in the past we have run 45- to 50-ton machines," explains Sharpe. "But since hydraulic shears have improved and gotten lighter and more powerful, we can now run good, solid shears on smaller carriers. These lighter machines are more fuel-efficient and easier to transport and maneuver.
"Outside of the new EC480D, we have been deliberately moving from larger machines," continues Sharpe. "We can run the new generation of shears on 35- to 40-ton machines. This gives us lower initial capital outlay, lower operating costs, much better fuel economy and the agility to move quickly to the scrap. I know that gives us a competitive advantage in this business."
Sharpe says the reason they selected Volvo machines came down to reliability and low operating costs.
"As part of a large corporation, we have to go out to bid, and we go out to all of the manufacturers when we are looking for carriers for our shears," says Sharpe. "The last four machines we've purchased have been Volvo because of the great value and price point."
Cleaning Up in Record Time
This past winter, the Tervita Rail Salvage Division was called out to Churchill, Manitoba, on the shores of Hudson Bay, to deal with a legacy rail accident for the Hudson Bay Railway Company. The company loaded their Volvo EC380 with a hydraulic shear and moved it across three Canadian provinces to Churchill, where they cleaned up the accident and decommissioned a number of outdated railcars. The scrap was then loaded directly on to railcars and shipped to mill.
According to Tervita, it was an incredibly challenging job – the machine and crew were 30 kilometres south of Churchill in the wilderness, in a bitter cold of minus 30 degrees Celsius, and at the time of year when darkness lasts for 20 hours of the day. Still, both the team members and the Volvo EC380 proved up to the challenge ­– and the job was completed in record time.
Approval from the field
Tervita's Quang Nguyen has been operating excavators and tracked shears for more than 35 years. His experience began in scrapyards in his native South Vietnam, as well as Hong Kong, Macau and China. For the past 30 years, he has been working at scrapyards in Canada. According to the company, he is a respected expert on using a combination of crawler excavators and hydraulic shears in metal processing applications. So much so that companies including hydraulic shear manufacturer Genesis and Volvo Construction Equipment have come to him for input with respect to product development.
As of late, Nguyen has been operating Tervita's newly purchased Volvo EC480D. He says while he's operated an extensive number of excavator brands, he really appreciates the comfort and visibility of the Volvo cab, and the power the machine offers. "[The Volvo] has a lot of power to operate the shear and the cab is excellent," Nguyen says.
This article was originally published in Recycling Product News, Volume 24, Number 7.
Company info
Related products