Dart joins as 25th Member of The Recycling Partnership
Non-profit continues to work towards improving recycling in the U.S.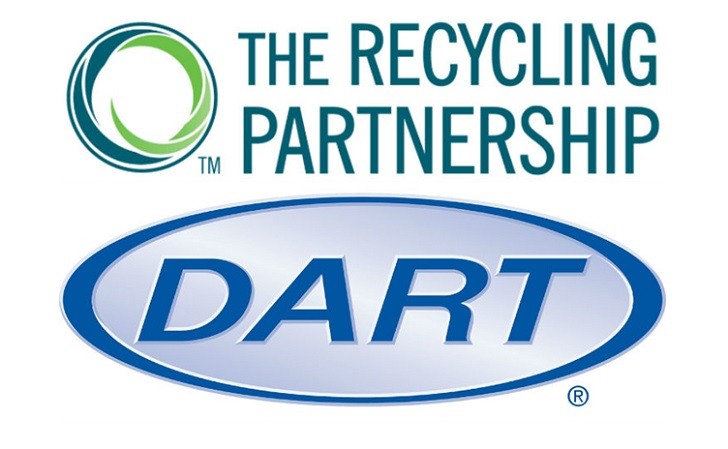 Marking a major milestone, the U.S. based non-profit, The Recycling Partnership proudly welcomes its 25th funding partner, Dart Container Corporation. According to the Recycling Partnership, Dart's long-standing commitment to recycling pairs well with The their real world, systems-based approach, making yet another smart partnership for both organizations.
"It is because of businesses like Dart Container Corporation, with its dedication to recycling, that we are continuing to make strides to build a sustainable future," said Keefe Harrison, Executive Director of The Recycling Partnership. "Each of our funding partners expands our reach and furthers our ability to deliver the game-changing tools, insights and resources that elevate the recycling industry to the next level."
Over the last two years, The Recycling Partnership has helped catalyze $21 million of new recycling infrastructure through grants and on the ground technical support, positively impacting more than 2 million households. In the coming months, The Partnership expects to complete placement of more than 300,000 new curbside recycling carts, each of which will capture new recycling tonnage for manufacturing feedstock.
"As one of the founding members of The Recycling Partnership, it's particularly rewarding to walk into our packed funder meetings and collaborate with such diverse and dedicated stakeholders," said Megan Daum, Vice President of Sustainability, Can Manufacturers Institute and current Board Chair of The Partnership. "The Partnership is industry savvy and action focused, and there is no better ROI for companies that want to see their contribution dollars make positive, sustainable change in our country."
According to the Recycling Partnership, the organization is delivering value to local recycling programs in three key areas: fighting contamination, boosting participation, and rolling out cart-based collection. Beyond the hands-on work, since August, communities representing 11 million households have downloaded free online open source tools and resources from The Partnership, furthering the group's reach in improving U.S. recycling.
"Efficiency is Dart's cornerstone, and environmental stewardship is core to our work," explained Michael Westerfield, Director of Recycling for Dart Container Corporation. "The Recycling Partnership uses its insights, networks, and funding dollars to efficiently leverage improvements across the domestic recycling industry. They've proven themselves in the marketplace, and we are excited to join with their other funding partners to further this great work."