Lystek celebrates grand opening of first biosolids processing centre in U.S.
Lystek's patented, low temperature Thermal Hydrolysis Process to divert biosolids and organics from landfills to produce LysteGro fertilizer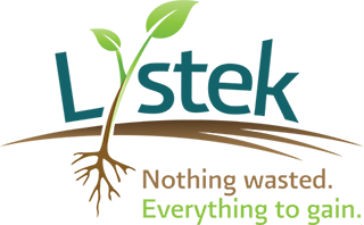 Excitement was high at the Grand Opening of Cambridge, Ontario-based Lystek' s new, 150,000 (U.S.) ton, state-of-the-art, Organic Material Recovery Center at the Fairfield Suisun Sewer District (Lystek OMRC-FSSD) in California on Friday, October 21st. Staff and management of Lystek and its parent company, the Tomlinson Group were joined by Greg Baatrup, GM of the FSSD and a variety of other distinguished guests including members of the FSSD board, a number of new and prospective customers, many of the primary project partners and sponsors of the event.

The celebration featured a ribbon cutting ceremony hosted by the Fairfield-Suisun Chamber of Commerce and a formal lunch program with welcome speeches by the Mayor of Fairfield, Harry Price, presentation of a Certificate of Recognition from Assembly member Jim Frazier and the California State Legislature as well as a keynote address by state Assembly member Bill Dodd.
In his address, Mr. Dodd referred to the partnership between Lystek International and the Fairfield-Suisun Sewer District as "the utility of the future" and said he is "just over the moon excited with what's happening." He also stated; "This is just (another) great example of what the power of creating partnerships is, partnerships between Suisun City and the City of Fairfield, the Sewer District, and Lystek. Let's just talk about public-private partnerships. We all know how important those are, because the government cannot do this stuff by itself. It never will be able to. "
The event was also an opportunity to celebrate Lystek' s new, four-year biosolids management agreement with Central Marin Sanitation Agency (CMSA) in addition to the base volume of 14,000 tons per year from the FSSD and previous commitments from other San Francisco Bay Area agencies. Everyone in attendance agreed that the opening of this ground-breaking facility is a major step forward in the progression toward reliable and sustainable, year-round organics management for the Bay Area.
The new facility will leverage Lystek's patented, low temperature Thermal Hydrolysis Process (Lystek THP) to divert biosolids and other organics from landfills and produce LysteGro, a Class A EQ (Exceptional Quality) product that is high in organic matter and nutrients and that is recognized by the California Department of Food and Agriculture as a licensed fertilizer product. The technology will also optimize digester operations and contribute to increased biogas production for use as green energy by the FSSD.
Mayor Harry Price reflected that; "We're fond of referring to Hollywood and all that they do, but this is not fiction. This is reality. When you realize what is happening here today, it will certainly give truth to the saying that "As California goes, so goes the United States.""
Kurt Meyer, President of Lystek adds; "We are proud of the partnership we have developed and will continue to foster with the FSSD and we look forward to developing the same kind of mutually beneficial, long term business ventures with others throughout California, the rest of the North America, and beyond."
Company info
125 McGovern Drive, Unit #1
Cambridge, ON
CA, N3H 4R7

Website:
lystek.com
Phone number:
226-444-0186
Read more
More from Organics Recycling
Single-Ram and II-Ram High-Capacity Balers
At Machinex, we've been designing sorting systems for over 35 years, so we know how essential it is for MRF operators to have a baler they can trust and not worry about its operational reliability. This is why we design and manufacture reliable single-ram and II-ram high-capacity balers to specifically help optimize their operations.
Watch the video of our expert who presents the main features of Machinex balers delivering these important benefits:
Easy & accessible maintenance
Reduced maintenance & bale handling costs
Energy savings
Optimal bale density
For C&D recyclers, waste haulers, demolition contractors and landfills, there is a growing opportunity to profit from rethinking processes. Although every operation is different, by streamlining the front end of the C&D operation processes with purpose-built technologies, recyclers can tap into new end markets, accommodate higher material volumes, stay ahead of regulatory restrictions, increase recovery rates and add commodity revenue, while decreasing labor and other costs.
Download the new eBook to learn about:
Finding opportunities in the alternative to landfilling C&D
How facilities can increase their profits from C&D
Using the right C&D processing technology in the right locations