Brokk introduces 280 demolition robot
Brokk 280 features increased demolition power, an all-new Brokk SmartPower electrical system, and extra durability in tough environments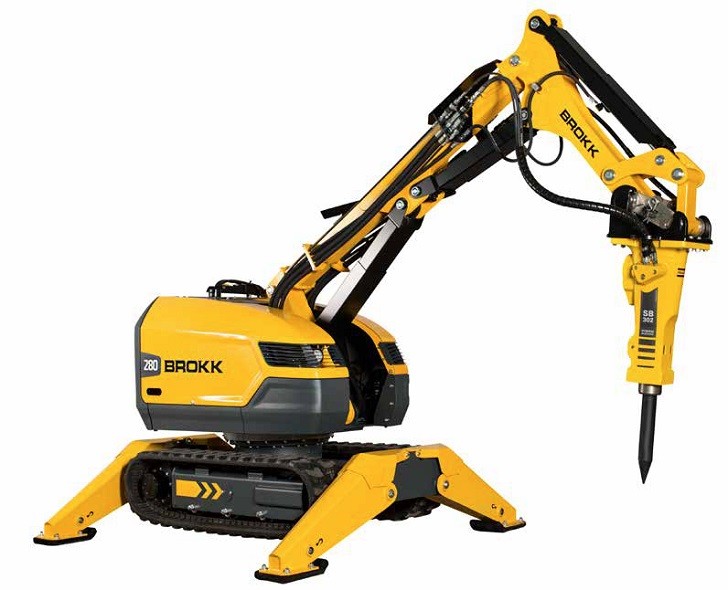 Brokk has introduced the new Brokk 280. The machine features increased demolition power over its predecessor, includes the all-new Brokk SmartPower electrical system, and incorporates additional hardened parts for extra durability in tough environments. The improvements increase the reliability and versatility for Brokk customers working on harsh jobsites in industries such as construction, metal processing, mining and nuclear.
"With 40 years of experience, we are uniquely qualified to keep pushing the limits of innovation for demolition robots," said Martin Krupicka, CEO of the Brokk Group. "Our objective is to always maximize productivity, versatility and safety for our customers. The new Brokk 280 delivers on all fronts."
The Brokk 280 features a 20-foot (6.2-meter) reach and weighs 6,945 pounds (3,150 kilograms). By generating as much as 25 percent more breaking performance — a combination of impact power and blow frequency — over its predecessor, the Brokk 280 delivers a significant boost in productivity. Beyond packing a harder punch and knocking out more breaker blows per minute, the Brokk 280 features improved maneuvering capabilities with softer, smoother movements. It does this without sacrificing any of the compactness, precision and flexibility for which Brokk machines are known.
Brokk also introduces an all-new electrical system, Brokk SmartPower, on the Brokk 280 (also available on the new Brokk 120 Diesel machine). The intelligent system includes hardened components and fewer moving parts. The system also optimizes machine performance based on a number of factors, including power supply quality and ambient temperature. Brokk SmartPower senses when a power supply is poor or faulty, making it suitable for generators or unreliable power supplies. The electrical system can also be set to work on worn fuses.
The SmartPower intelligent motor control uses smart dynamic effect control to monitor temperatures of the electric and hydraulic systems. It also tracks the electrical motor's power usage and adjusts the machine to use more power in cold environments and less power in hot environments. This eliminates the need for an automatic shutoff for overheating since the machine's temperature is well controlled. The Brokk 280 boasts a 60 percent increase in cooling system capacity over the Brokk 260 it replaces.
"For our customers, Brokk SmartPower means unparalleled reliability and industry-leading serviceability," said Peter Bigwood, vice president of sales and marketing at Brokk Inc. "It's one of the many enhancements we incorporated into the Brokk 280 design to improve contractors' profits, safety and productivity on the toughest jobs, even in remote locations."
In addition to improvements to its overall power and electrical systems, the Brokk 280 also features upgraded durability. The machine sports a new design that adds hardened parts and details to almost the entire unit. This includes LED headlight protection, reinforced machine corners and a new steel gray color coating in strategic areas to add an additional level of resistance to dirt and scratches.
The Brokk 280 can be used with the same variety of attachments as the Brokk 260, including breakers, crushers, scabblers, buckets, grapples, drills, shotcrete nozzles, beam manipulators and rock splitters. This allows contractors to equip the machine's three-part arm with any of Brokk's full line of reliable tools.
The new machine enters the upper mid-range of Brokk's line of nine core demolition machines and joins a number of new models introduced recently, including the Brokk 120 Diesel, the world's smallest diesel-driven demolition machine.
Company info
Related products