More Greek municipalities explore Chania's advanced waste-management template
Great value can be extracted from MSW through efficient sorting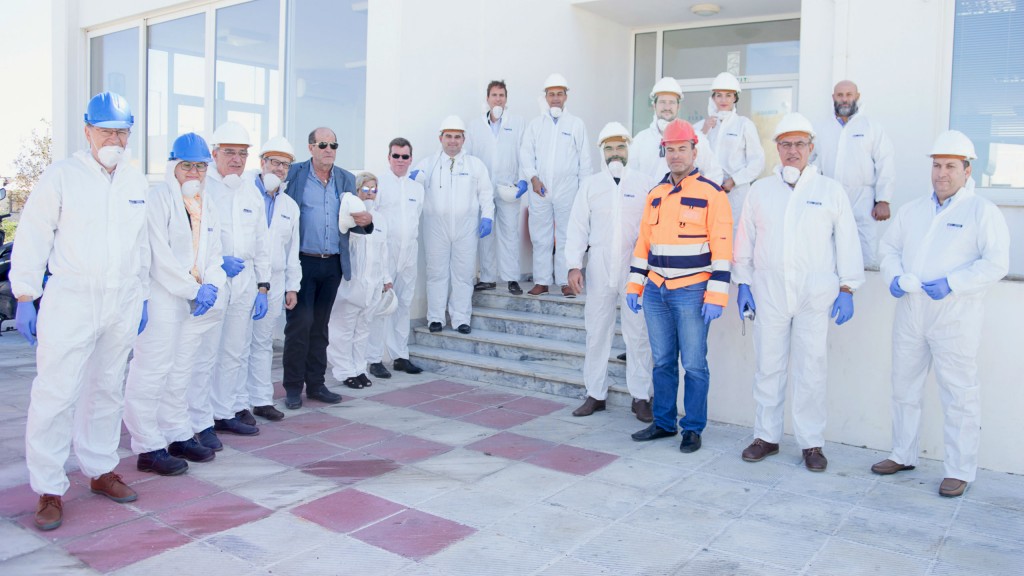 Ten representatives from the Greek municipalities of Lesvos, Samos, Chios, Syros and Hersonissos attended a demonstration day at the DEDISA municipal solid waste (MSW) sorting plant in Chania, Crete, Greece, on October 12th, 2016. The main focus of their fact-finding visit was to gain practical, on-site experience about how important value can be extracted from MSW through setting up an efficient sorting plant. In addition to viewing the live demonstration and inspecting a detailed case study of the Chania plant, the delegates were also able to learn much about the precise technologies employed and the process of funding such a project.
The DEDISA waste-processing center serves a population of 155,000 inhabitants, which represents around 25 per cent of the island's total population. Furthermore, the Chania prefecture also provides another 88,000 beds for tourists, and most of the region's municipalities fall within the DEDISA plant's catchment area.
The seasonal fluctuation of its population as well as broad similarities in the composition of its household waste make the Chania plant an excellent scalable model for the needs of other Greek islands and territories beyond. In Lesvos, for example, apart from the regular municipal solid waste created by its own 86,000 inhabitants, there is an additional volume of daily waste produced by the recent influx of refugees from regions surrounding the Mediterranean. This is a phenomenon which also currently affects the municipalities of Samos and Chios. Thus the opportunity to recycle polymers from discarded life-saving vests and other valuable raw materials could bring considerable social and financial benefits to these communities.
This demonstration day at the DESIDA plant will be followed by a subsequent morphological study involving 50 tons of MSW shipped from Lesvos to Chania some time in November. The planned study will help to demonstrate and quantify the potential benefits which could result from the implementation of a similar sorting plant on Lesvos.
Konstantinos Paterakis, the Director of MBT DEDISA , was very proud to share his own municipality's experience of the funding, plant-design and implementation phases of the Chania project, and said: "We believe it is important to share our experience with our neighboring municipalities in order to help them devise an optimum solution for their own local waste problem. Thanks to our own newly upgraded sorting process, we now have a much more flexible system which enables us to process and recover a more diverse range of marketable products than before. Our modified installation has brought us new economic opportunities, and in addition, we now have much less waste which then needs to be diverted to landfill. For us, this has been an important step towards a more effective and sustainable waste management system."
Commenting on the opportunities for other Greek islands, Jürgen Priesters, Business Development Director at TOMRA Sorting Recycling, offered this advice: "At this early stage, it is, of course, extremely important to see exactly how the MSW process and the technology work in practice. However, a detailed understanding of the waste management challenge – and in particular the exact composition of the household waste – is an essential part of finding the most appropriate solution for each location. This is where sensor-based sorting can make a vital difference."
The Chania plant in more detail:
Since the installation of an upgrade package in 2015 – which included advanced sorting systems supplied by TOMRA, new bag-openers, ballistic separators, conveyor belts and a baler press – this plant has achieved increased capacities. Helector's enhanced plant design has facilitated the efficient separation of solid mixed waste, and now makes it possible to recover paper, PE film, HDPE, PP, and PET bottles in the following quantities:
Paper @ 6.2 tons per hour (t/h)
PE film @ 1.19 t/h
HDPE @ 1.06 t/h
PP @ 0.69 t/h
PET bottles @ 0.91 t/h
The nominal capacity of the DEDISA plant has now been increased by 30 per cent, and the new optical separation processes introduced in 2015 have secured the dual goals of high-efficiency processing and an outstanding output purity. Moreover, these significant operational advantages have been gained without placing any further complex demands on the existing Chania waste collection system – green bins for MSW, and blue bins for packaging waste.