Recycling with a 'can' do attitude
Millions of spent soft drink cans are just some of the raw material helping Smelter Service Corporation recycle aluminum in double quick time in Tennessee – with a little help from Volvo Construction Equipment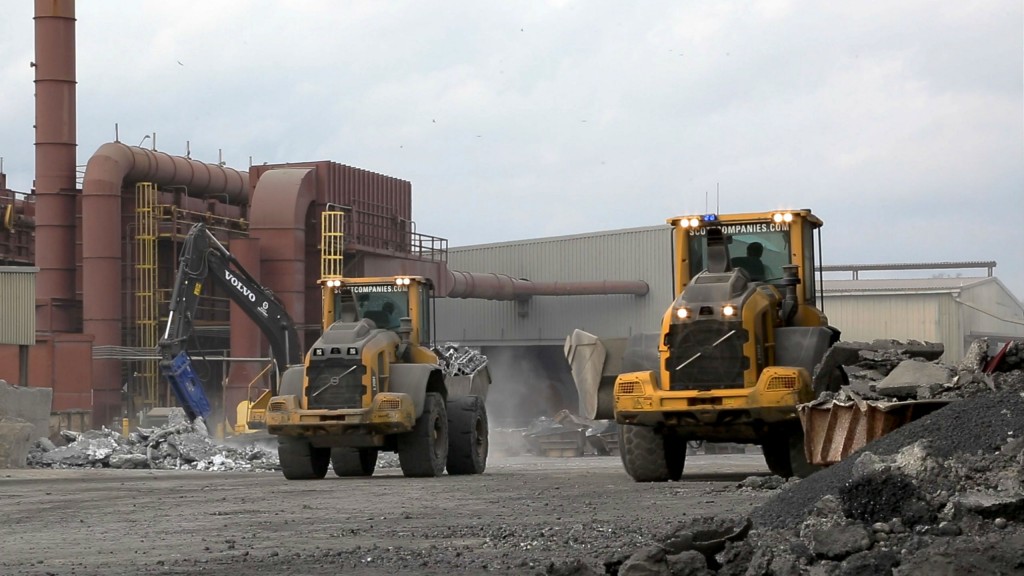 Few of us give much thought to popping a can of our favorite fizzy drink and tossing the remnants into a recycle bin. However, it's precisely what happens after the can hits the bin that Smelter Service Corporation is interested in.
"If you buy an aluminum can today and turn it in to be recycled, it's going to be processed and back on the shelf in 60 days," says David Ray, operations leader at Smelter Service.
Established in 1978, in Mount Pleasant, Tennessee, Smelter Service provides customers with the high quality recycled aluminum. The company receives scrap aluminum, generated from manufacturing waste, discarded materials, products and parts, and processes it back into usable alloys.
At the processing plant, sorted and cleaned aluminum undergoes a re-melting process that turns the product into molten form and removes any coatings or inks that may be present.
"We want to be on the cutting edge of processing technology," says Ray. "Because we control the melt and furnace, we can get maximum recovery for our customers as well as optimum energy utilization for ourselves and the environment."
Don't crush under pressure
Processing the thousands of tonnes of used aluminum is no small task, and integral to its success is the equipment used. For the better part of 20 years, the company has relied on Volvo Construction Equipment.
Willie Green, the melting system leader for Smelter Service, weighs up the benefits of using Volvo machines. "Volvo machines perform very well," he says. "They hold up under the pressure and rough environment."
Temperatures can reach up to 760 degrees Celsius (1,400 degrees Fahrenheit). "We have to deal with furnaces and certain salt products, so you've got an atmosphere with plenty of heat and some corrosiveness from the salt," Ray adds. "The Volvo machines do great; they're sturdy and built for an industrial environment."
Smelter has tried other manufacturers' equipment, but none withstood the harsh conditions as well as Volvo machines. "When we look for equipment, we start with quality," says Ray. "We don't want to buy a machine and have it fall apart. Can we get parts? Will they be readily available? We really look at all of these things before we consider the price."
Piling on the hours
To get the job done, Smelter Service uses a fleet of seven Volvo machines.
A Volvo EC220E 20 tonne class crawler excavator breaks up the incoming material, making it easier to process. Powered by a Volvo D6 engine, the excavator delivers horsepower of 129 kW (175 hp), optimizing fuel efficiency while reducing emissions.
Five Volvo L70H wheel loaders move raw material from the staging area to the furnaces. In the almost non-stop working environment, each of the high-capacity loaders average approximately 5,000 hours each year. The L70H uses Volvo's patented T-P linkage, which keeps loads parallel throughout the lifting range, ensuring exceptional stability and unobstructed visibility.
A Volvo MC135C skid steer loader is assigned to the loading dock to load and unload trucks. The single arm design delivers the loading performance and durability of a traditional two-arm machine, but with the advantages of side entry for superb visibility and safety. With over 4,000 hours, the skid steer is a testament to Volvo's durability. Ray says: "From engine, pumps and drive motors to the overall frame and loader arm, all components remain in top working condition."
Productive from the inside out
Not only are Volvo machines durably-designed to work hard, but they are also full of features that help to make the job easier, safer and more comfortable. The climate-controlled Volvo cabs offer a low-noise work environment, while ergonomically-positioned controls and clear all-round visibility ensure operator safety and productivity.
"The more comfortable the machine is, the better employees perform," says Green. "And the less stressed they are, the more work that gets done."
Beyond durability and operator comfort, Ray values Volvo's aftersales support, provided by local Volvo dealer, Scott Equipment. "We want equipment that's going to last, that's why we feel good about our partnership with Volvo and Scott Equipment," says Ray.
Building a better future
While recycling aluminum has led the company to great success, its positive impact on the environment and the local community are undeniable.
In 1999, Jim Barrier, CEO of Smelter Service, founded the Kids on Stage Foundation, a nonprofit organization that integrates the arts into the core curriculum of Mount Pleasant Middle School of the Visual and Performing Arts.
Of the company's commitment toward creating a better future, Ray says: "We want to do the right thing. We want to make things better. We also want to have fun."
Company info
Related products