Thoesen Tractor & Equipment latest North American distributor of Fuchs material handlers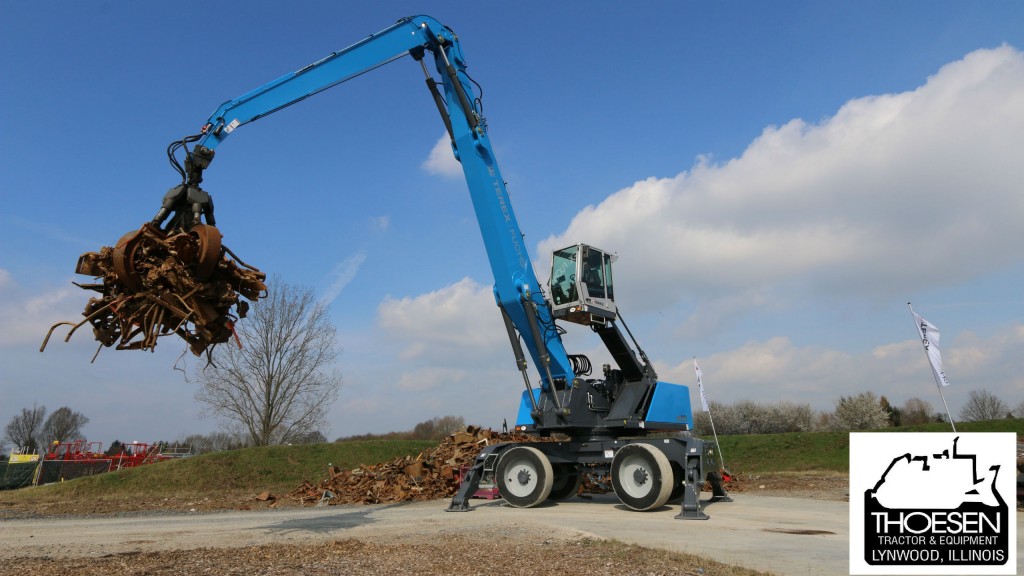 Fuchs has expanded its North American distribution network with the appointment of Thoesen Tractor & Equipment Co., Inc. as an authorized distributor of Fuchs material handlers in northern Illinois, including the greater Chicago market area. Headquartered in the Chicago suburb of Lynwood, the service-focused Thoesen Tractor has sales and service team members blanketing this territory to offer unsurpassed sales, rental, parts and service support for the full Fuchs equipment line, purpose-built to increase operating efficiencies for the scrap, recycling, waste, portside and logging markets.
"Thoesen Tractor specializes in heavy industrial equipment with an emphasis on the scrap, recycling and demolition industries, and they are extremely committed to supporting the customer through a 24/7 service approach," says Fuchs Technical Sales Manager, Steve Brezinski. "They are currently a Deutz engine distributor, so their service technicians are very familiar with the Fuchs material handler line. They are an excellent fit for delivering local sales and service support for our purpose-built handlers in Illinois."
Boasting a broad line with models ranging in operating weight from 31,900 to 191,800 lb and working radii from 27 to 80 ft, Fuchs offers purpose-built machines for virtually any material handling application. The line includes Fuchs' newest entry into the 120,000-lb class for high-production scrap yards with the MHL 370 F handler, the massive new MHL 390 F model with its long 80-ft reach for the port market and the new nimble MHL 320 F machine built for the needs of recycling operations. Featuring a modular design, each handler can be customized to meet the customer's specific need by the Fuchs application center. These models, along with all Fuchs F Series handlers, offer Eco Mode operation to reduce fuel consumption and can be equipped with Terex Telematics to improve machine operating efficiency.
"Fuchs already makes a great material handler with the reputation for delivering durable performance in the most demanding applications," says Thoesen Tractor & Equipment Owner, Joe Thoesen. "We are enthusiastic about the line's transition to the Terex Materials Processing segment and the significant investment Terex has made in the product line and putting the right people in place to ensure the success of customers throughout North America. We are excited to be representing and supporting Fuchs material handlers."
Through the use of Terex Financial Services (TFS), Thoesen Tractor now offers its customers a wide variety of financing options for Fuchs equipment. With its in-depth equipment knowledge for the scrap, recycling, waste, port and logging markets, TFS provides effective finance and leasing solutions, structured to complement customers' cash flow and budgets. TFS assists in all areas of asset management, from the analysis of future equipment values through the disposal of used equipment.
Company info
Related products