U.S. and Australian Waste and Recycling Industry Associations form collaborative agreement
Alliance to share best practices, knowledge and information to advance the interests of the private waste and recycling industry globally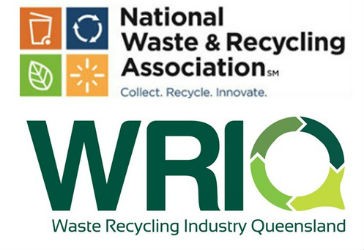 The National Waste and Recycling Association (NWRA) and the Waste and Recycling Industry Queensland (WRIQ), the trade associations representing the interests of the private waste and recycling industry in the United States and Australia, respectively, announced the creation of a trans-Pacific Collaboration Alliance via a Memorandum of Understanding (MoU) between both organizations.
Under the terms of the MoU, NWRA and WRIQ have agreed to the mutual sharing of resources, knowledge and information to advance the interests of the private sector waste and recycling industry in the United States and Queensland, Australia. The agreement covers sharing best practices and insights across a broad range of policy, operations and safety initiatives of common interest to both organizations and its member companies.
"Earlier this year, we engaged in discussions with WRIQ regarding NWRA's experience in policy, operations and best practices serving the U.S. industry," commented Sharon H. Kneiss, president and CEO of NWRA, "and we found such common ground on a full range of issues facing our respective industries which led to the formation of this unique Collaborative Agreement. We look forward to learning from the experience of our Australian colleagues and sharing our resources to advance the interests of both organizations."
"WRIQ is pleased to enter into this agreement with NWRA," said Rick Ralph, chief executive officer for WRIQ. "Our participation at WasteExpo 2016 reinforced the opportunity for both organizations to work collaboratively to advance our mutual interests. There are a wide range of areas where both organizations can learn from the experiences of the industry in both countries to advance best practices across all areas of operations of our member companies, including improving safety for our industry's workers in both countries."
Related Articles
Traditionally, waste management companies have operated using a simple "management of waste" approach to operating a MRF. Throughput targets and continuous operation (minimal downtime) were the main driving forces. The industry has changed however, and the focus moving forward is now on optimizing system performance and reliability, in conjunction with increasing recycling rates and a drive for a "greener" and more sustainable tomorrow.
When considering the addition of, or upgrade to, an "intelligent" MRF, for municipalities or private operators, the main factors should always be the client's (operator) current requirements, and evolving market needs, which include throughput, reliability, output quality, and adaptability. Equally important is a full understanding of what is really expected from any proposed system. Having an engaged and focused mindset for the project with the client from the beginning, will impact and drive the entire design process. This then impacts the overall project result, through to the productive, efficient, ongoing operation of the facility itself.