Cascade Engineering names Christina Keller President of Cascade Business Team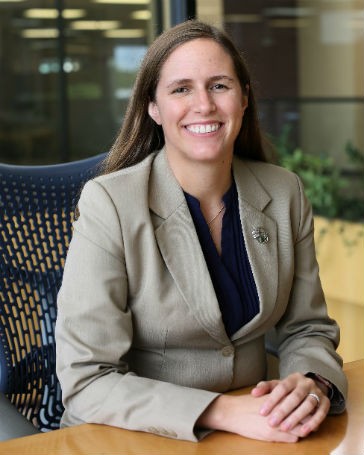 Cascade Engineering (CE) has announced Christina Keller has been named president of the Cascade Business Team (CBT).
The CBT represents four business units as part of the Cascade Family of Companies which is comprised of nine diversified businesses. Christina will oversee all business operations for: Cascade Cart Solutions, Automotive Americas, Innovative Plastics Technologies and Noble Polymers. All of the CBT business units are located on the Cascade Engineering campus in Grand Rapids. Keller will report to Mark Miller, president and CEO of the Cascade Family of Companies.
Keller is the youngest daughter of Fred Keller, Cascade Engineering founder and chair. She joined Cascade Engineering in 2009 as the business unit leader for Triple Quest, a 50/50 joint venture with The Windquest Group. Under Keller's direction, Triple Quest produced the Hydraid Water Filter, which has provided safe drinking water for over 770,000 people in 46 countries. The business was acquired by Native Energy in 2015 and Cascade Engineering was retained to manufacture the filter.
Keller also has considerable experience with hands-on international development work. In addition to her involvement with Triple Quest, she served in Uganda with Solar Light for Africa, installing solar panels on schools and hospitals with Uganda's first lady; in Peru, she has developed micro-enterprises in rural communities and taught micro-business classes in a number of high poverty areas.
In 2013, Keller was named president of CK Technologies (CKT), the leading thermoplastics solutions provider in the North American commercial truck and bus market, and the market leader for injection molded bumpers, grilles, roof fairings and chassis skirts. CKT is headquartered in Montpelier, Ohio with additional facilities in Mount Airy, North Carolina and Brownsville and Fort Worth, Texas. Employing 738 people, CKT is the largest business unit in the Cascade Engineering Family of Companies and has posted record earnings under her leadership.
Prior to joining Cascade Engineering, Christina served as a manager for Polaris Management Partners, LLP and Accenture in New York City. She was also a project manager for Environmental Resources Trust in Washington, D.C.
Keller holds a bachelor's degree in international studies from Boston College and a master's degree from Cornell University with a concentration in sustainable global enterprise. She has also studied abroad in Atenas, Costa Rica and Santiago, Chile. Additionally, she holds a Master Black Belt Certificate in Lean Six Sigma from Villanova University and a Certificate in international economics from the American University.
A graduate of Leadership Grand Rapids, Keller's community involvement includes the Grand Angels investment group and she serves on the board of trustees for the Grand Rapids Community Foundation. She is passionate about impact investing and the opportunities for business to make a positive social impact. She is also involved in Young Presidents' Organization (YPO) and the Family Business Alliance. Keller resides in Ada, Mich. with her husband Andy and their two children, Jackson and Aspen.