The path to perfect compost
Inoculants key in quest to cut curing time in half, eliminate odour and create a superior product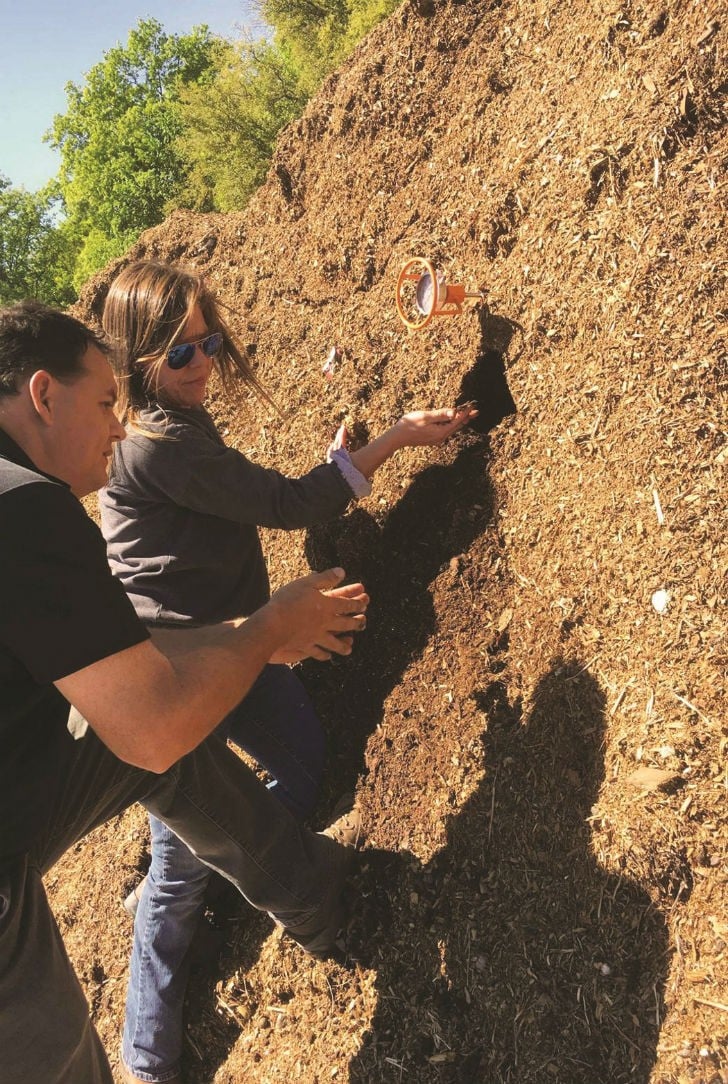 Mayer Materials was founded in 2006, functioning strictly as a sand pit for cushion and fill sand. Within several years of starting their operation, and with the benefit of plentiful real estate near their location in Fort Worth, Texas, owners Heather and David Mayer say they recognized the growing need for recycling sites and saw an opportunity.
"Someone approached us with the idea of recycling gypsum, so that was the first material we began to bring in," explains Heather Mayer. "It is ideal for the clays of North Central Texas."
From there it was a simple evolution of their recycling efforts from gypsum to composting, with manure and brush being the first source materials they collected. Located near one of the largest annual stock shows and rodeos in the U.S., and in the heart of "Cutting Horse Country", there is a steady supply of manure and used bedding. Soon after, the Mayers started processing other organics, including pre-packaged, off-spec food and beverage materials.
"David recognized that no one in our area was doing this," says Heather. "He is the one who took us to the next level in composting and recycling."
Most of the materials that the Mayers were bringing in were perfect candidates for compost fractions, individually, but all of them combined did not produce a "pretty" product.
"Our soil tested great, but had a grey tinge when it dried, and we had a 90-day turnaround. Customers equate dark, rich looking soil with high nutrients, so that's what we aimed to deliver.
"If you call composting 'throwing everything but the kitchen sink' into a windrow and seeing what you get, then yes, we were composting," jokes Heather. "It was definitely not a consistent process, and the outcome reflected that. Last year we began tweaking our mixes and limiting some of the inputs, and we were pleased with the results."
The path to perfect compost
The Mayer's path to "perfect" compost began with the realization that turning with a loader was very inefficient and ineffective. With this in mind, they attended the U.S. Composting Council conference to research turners. That set into motion a series of events that led to a meeting with Martin Morgan from Ecoverse, who introduced them to the benefits of using Harvest Quest compost inoculants and the complimentary side effects it would produce, using their method.
"Martin explained to us that by using these additives and following their process, we could cut our compost curing time in half, eliminate most of the odour and create a far superior product," says Heather. "I have to say I was quite skeptical."
But the more she researched Harvest Quest, the more she began to realize just how much of a difference it could make. "I have a friend who is a chemist and a fellow composter and I asked her about it, and she said 'Yeah, it's the real deal. No one can figure out how, but it really works.' We have a friend who owns a greenhouse and we had him look into it and he came back with the same conclusion. We went to the City of Denton, Texas, where they were just starting their own trial run with Harvest Quest, to visit their operation. And after meeting Darren Midlane from Harvest Quest and hearing about the superior quality of the Harvest Quest compost, we were ready to try it."
As effective a solution as Harvest Quest is, Heather admits she initially misunderstood how involved Darren and Martin would be in ensuring the success of her compost using Harvest Quest.
"My first thought was that Harvest Quest was 'fool-proof' composting, but that isn't the case," she explains. "Darren came out and did a detailed analysis of all our inputs, helped us formulate a menu of specific ratios for each and has been following up to be sure we are getting the expected final outcomes."
Now, each of their recipes has been specifically formulated to work most effectively with the prescribed bacterial inoculants provided by Harvest Quest, and ratios have been developed that emphasize each potential source ingredient. A few additional mixes are still being tweaked. Once the sources are mixed, windrowed and turned, following the state's prescribed procedures, the Harvest Quest inoculant is added to each end of the windrow, and within 24 hours will completely permeate the entire row.
By maximizing bacterial activity, temperatures are elevated and sustained, increasing the curing speed and eliminating most odour production. Finished compost is realized within 45 days after the initial turning phase.
"Regardless of our initial recipe, we end up with the same, high-quality end product," explains Heather. "The specialization in ratio and inoculant ensures a complete breakdown of all the organic material. In our final screening, we have a high yield with very few overs."
The dramatic evolution of the Mayer Materials compost has been noticed by the marketplace as well, and Heather says they are really looking forward to completing their first full year of composting with the Harvest Quest inoculants and methodology.
Mayer Materials sells to wholesale and retail outfits, landscapers, contractors, construction sites and the public. Compost is sold in bulk, and is bagged for retail customers.
"Being small, we knew we wanted a high-quality product in order to compete in the bagging market. With Harvest Quest, our final product has a boost of natural nutrients which are then made available to plants so they can thrive and defend themselves. Darren has shown us how using Harvest Quest can improve soil structure. It's exactly what we wanted."
In addition, with such high-quality compost at their disposal, their topsoil product has been overhauled as well.
"Our soil now is so much darker and richer," Heather says. "It just looks pretty and it smells so earthy. And that's really what this is all about – learning that soil is not just a medium that you stick plants in, but rather a living and breathing ecosystem. Once you understand that, and learn how to improve that ecosystem, you can make some incredible things happen."