New shears key to Metalico Buffalo expansion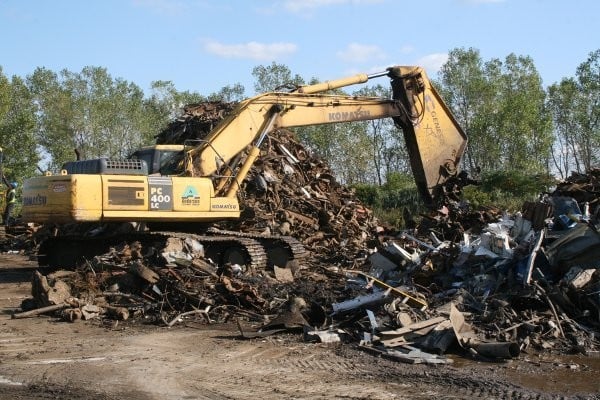 by Larry Trojak
When consolidation fever spread throughout the scrap industry in the mid- to late '90s, many "mom and pop" yards were consolidated into single entities by larger firms to create leaner, more efficient and more competitive yards.
One of the companies spearheading the application of this business model was Metalico, Inc., a New Jersey-based firm whose owner has roots in the solid waste market and who, through the scrap industry consolidations in the earlier part of the decade, saw how successful it could be for all parties involved.
To establish its current Buffalo, NY location (one of more than two dozen the company owns), Metalico purchased four smaller, disparate operations and turned them into a single bustling picture of efficiency and large-scale production. Well-equipped with the latest processing technology, including a wide range of Genesis mobile shears, Metalico Buffalo is humming along nicely today, proving that, when done correctly, the whole can be more than the sum of its parts.
Yes, Peddlers Allowed
Metalico Buffalo sits on 24-acres on the city's economically-challenged east side and purchases and processes all grades of ferrous and non-ferrous scrap metal including aluminum, copper and brass, stainless steel, hi-temp alloys, catalytic converters, lead, light iron, heavy melt, cast iron, structural steel, drums and rotors, and more. The operation, though heavily driven by industrial and commercial accounts, still shows its humble roots as scores of peddlers cross its scales each day.
"Our scrap stream is probably a 65%-35% split, with the larger number being industrial scrap that's delivered from commercial customers and feeder yards," says Mike Knowles, the site's general manager. "But we still rely heavily upon the steady stream of individuals who line up each day to bring in scrap of every type, shape and size. We've seen people drive-in a pickup truck with a snowmobile on the hood. We've had a person push a shopping cart with a washer and dryer piled upon it over the scales.. We've literally seen it all, but we appreciate that these customers have played a big role in our success."
Convinced by Performance
Interesting anecdotes aside, the bulk of Metalico's scrap comes from industrial accounts and feeder yards it has in Niagara Falls and south Buffalo. That material is as varied as the sources from which it comes but generally shares one feature – its need to be processed to mill specs prior to shipment. Since its inception as Metalico in 1998, the Buffalo operation has relied upon mobile shears to make that happen.
"Shortly after we opened this location, we were visited by representatives from Genesis, which, at the time, was a fairly new company," explains Knowles. "That visit made a huge impact on our operation. Mind you, this yard had other shears in place from the consolidation, and other attachment manufacturers were already calling upon us, but Genesis differed in that they immediately arranged for us to try one of their shears. Based upon what we saw during that trial period, we were convinced and have been on board with them ever since."
He adds that a long-time working relationship with their area dealers, Rupp Rental, at first, and then Anderson Equipment which purchased Rupp, helped solidify the deal, leading to an initial shear order and subsequent purchases that have continued to the present.
Blind Faith
As anyone in the scrap business will attest, production is everything, and Metalico Buffalo was pleased to find the new Genesis shears were faster and more productive than anything they had used before. However, according to Lenny Ribblett, the site's equipment supervisor, there is a single strength the shears bring to their operation that overshadows all others.
"When our operators put the jaws of a shear down into a pile, often they have no idea what they will end up cutting," explains Ribblett. "So we needed shears that could cut almost anything they encountered; the GXP 700 and GXP 1000 that we currently run are those shears.
"We have confidence in knowing that virtually anything they come upon in that pile is shearable. That's a huge advantage, because our operators are not constantly putting material aside for subsequent processing with a different machine or a torch."
According to Dennis Bigham, sales representative for Anderson Equipment, Metalico's Genesis dealer, it should also be noted that, while many scrap operations demand a rotational capability from their shears, Metalico Buffalo does not.
"It is really a matter of personal preference," says Bigham. "The Metalico yard in Rochester, for example, has three rotating shears, and they swear by them. The crew at the Buffalo location, however, has developed a technique for shearing that is better suited to strait shears and meets their production requirements."
The Lighter Side of Scrap
Knowing which equipment best cuts a particular material is a key strength in running an efficient scrap operation. For example, cutting a huge I-beam with a smaller shear is, if not impossible, at least counter-productive – and the converse holds true. With that in mind, and an ample supply of lighter and medium gauge steel always on hand, Metalico Buffalo added a pair of Genesis Linkage Shears to their equipment inventory in the mid-2000s and have liked the fit.
"We take in material of all sizes and have found that the Linkage Shears are perfect for the midsized scrap we process. They are smaller and lighter than a traditional shear but still pack a lot of cutting force, so we are able to make some serious headway on this material without tying up one of the larger shears. They really fill a nice niche for us."
Given their relatively light (4,100 lb./1,860 kg) weight, Ribblett and his crew use the Linkage Shears on smaller excavators but say the units still offer a quick cycle time. Additional benefits they cite include replaceable bolt-on cutting blades for easy maintenance and, because the attachment replaces the bucket, the ability to easily pin it on without the need for additional plumbing.
Satisfaction in Shear Years
Having just taken delivery of a new GXP1000, Ribblett says that barring some dramatic volume changes, their shear needs are now being met for the foreseeable future. And it's hard to debate them on that issue, considering the life they get out of their attachments. Case in point: several years after startup, the company decided they needed a larger shear and found out the Rochester yard was replacing their old GXP1000 with a new one.
"We knew the old shear had a lot of hours on it and had been through the mill, but we still decided to take it off their hands," says Ribblett. "We did a partial rebuild, ran it for a while, then had Anderson Equipment refurbish it again, and it was still outperforming most other shears we'd seen in the past. Eventually we sold it, but last I heard, it was still at work; it just will not die."
Metalico Buffalo's team maximizes attachment life by following a strict routine for shear maintenance and blade changes.
"The blades on our shears are turned every two to three weeks," he says. "We could probably get more out of them, but blades are called consumables for a reason. Start using them beyond their expectancy and you start impacting the overall shear performance. It is all about production here, so that's just not an option."
Looking Good in Buffalo
Metalico Buffalo is one of the bright spots in a fairly dismal Buffalo economy which has struggled to reinvent itself several times since the 1970s when the steel industry closed its doors, idling more than 25,000 local workers. Ironically, the company's latest expansion involves the installation of a massive 4,000 hp shredder in what was once a Bethlehem Steel galvanizing mill.
"The new shredder should increase the flow of material and create more jobs," says Mike Knowles. "We have a real commitment to this area and this operation. We have an outstanding team here between the ferrous and nonferrous yards. We have productive and reliable equipment and a solid relationship with the people who represent that equipment, both on the manufacturer and the dealer side."
"And just as variety is crucial to Metalico's success, the company's steady support is crucial to Buffalo's success."