SICON receives Innovative through Research seal of approval from German institution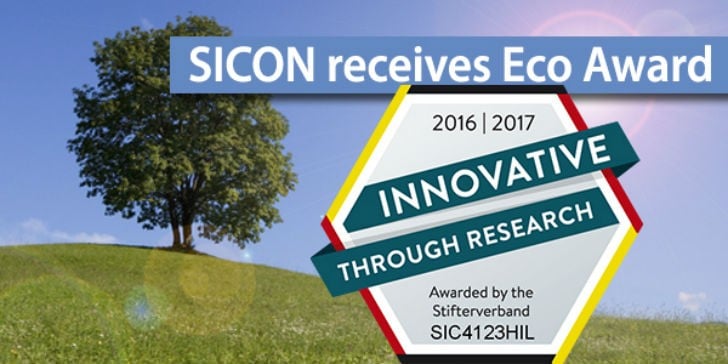 SICON GmbH was awarded the "Innovative through Research" seal of approval that is conferred by Stifterverband, one of the largest science funding institutions in Germany. This distinction is based on the body of substantial contributions made in research and development in Germany's environmental technology field over the past five years.
Many of the current problems facing the scrap recycling industry are due to the fact that the industry tends to retain obsolete processes and system operators fail to utilize the possibilities offered by today's processing technology. SICON's success in the field of scrap and shredder residue processing is closely tied to the innovative culture practiced by the company, which has its headquarters in Hilchenbach. The many key advantages offered by the VW-SICON Process, specifically in the form of the SICON-120 system with its complete and efficient processing of shredder residue, show how advanced and ground-breaking the technology is compared to other systems. Advantages include, for instance:
collective or separated processing of light-weight and heavy shredder fractions,
complete metal recovery,
Metals and plastics (Shredder Granules), fluff (Shredder Fibres) and fines (i.e. Shredder Sand) are recovered with the defined product quality,
cost-effective recycling solutions are indicated for all products.
SICON's offers its customers customized technical solutions from a single source. We know the shredder process and the associated treatment of shredder residue as a whole. Our products cover the entire range of shredder residue treatment. Below is a list of just some examples, with which we help to make scrap processing more modern, environmentally friendly and at the same time efficient:
EcoShred Compact - the compact shredder, which sets new standards for performance and ease of maintenance,
ScrapTuning - the new ferrous downstream solution for a clean and low-copper shredded scrap,
AirTuning - the exhaust air treatment solution for reducing dust, VOC and dioxin emissions in accordance with statutory requirements,
SICON-120 - the complete and efficient processing solution for Shredder Residue.