Machinex expands range with two-ram high-capacity baler series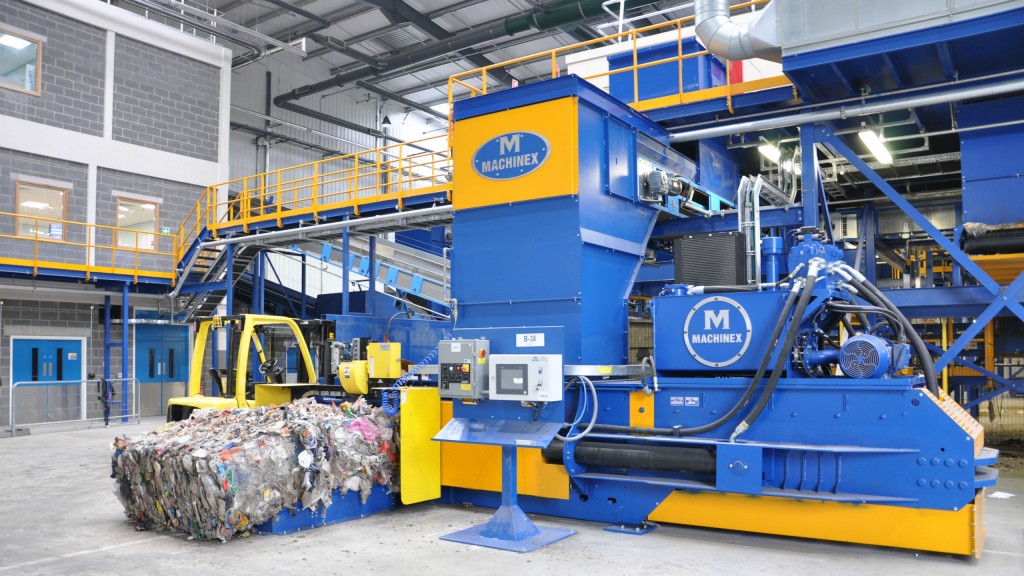 The Machinex Group will introduce its II Ram high-capacity baler series to the American market at the upcoming Waste Expo tradeshow. The Machinex team will be exhibiting at the 2016 Waste Expo, taking place at the Las Vegas Convention Center in Las Vegas, Nevada, at Booth #2636 from June 7th-9th. Along with introducing the baler series, Machinex will promote a wide spectrum of refined products and services resulting from more than 30 years of experience in sorting technologies.
Designed to meet the multi-purpose needs of recyclers, the high speed, two ram baler series maximizes density while reducing operating costs. A unique pre-fill device increases main ram cycle speed in both forward and reverse modes. This device not only allows these balers to meet and exceed the throughput of competitive equipment, but also results in a significant reduction in energy consumption. Other exclusive design features include bolt-on liners for ease of maintenance, a single-plate frame construction to provide maximum structural stability, and many other options that give operational benefits to MRF managers.
"We built the II ram baler series using the same distinguished features as our single ram baler series, knowing they offer unparalleled benefits to our customers. Our pre-fill valve sets us apart by offering a faster dry cycle time that exceeds up to 2.7 times the speed obtained by our competitors," says Paul Fortier, Machinex Research & Development Director.
As a turnkey system provider, Machinex says they understand the important features of balers and have positioned their R&D Department towards focusing on the efficiency and reliability of the new machine, while also following the progression and future needs of the industry. For example, Machinex is currently developing a machine designed for the waste-to-energy industry that will handle RDF baling. The first machines will incorporate plastic strapping and bale wrapping as part of the RDF solution. These balers will be installed by the end of summer 2016 in the UK.
Machinex has installed several two ram balers in Canada and the United Kingdom. The first install in the United States was integrated during the summer of 2015 at Alpine Recycling in Colorado as part of the system's major upgrade. Brent Hildebrand, VP Recycling at Alpine Recycling (Colorado) comments on the baler: "The technology in this baler is true state-of-the-art. When we were looking at two ram balers, we had three different manufacturers in mind. After traveling to have a closer look at Machinex balers and see how they are manufactured, we were sold. Now that we have been running the baler for just under a year, we feel like our decision was the right one and the baler is exceeding our expectations."
Machinex started manufacturing high capacity single-ram balers in 2003 in order to offer a superior baler in terms of quality and efficiency to its customers. This offer added value to the turnkey systems and allowed Machinex to improve its self-sufficiency as a supplier, all while having a machine that aligns with the high standards of the company. It was in 2012, due to a growing customer demand for high capacity two-ram balers, that Machinex installed its first unit in a customer's facility. To this day, Machinex has sold 22 single-ram balers, as well as 11 two-ram balers, with several more to be installed in the coming year.
Company info
Related products