Electronics Recycling Asia 2016 set for November 15 – 18 in Macau, China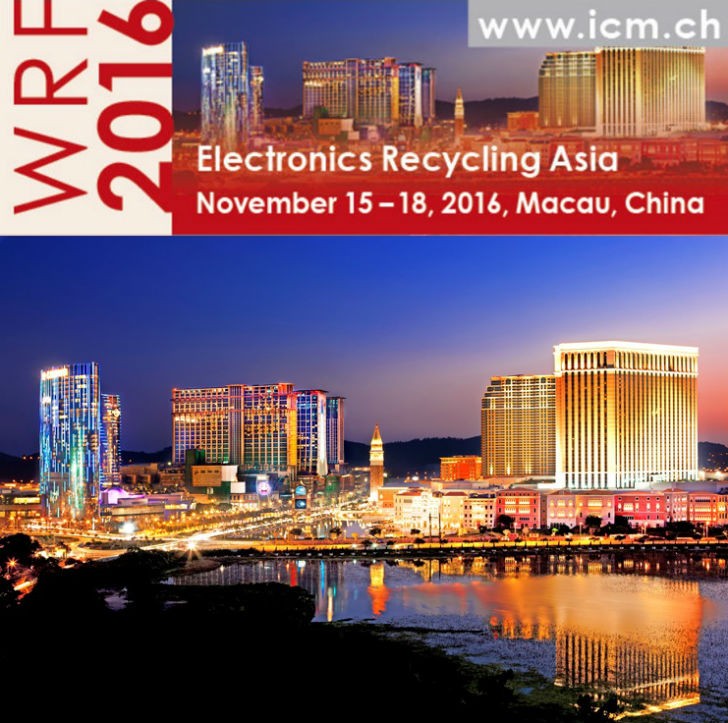 The world's reliance on electronic products and digital information continues to feed into the corresponding challenge of how best to recycle the electric- and battery-powered devices that touch all aspects of daily life.
The 2016 edition of Electronics Recycling Asia, the premier electronics recycling conference in the Asia-Pacific region, will again explore the considerable challenges and bountiful opportunities in this sector. Conference organizer ICM AG is hosting the 2016 Electronics Recycling Asia conference from November 15 – 18, 2016 at the Sheraton Grand Macao Hotel, Macau, China.
As in prior events, the 2016 conference will feature speakers from Asia and around the world. They will address a wide spectrum of topics pertaining to how to safely and profitably recycle end-of-life computers, office equipment, consumer electronics, cell phones and other devices. Topics scheduled to be part of the program include:
How to make successful recycling business in Asia
Protect people, protect the environment
E-Scrap transparency
Manufacturer take-back schemes and recycling efforts
Government initiatives such as the Circular Economy policy
Processing technology advances and trends
Reuse and refurbishment
Mercury containing scrap recycling (batteries, lamps, LCDs)
Environmental and safety compliance
Again in 2016, ICM AG will be organizing optional recycling plant tours and will offer access to an exhibit area that features leading technology and service providers. The conference is also offering additional workshops before and after the main event.
"Electronics Recycling Asia is the best conference for understanding the present policies and different recycling schemes for WEEE (waste electrical and electronic equipment) used in the EU, North America and Asian countries" says Hsiao-Kang Ma, who is professor at the National Taiwan University and a frequent speaker at Electronics Recycling Asia.
Some 300 recyclers, OEM delegates and government policy makers are expected to attend the Electronics Recycling Asia 2016 conference. Last year's event attracted delegates from more than 30 nations, including China, India, Japan, South Korea, Taiwan, Singapore the United States and nations throughout Europe.