LEFORT launches first ever track-mounted shear/baler/loggers
New Crawler machine debuts at ISRI 2016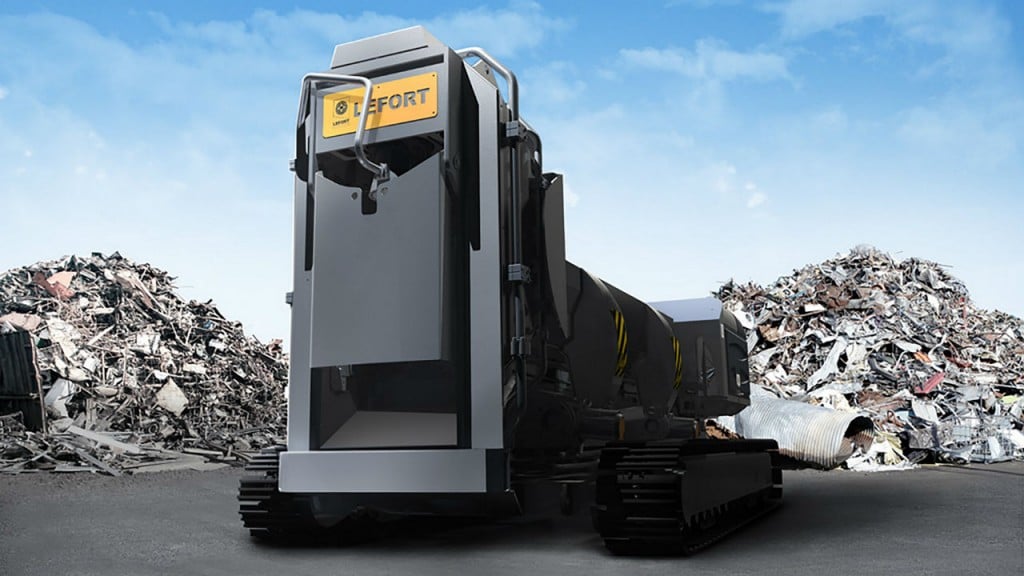 LEFORT recently announced the release of the first ever track-mounted shear/baler/logger, which debuted in North America at the 2016 ISRI convention in Las Vegas.
LEFORT's new line of Crawler machines are controlled remotely; meaning only one operator is needed to control the machine and its complementary material handler. These self-propelled machines are immediately operable once arrived at the scrap yard, with no foundation required, and can move within the scrap yard with ease, from one pile to the next. Plus, with a compact design, these units allow for simple road transport, on a standard trailer. According to LEFORT, this robust, powerful and practical machine is the perfect solution for increasing production, while saving time and money. LEFORT's Crawler shear/baler/loggers provide cutting force of 660 to 1,000 tons, production rate of 15 to 30 T/hour (shearing) and 25 to 30 T/hour (baling).
"We have engineered the perfect machine for our customers all around the world that have large scrap yards and multiple scrap piles. These shear/baler/loggers on tracks complement our product line and we can now answer every customer's request, whatever their needs. We have started to show these machines in our factory to our visitors and the interest is exceptional," says Christian Lefort, CEO of LEFORT.
LEFORT America at the 2016 ISRI Convention and Exhibition
LEFORT America and Caterpillar Inc shared booth B5 at the 2016 edition of the Institute of Scrap Recycling Industries Convention and Exhibition, held at Mandalay Bay in Las Vegas, Nevada, at the beginning of April.
LEFORT America showed off the SB 660A Towable to the public, their first DOT approved 660ton shear/baler/logger for the U.S. and Canadian markets, and unveiled the new LEFORT Crawler machine.
As of December of 2015, LEFORT America and Caterpillar Inc. entered into an exclusive marketing agreement for supply of LEFORT hydraulic shears and balers used in scrap metal recycling. LEFORT products, available in stationary, portable and now Crawler versions, will be sold and supported exclusively by Cat® Dealers in the United States and Canada. The Crawler versions come in a range of 660 ton to 1,000 ton shear force.
According to LEFORT, the partnership with Caterpillar Inc. reinforces the company's dedication to the American market and ensures that customers will be properly looked after, whether with sales, service or parts, through an unrivaled dealer support system.
http://www.cat.com/en_US/news/machine-press-releases/caterpillar-formsexclusivemarketingagreementwithlefortforportabl.html
Company info
Related products