Cooper Tire launches new Roadmaster RM332 WB wide base tire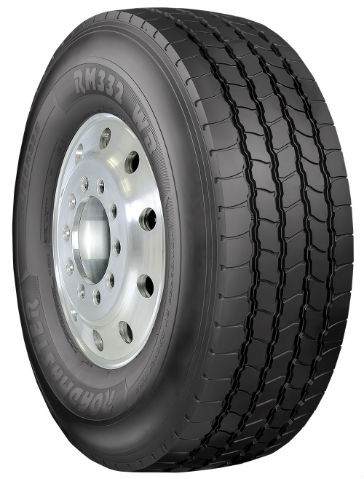 Cooper Tire & Rubber Company is adding to its Roadmaster line of commercial tires with the introduction of the new RM332 WB heavy-duty wide base tire in size 425/65R22.5. The RM332 WB is designed for the steer axle in mixed service applications.
The Roadmaster RM332 WB has a specially designed rib-type tread pattern to withstand the rigors of heavy haul driving, on- or off-road, while also providing long tread life and even wear. The cut and chip resistant tread compound was specially formulated to meet the diverse performance requirements of mixed service applications. Additionally, the RM332 WB is designed to preserve the casing for retreading, including a protective curb bar on both sidewalls, stone protector ledges in all four circumferential grooves to help resist stone penetrations, and four heavy-duty, full-width steel belts to promote durability in heavy haul fleets. The new RM332 WB is backed by a Roadmaster warranty that offers two retreads within six years.
"Mixed service applications are highly demanding and this new tire stands up extremely well to a wide variety of uses," said Gary Schroeder, Cooper's Director of Commercial Vehicle and Global OEM Sales. "Our Roadmaster tires provide long miles and are backed by a strong warranty. These advantages, combined with attractive pricing, make Roadmaster a great tire for customers looking to reduce cost-per-mile," he added.
Company info
Related products