Monster Industrial SHRED Series lineup includes two new models
JWC Environmental's 1-SHRED and 4-SHRED-1 models complete a full line of industrial grinders from small to large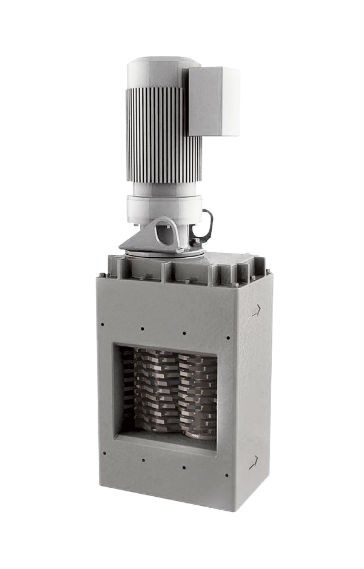 Two new industrial grinders from JWC Environmental are designed to offer optimized solutions for tough solids grinding applications. According to JWC, the expansion of the SHRED series product range allows customers to find the best industrial size reduction equipment to meet their specific needs in a wide variety of industrial applications including organic waste processing, recycling, product destruction and food processing.
New 1-SHRED-H Compact Grinder
The 1-SHRED-H is the newest addition to the SHRED line and provides a small and cost effective grinder while offering the same features of larger models in the Monster Industrial SHRED Series. The grinder is ideal for small facility use in recycling, and small food processing and food waste applications, including food waste preconditioning for composting or anaerobic digestion. The 1-SHRED also meets requirements of the International Convention for the Prevention of Pollution from Ships (MARPOL), making it ideal for use in food waste disposal operations aboard ships or off-shore drilling platforms.
The smallest in the Monster Industrial line, this entry-level dual-shafted grinder operates at low-speed and high-torque to deliver very high cutting forces in a small package. When compared to macerators or other high speed cutting products, the 1-SHRED easily cuts through tough solids like bones or wood that stop low torque macerators. The new grinder has also been designed with lower maintenance and superior energy efficiency than macerators.
The 1-SHRED is tailored for use in wet or dry applications and does not require additional process water to grind products down to size. Designed with a small footprint and the ability to be mounted in a variety of orientations allows the unit to fit into tight space restrictions.
Just like the larger Monster Industrial grinders, the 1-SHRED incorporates bearings at both ends of the shafts to prevent shaft deflection and wear when processing tough solids and includes scrapers, which increase solids throughput for maximum grinding efficiency. The unit is PLC controlled incorporating a motor current monitoring auto-reversal sequence ensuring unexpected debris will not jam and damage the grinder.
Newly Designed 4-SHRED-1-H Grinder
The newly designed 4-SHRED-1-H model is packed with power and can be easily tailored for use in wet or dry applications. This grinder quickly breaks tough, large waste down to size to reduce waste volume, optimize output for further processing and/or to allow the waste to be recycled.
The 4-SHRED-1 is a low-speed, high-torque dual-shafted grinder that can fill multiple industrial needs. This grinders is an excellent alternative to hammer mills in many applications. The 4-SHRED-1 unit will use less energy, have lower maintenance costs and quieter operation than a comparable hammer mill. With a lower total cost of ownership and the newly designed 2.5-inch main shafts this tough grinder is up for the task.
Unlike other industrial grinders, customers can choose from three standard cutter combinations —7-, 11- or 23-tooth — to match the specific waste being processed as well as meet the final particle size requirements for the shredded materials. JWC personnel will work closely with individual customers to understand the specific waste being processed, and recommend the best solution.
The grinder incorporates smart design features, like standard individual steel scrapers between each spacer to increase solids throughput for maximum grinding efficiency, effectiveness and production. The PLC controlled motor current monitoring auto-reversal ensures unexpected debris will not jam and damage the grinder.
Drive motor options are available for the grinder from 15 to 40 hp which are coupled with a variety of gear reductions. This makes the 4-SHRED-1 highly flexible and can be tailored specifically to meet the specific throughput and torque requirements for almost any application. In addition, custom feed hoppers and stands are available to accommodate a variety of material conveyance methods to the grinder.
As with all Monster Industrial models, JWC personnel will work closely with individual customers to understand the specific waste being processed, and recommend the best solution for the task.
Company info
Related products
Related Articles
Traditionally, waste management companies have operated using a simple "management of waste" approach to operating a MRF. Throughput targets and continuous operation (minimal downtime) were the main driving forces. The industry has changed however, and the focus moving forward is now on optimizing system performance and reliability, in conjunction with increasing recycling rates and a drive for a "greener" and more sustainable tomorrow.
When considering the addition of, or upgrade to, an "intelligent" MRF, for municipalities or private operators, the main factors should always be the client's (operator) current requirements, and evolving market needs, which include throughput, reliability, output quality, and adaptability. Equally important is a full understanding of what is really expected from any proposed system. Having an engaged and focused mindset for the project with the client from the beginning, will impact and drive the entire design process. This then impacts the overall project result, through to the productive, efficient, ongoing operation of the facility itself.