Air Canada's battery recycling program up and flying
1,500 kg collected through partnership with Call2Recycle in less than one year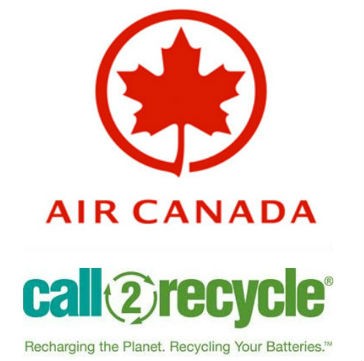 According to Call2Recycle, Canada's national consumer battery stewardship organization, Air Canada is a prime example of a company committed to finding and implementing innovative solutions for protecting the environment. Call2Recycle says Air Canada continues to take measurable steps to reduce its impact on the environment, including the integration of environmental considerations into business decisions in order to minimize overall environmental footprint. Their approach is two-fold: Leave less through their operations — less carbon in the atmosphere, less waste in the land and water, and less noise in communities. And Do more to address environmental issues — more collaboration and participation with industry partners, more involvement in communities and with employees and customers to have an even greater impact in their efforts.
There are many ways through which Air Canada works to reduce their environmental impact at work and in communities…..and one of them is battery recycling.
Air Canada has 28,000 employees across the world, serving more than 38 million passengers annually (along with its partners) and providing direct passenger service to more than 190 destinations worldwide. Like most companies today, mobile and other portable technology is essential to keepings its operations running efficiently. That means there are a lot of batteries to recycle. In fact, the company has collected more than 3,300 lbs. (1,500 kg) since joining the program last August.
Chelsea Quirke, Air Canada's Environmental Waste Programs Manager, gives us a behind–the-scenes look at the airline's battery recycling program.
Call2Recycle: What locations are participating in the program?
CQ: About 45 locations in 15 different cities across Canada. We have many different types of facilities: offices, call centers, warehouses, hangars and airports. We use the Call2Recycle boxes in all these locations.
C2R: Which location recycles the most batteries?
CQ: Our biggest contributors are from maintenance hangars and airports. They use lots of cordless power tools, flashlights and mobile devices. Their feedback on the program is very positive.
C2R: What was your biggest surprise in implementing the program?
CQ: That every location is unique. For example, shipping to and from remote locations like St John's, Newfoundland, is slower because the collections are infrequent and the mail is slower. Contrast that to our Toronto location where boxes are filled in a day. It's important to monitor the replenishment point for each location.
C2R: Were there any bumps in the road?
CQ: We transitioned from drums to boxes, so we struggled at first to make sure we had the right number of boxes in the right locations with replacements arriving at the right times. Some operations were recycling batteries a lot faster than we anticipated. We now keep an inventory of boxes. The box in a box program has been great because the extra boxes don't take up a lot of storage space. Plus, I don't need to oversee the program at all locations. I encourage locations to call Call2Reycle Customer Service directly to ask for boxes or resolve other issues.
C2R: Any advice for other companies in the program?
CQ: Identify factors that will complicate your logistics. In our case, not every location has access to roadside pickup and delivery. Because some of our operations occur behind a security gate, we have to coordinate the transportation of their boxes to another operation nearby that is accessible to the public. We then have to identify someone in charge of moving the boxes, particularly someone who is able to lift the weight.
Also pick your locations wisely. Think about where people are going to be, how and where the boxes will be transported and the aesthetics of the area. I have to make sure boxes in office spaces and lobbies are tidy looking for guests.
Finally, invite your employees to bring in their batteries from home. It's a great way to encourage recycling beyond the workplace.
C2R: What do you like most about the Call2Recycle program?
CQ: The program has a lot of strengths. Most important, it provides a reliable end-of-life solution.
We also like how it helps engage our employees by providing a free disposal service for their personal spent batteries and cell phones
The collection reports are also useful because they establish a baseline and enable us to track against this baseline over time. Finally, the program is free. We were paying a hazardous waste company to recycle and now we can use that money on other environmental initiatives. You can't beat that!
For more information on how to enroll and participate in the Call2Recycle program, please contact www.call2recycle.ca or call 1.888.224.9764.