Efficiency with electric drive: the new Liebherr material handler LH 26 C Electro Industry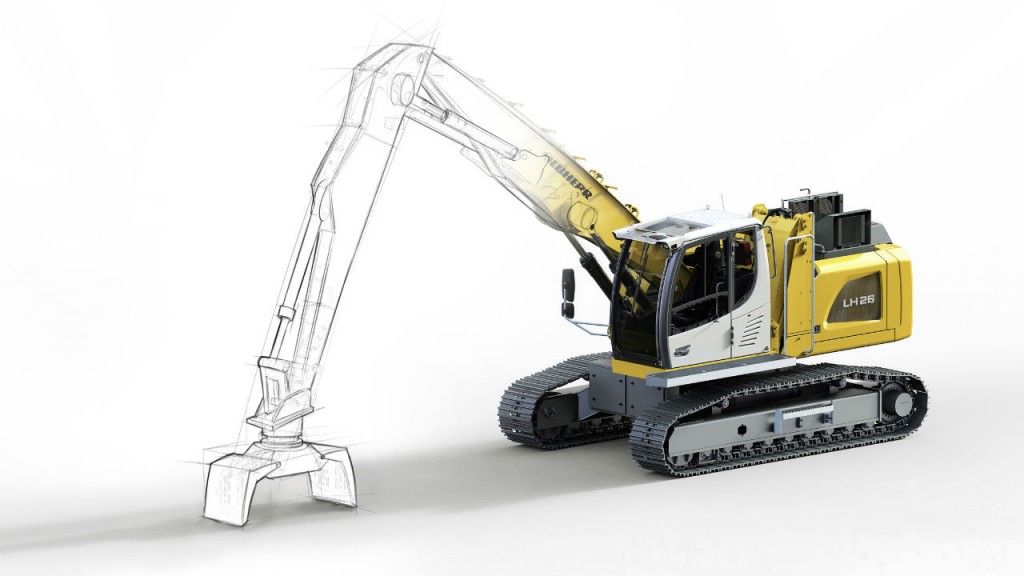 With the material handler LH 26 C Electro Industry, at Bauma 2016 Liebherr presents another representative of the new generation of material handlers with electric drive. The new LH 26 C Electro Industry is perfect for recycling applications, such as material handling, unloading or sorting waste paper, scrap wood and waste products. Efficiency and productivity were the focus during the development of this high-performance machine with compact dimensions.
The Liebherr LH 26 C Electro Industry, exhibited at Bauma, is designed for demanding recycling tasks. The configuration includes a straight industrial mono boom measuring 6.10 m in length and an industrial rod with tipping kinematics measuring 4.50 m in length. The equipment also includes the newly developed Liebherr sorter grab SG 20B with a capacity of 0.6 cubic metres and recycling shell width of 1,200 mm. The grapple is lubricated via the central lubrication system of the machine.
The LH 26 C Electro Industry also features the operator's cab with hydraulic height adjustment and the LC undercarriage with a width of 3,000 mm. The winding system is located at the crawler-track undercarriage, between the two track carriers. The integrated winding drum with cable guidance enables safe movement of the machine.
Efficient electric drive
The Liebherr LH 26 C Electro Industry combines proven technology with a new electric drive concept: low maintenance, quiet and independent of legislated emissions standards. The machine is equipped with a 90 kW Liebherr electric motor which powers the hydraulic pump directly and continuously. With this design Liebherr combines tried-and-tested components with a clever modular system between electric motor and diesel engine. The results are maximum functional reliability thanks to many years of field experience, durability and a high availability of spare parts. The technical control of the electric motor is via a water-cooled frequency converter which acts as a speed control to allow dynamically sensitive working parameters.
Auxiliary consumers such as alternators and air-conditioning compressors are powered by an additional 15 kW electric motor in the LH 26 C Electro Industry. This separate system allows conscious energy distribution as required and ensures maximum energy efficiency of the electric machine.
State-of-the-art motor technology
In the LH 26 C Electro Industry Liebherr uses state-of-the-art motor technology with intelligent machine control, which optimizes the interaction of the drive components. The frequency converter ensures the direct supply and control of the electric motor with adjustment to the local energy supply network and also controls its gentle startup. The hydraulic drive components are therefore protected which leads to a longer service life. The reserve capacity of the network can also be reduced to a minimum.
The electric drive also optimizes the operating costs in terms of arising energy and service costs and guarantees high machine availability also in extreme conditions such as work generating large amounts of dust.