Waste Pro selects CP Group for Sarasota single stream recycling facility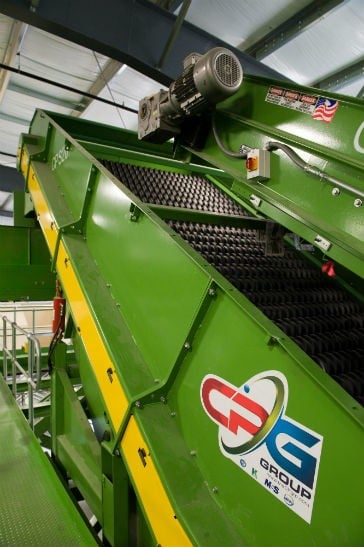 Waste Pro, one of the fastest growing, privately owned waste collection and recycling companies in the Southeast has selected San Diego-based CP Group to install a new 13-15 tons per hour single stream recycling facility (McMRF) at the company's Regional Operations Center in Sarasota.
"We have worked with CP previously and look forward to installation starting in May," said Keith Banasiak, Waste Pro Regional Vice President. "We should be fully operational by July."
The facility will bring new recycling capabilities to the Sarasota-Brandenton region and will focus on recovery of old cardboard containers #11, mixed paper #2, old news print #8, and plastic containers numbered 1 – 7. Waste Pro serves more than 245,000 customers in the region.
Waste Pro will house their new single stream system in a new 14,000 square foot building, while still utilizing the company's existing 30,000 square foot building. The company says flexibility played a large role in the system design, and CP overcame the design challenges of incorporating with the existing baler feed in a small footprint.
The solution was to shorten conveyors without sacrificing sorting ability. Working in partnership, Frank Casagrande, Waste Pro Director of Recycling Operations, and CP engineers, the team utilized an innovative design which was created for full baling and storage capabilities in the existing building. CP says their disc screens are at the heart of the system's recovery technology. The CP OCCScreen captures cardboard commodities, while the CP Glass Breaker Screen captures glass and removes glass fines from fiber and containers.
"This is essential for cleaner products going forward in the system, since glass is a main contaminant in single stream throughout the United States," stated Casagrande. The CPScreen uses patented cam-lobe discs that offer the proper agitation needed to separate 3D material.
Waste Pro is one of this U.S. fastest growing privately owned waste collection, recycling, processing and disposal companies, operating in nine southeastern states. Serving more than two million residential and 40,000 commercial customers from over 75 operating locations, Waste Pro is headquartered in Longwood, Florida, and maintains more than 230 exclusive municipal contracts and franchises.
CP Group engineers, manufactures, installs, and services Material Recovery Facilities worldwide for a variety of sectors. Custom turn-key systems for residential recycling, commercial and industrial, municipal solid waste, engineered fuel, construction and demolition, and electronic waste processing are designed, installed and serviced. CP Group engineers and manufactures conveyors, disc screens, air separation machines, trommels, optical sorters, magnets, and intelligent motor control and data acquisition systems. CP Group, headquartered in San Diego, CA, is comprised of CP Manufacturing, Krause Manufacturing, MSS, and Advanced MRF.