SICON introduces new Eddy Current Fines Separator
New model developed specifically for shredder industry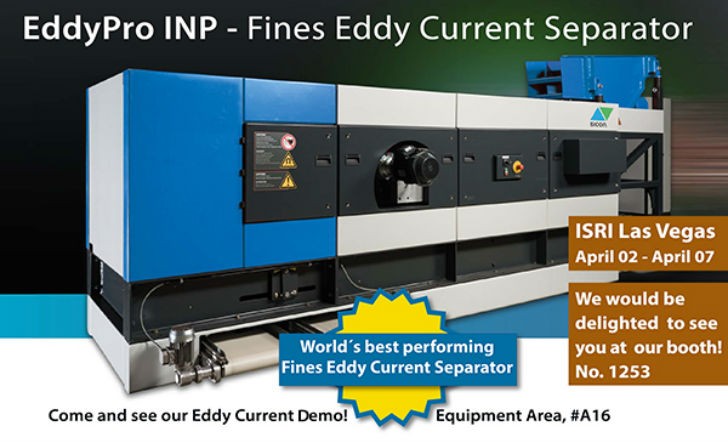 SICON has announced a new fines eddy current separator offering to the shredder industry. The SICON Fines EddyPro INP is specifically developed for this application and optimized for fines treatment, making it the most powerful 'Fines Eddy' available on the market, according to the Germany-based manufacturer.
SICON says there is still considerable hidden value in the fines from shredder residue, since only a few shredder operators can completely separate non-ferrous metals from shredded materials (smaller than approx. 8 mm (1/3"). In many cases this is due to equipment which is not suited for these applications. The SICON Fines EddyPro INP, which will be on display at this year's ISRI 2016, features:
Separation of the finest non-ferrous metals, even as small as < 0.5 mm (0.02")
Exceptional separation results made possible by a special multipole magnet system
Pole changing frequency 1.5 kHz at 3000 rpm results in relatively low rotational speeds and consequently lower bearing loads
Rotor diameter 650 mm (26")
Package solutions with upstream connection of various devices for optimizing infeed, FE Separation (FinesTuning) or screening
Available widths: : 500, 1000, 1500, 2000 mm (20", 40", 60", 80")
SICON says zorba separation up to < 0.5 mm (0.02") can be realized easily. In order to achieve best possible results SICON offers a system integration into existing operations. For a complete Non-Zorba metals recovery from fines and ultrafines, SICON offers the equipment for this additional step of separation as well. Testing of the New Eddy Fines is available upon request.