Call2Recycle Canada's Spring Cleaning campaign provides incentive for battery recycling
Battery stewardship organization and partners offering prizes to consumers for telling their recycling story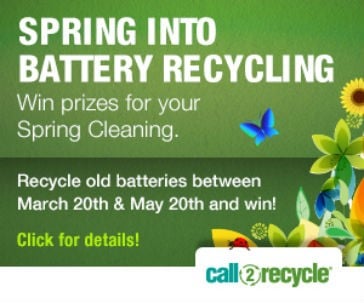 Call2Recycle Canada, Inc., North America's first and largest consumer battery stewardship organization, has announced its 2016 Spring Cleaning Campaign, offering consumers across Canada a chance to win prizes for sharing their recycling stories while doing their annual Spring Cleaning.
Every Spring, millions of Canadians declutter rooms, clean out dusty corners, and discard old items for new ones. One common household item that should not be overlooked is used batteries. As Canadians head to retailers for cleaning supplies, tools and ideas for summer projects, Call2Recycle and its partners are reminding them to drop off any used household batteries that weigh less than 5 kg in Call2Recycle boxes at those stores. Consumers who send in their recycling stories and battery recycling photos at www.call2recycle.ca/springcleaning between March 20 and May 20, 2016, are eligible to win eight gift cards of $100 each.
Many retailers such as Best Buy, Canadian Tire, Home Hardware, London Drugs, Rona, Staples, The Home Depot, as well as municipalities and businesses, partner with Call2Recycle to offer free battery and cellphone recycling. Batteries collected through the program are diverted from landfills and reclaimed for use in new batteries, cookware, appliances and hardware. Canadians can easily find their closest drop-off location by visiting call2recycle.ca/locator.
"Our Spring Cleaning campaign is a great opportunity for us to keep battery recycling top of mind by reminding consumers to recycle when cleaning out their homes," says Joe Zenobio, Executive Director, Call2Recycle Canada, Inc. "We are proud to partner with retailers, businesses and municipal organizations that share our vision for safer, cleaner communities."
Through the efforts of Call2Recycle's partners, more than 5.7-million kilograms of batteries were diverted from landfills in 2015. These organizations are setting a strong example of environmental consciousness, and demonstrate that together we can have a tremendous impact on our surroundings. As more partners join the free Call2Recycle battery recycling program, Canadians will be able to divert more and more batteries from landfills—and our homes won't be the only thing cleaner each Spring.