Q&A with a wood recycling industry pro
Tubs vs horizontals and other insight from the grind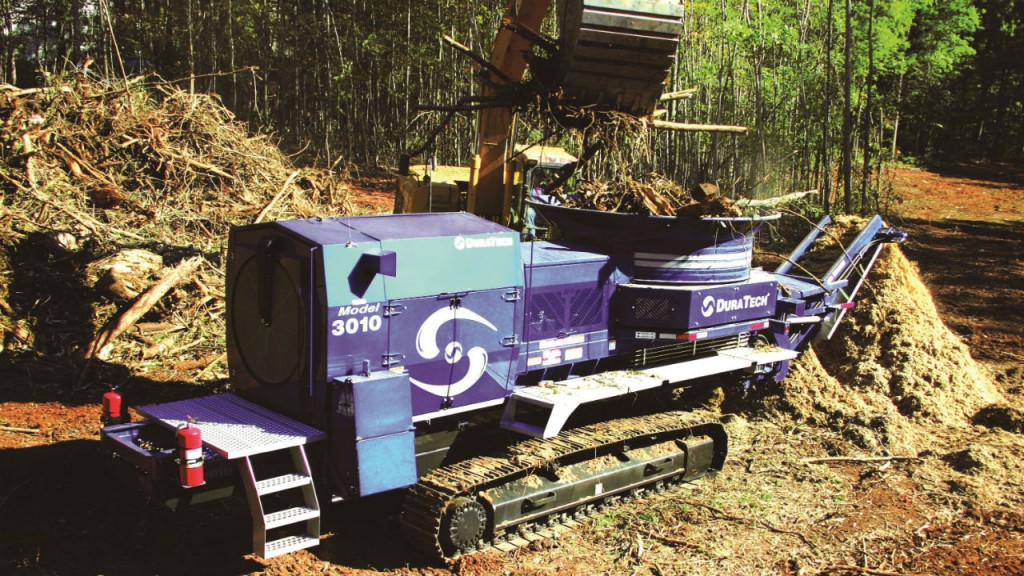 Bob Strahm is DuraTech Industries' vice president of sales and has been working in the wood waste grinder business for two decades. We caught up with him this winter to get some perspective on the status of the industry's original wood waste recycler – the tub grinder.
RPN: Tell us a little about the history of Duratech and its role in the evolution of the tub grinder.
Bob Strahm: DuraTech was founded by Joe Anderson and began as Haybuster in 1966. This is when Joe and a team of engineers built our first tub grinder for agricultural applications. By 1988 we took our tub grinder design, initially used primarily for grinding hay and cattle feed, and turned it into the first heavy-duty wood-waste tub grinder of its kind. WHO Manufacturing came out with a tub grinder for wood waste around the same time as us. It took a few years, but through some trial and error we got it right, haven't looked back, and were followed by large manufacturers like Morbark and Vermeer. Our tub grinder, created by Joe Anderson and the engineers he was working with, is still our "bread and butter" today, along with our bale processors for the cattle industry.
RPN: How do you compare tub grinders to horizontal grinders for wood waste recycling?
Bob Strahm: About fifteen years ago we were of the understanding that horizontal grinders were going to take over. They didn't. The arguments were that you don't have to size your product as much as you do with tubs. It's got to fit in the tub, whereas a horizontal grinder has a longer hopper. The horizontal was also deemed safer than the tub grinder. So, during the last decade we decided that's where the market was going to go. We worked on a line of horizontal grinders, but since doing that our tub grinder business has pretty much doubled.
With respect to the number of tub grinders versus horizontal grinders in the field, it is about 50/50 overall. 80 percent of our sales are tub grinders, which are our specialty. DuraTech has two models of horizontals and 6 models of tubs.
RPN: What are advantages a tub grinder can offer to wood waste recyclers, compared to a horizontal grinder?
Bob Strahm: The tub grinder is still a preferred way of grinding wood waste for volume reduction. It produces a better mulch because it busts up the wood and doesn't produce as many splinters, compared to a horizontal which basically rips material apart. At the end of the day, we feel that a tub grinder's mulch is a preferred product.
Compared to a large horizontal grinder, a big tub is more universal. You're going to be able to do larger stumps without having to chop them up and size them before you process them. With a horizontal, the throat of it is very limited on what you can put in compared to a tub. And for grinding pallets and similar material, we've found the process just works better in a tub. A feed roller along with a moving floor are what feed the hammermill on a horizontal. And it can get a little tough when it comes to pallets. It's doable, but surely it's not as efficient and clean as dumping a load of pallets inside of a tub and letting the tub feed the hammermill.
RPN: What about processing longer material?
Bob Strahm: Horizontals will more easily handle longer material compared to a tub. But if you know how to run a tub well, you can get longer stuff in. It's a little time consuming, but the best thing to do is size it first, and you're going to have more throughput at the end of the day and be more efficient. You can run long trees through a tub, especially if you're running a machine with a grapple loader. Operators in the industry sometimes use the term 'run it like a pencil sharpener.' I've seen people do that and do it well.
RPN: How have tub grinders changed over the years?
Bob Strahm: They've gotten heavier and they've just gotten more efficient overall. The tub tilt feature is now basically an industry standard. It used to be optional, but now it's standard on all machines. Clutches have also gotten much better and are now more adapted to the harsh environment of wood waste recycling.
Very often, grinders are operated by hired staff, working for municipalities for example. So you have to make these machines "bulletproof". With our automatic clutch, you push a button and it starts itself. In the old days, there was a hand clutch, which needed so many foot pounds of pressure to engage it. If you didn't do that properly throughout a day, for example if you stopped and started a grinder three or four times a day, sometimes putting the machine in gear, the operator, especially if he doesn't own the machine, may not do it properly. This can really harm a clutch, which is not a cheap component of a grinder.
In the past, for example, we have had to put three clutches in a grinder in one year. What happened each time was that an operator revved the engine up, shoved it in gear and destroyed the clutch. So what we did many years ago, we worked with PT Tech on the development of our automatic clutch. And they designed one for us that's fully electronic controlled. You push a button or you set the engine rpm at a certain level. It won't let the operator rev up the engine and engage it, so he has to follow the rules. At 600 to 700 rpms, you engage and push a button and it takes over the clutch. You speed up the rpms, and the clutch is self adjusting so you don't, as an operator, have to stop and check the clutch to make sure the settings are proper and the plates in it are properly set. It does this all itself.
What can you tell us about the key features of Duratech's 3010 and 4012 tub grinders?
Bob Strahm: Our 4012 model is our biggest, providing high horsepower (950- 1,050 hp) and a near 12-foot tub. These models are sold into landfills regularly where it is all about volume reduction. The 4012 also has all the great features of our 3010, which is probably our most popular grinder, including an oscillating conveyor and self-cleaning engine. And both models can be closed in with a self-cleaning screen and use our automatic clutch, which takes the operator and the maintenance guy out of the equation there.
The 3010 model is our "erector set" of a grinder. It's got a couple choices of engines. You can order it on a trailer, on tracks and it can be equipped with a grapple. It's a very efficient and reasonably priced tub grinder.
We have also totally enclosed our grinders and we put a self-cleaning rotating screen in front of the radiator. So when material is flying through the air and the wind is taking some dirt and debris, our system continuously keeps the radiator clean of material at all times, preventing plugging, overheating and maintenance downtime.
We also offer an oscillating conveyor on the back end of our 3010 and 4012 machines. We're the only ones that offer it standard. That conveyer off the back end allows users to put a lot more product out of their grinder without moving it. We can load a 22-foot long truck without moving the truck. That's been an exclusive feature of ours for a long time, and what's really nice about it is once you get your pile out there, if you're just pushing it into a bigger pile, it's helpful to be able to swing that conveyor out of the way. This allows you to run through there with your 'payloader' and push material away, without having to worry about banging into the conveyor. And then you just swing it back over and you continue to grind.
Which safety features are incorporated into Duratech tubs?
Bob Strahm: Our tub cover is remotecontrolled, and enables users to fully enclose the tub, which is very important, especially when you're grinding down (when material is ground down inside the tub so the tub is no longer full). It is common knowledge now that when running a tub grinder the whole secret is to keep the tub full, and you won't have flying material. The material on top protects it when the hammermill's doing what it's doing at the bottom of the tub. But when it gets to grinding down, you can get in trouble, and so we have our remote-controlled tub cover. The hammermill turns in such a direction, and allows users to put the tub cover off to the side, protecting the whole area off to the side. Then you can close the tub completely, hydraulically, once it's grinding down. It grinds down the material inside, cleans it out and empties the tub without material flying out.
RPN: When will tub grinders be required to have Tier 4 engines?
Bob Strahm: 2018. Tier 4's been talked about for a long time. Some manufacturers chose to go to tier 4-interim but we've chosen not to. We've enclosed our engines, with a self-cleaning screener, and we'd have to redesign it entirely. We have stuck with Tier-2 on 500-hp machines and above. It will take a lot of engineering time to get industry emissions to where the federal government is requiring them to go – but we'll do it. I think electric motors are also going to be very popular going forward. RPN
Related Articles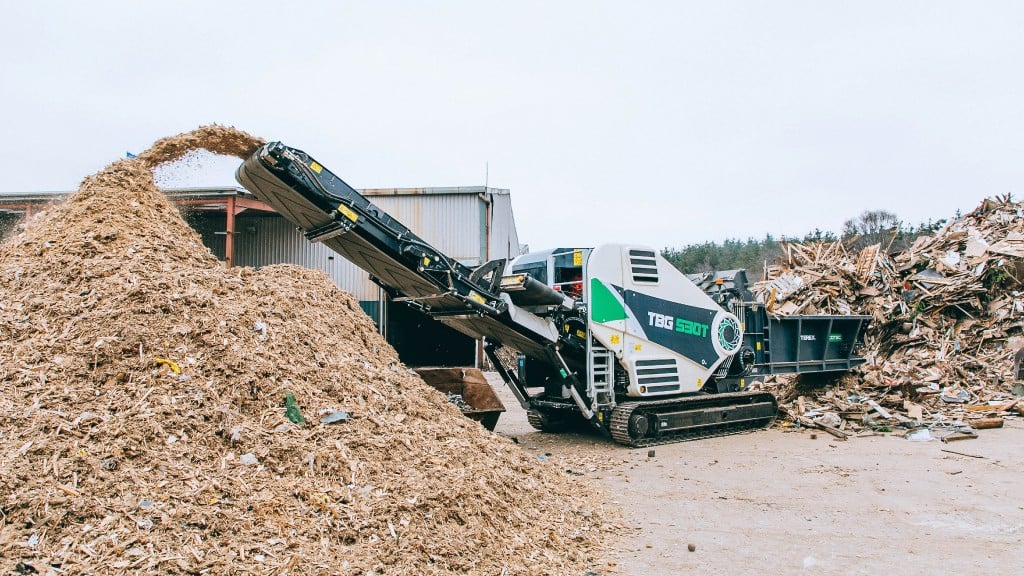 Terex Ecotec's new high-speed shredder ideal for wood processing and green waste shredding