C&D World 2016 to include Zanker Recycling tour
Facility tour to showcase BHS and CAT technology in action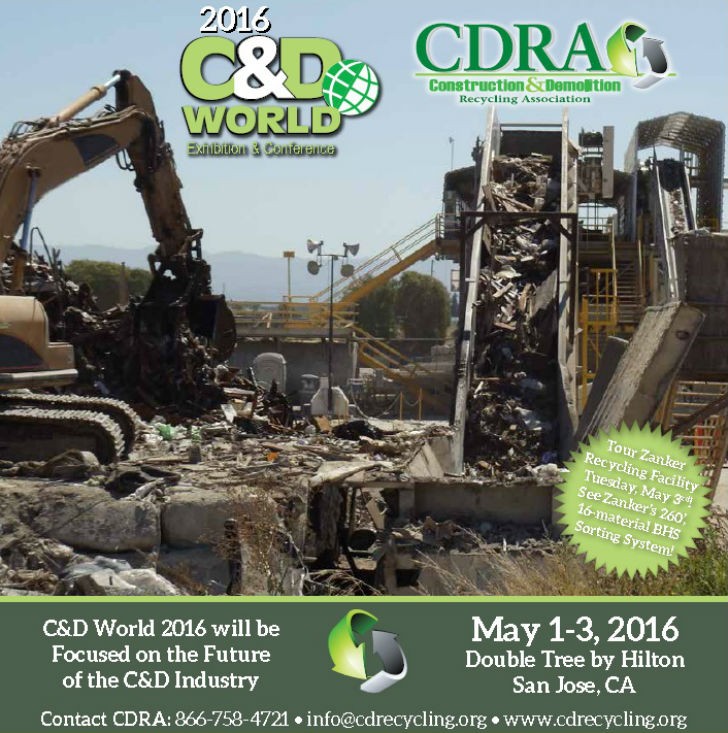 At this year's C&D world, upcoming May 1-3 in San Jose, California, attendees will have the exclusive opportunity to tour the Zanker Recycling Facility, to see a newly installed BHS Demolition Debris sorting system with 4-Nipot air separators, as well as CAT's new 519 Stationary Mount Electric Loader at work. Attendees will also have the opportunity to access education sessions to learn more about how to survive and grow in today's Construction and Demolition market. Topics will include industry specifics, future trends, cyber security and succession planning for business owners. Along with the tour and valuable education sessions, C&D World also includes a prestigious awards program, casino fundraising event and tradeshow featuring industry manufacturers and suppliers.
Also this year, CDRA brings the world's first and only stand-up economist to C&D World. Yoram Bauman, PhD. will make attendees laugh about politics, economics, and especially make them think about tackling climate change with a carbon tax swap that uses revenue from a carbon tax to reduce existing taxes. Other educational sessions at C&D World 2016 will cover two important operational issues facing recyclers: Using telematics to optimally utilize your equipment fleet, and how to prevent and respond to facility fires. Stan Orr, President, Association of Equipment Management Professionals, will provide information on how to best employ equipment in any job site, relying on information on his association¹s latest book on telematics. Also a local fire official and David Devito, ReEnergy and CDRA Secretary/Treasurer, will provide tips on handling fire incidents at recycling facilities..
C&D World is the only conference focused 100-percent on the massive North American and global C&D industry. For the past 22 years the Annual Meeting of the CDRA has provided information on how to survive and grow in the market.
Limited space on the tour - sign up today! http://www.cdrecycling.org/cdra-events
Company info
35 E. Wacker Dr., Suite 850
Chicago, IL Phone: 866.758.4721
Chicago, IL
US, 60601

Website:
cdrecycling.org
Phone number:
866.758.4721
Read more