Doppstadt introduces SM 620 SA screen with 7 cubic meters bulk volume capacity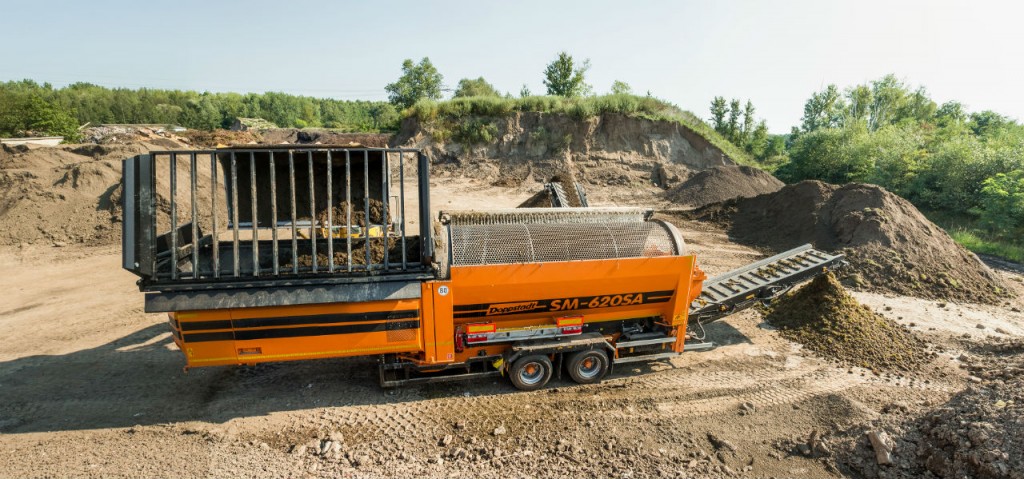 According to Germany-based manufacturer, Doppstadt, the times when wheel loaders could not fill their materials into the hopper of a screen at one stroke because it was too small, are over. The 7 cubic meter hopper of Doppstadt's new screen SM 620 SA is ideal for the recovery of light material mixtures such as compost and biomass. Traditionally, a wheel loader's large bulk volume results in long wait times for operators at screens: input material must first be processed in order to clear a space in the feeding hopper. With the latest Doppstadt solution, the wheel loader and screen are in permanent motion: the whole process takes place without interruption in continuous operation.
"This makes the new machine impressive: It is not only versatile, but ideally suited for combined use with shredders or wind sifters," says Doppstadt Product Manager Karsten Runge. "It also absorbs the charge of large wheel loader buckets at one stroke thus accelerating the whole operating process and increasing the throughput rates accordingly. This solution saves energy, money and time."
In spite of its larger feeding hopper and 5,5 m conveyors, the SM 620 SA screen is still designed compact and mobile. With 24 tons gross vehicle weight it can transport optional equipment such as stone grids or vibrating screens without having to detach. Additionally, depending on the screening task, the SM 620 SA can either be used as a trommel screen or as a star screen, for universal applicability. These screens process waste and raw materials, compost, earth, light debris, garbage, industrial waste, plastic, glass, paper, wood, biomass, sand, gravel, scrap or slag.
Related Articles
Traditionally, waste management companies have operated using a simple "management of waste" approach to operating a MRF. Throughput targets and continuous operation (minimal downtime) were the main driving forces. The industry has changed however, and the focus moving forward is now on optimizing system performance and reliability, in conjunction with increasing recycling rates and a drive for a "greener" and more sustainable tomorrow.
When considering the addition of, or upgrade to, an "intelligent" MRF, for municipalities or private operators, the main factors should always be the client's (operator) current requirements, and evolving market needs, which include throughput, reliability, output quality, and adaptability. Equally important is a full understanding of what is really expected from any proposed system. Having an engaged and focused mindset for the project with the client from the beginning, will impact and drive the entire design process. This then impacts the overall project result, through to the productive, efficient, ongoing operation of the facility itself.