Sun Peaks finds success with fully containerized compost system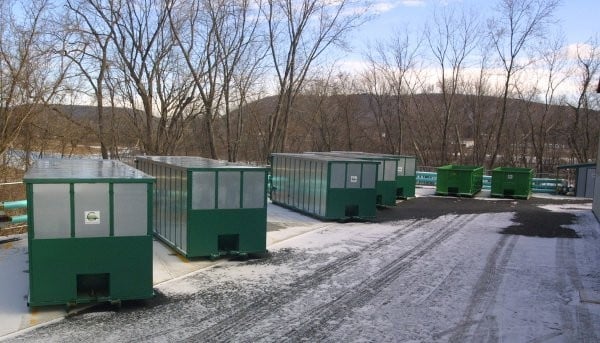 Sun Peaks Resort is an all-season getaway 31 miles from Kamloops, B.C. Formerly known as Tod Mountain, it has grown to nearly 4,000 skiable acres of terrain as well as a world class golf course, lift-access hiking and mountain biking.
Several years ago, Sun Peaks had come to realize that simple outdoor composting of its biosolids didn't work at 4,000 feet, during B.C.'s very cold winters. Sun Peaks Utilities then contracted with Urban Systems, an engineering firm to evaluate a number of different technologies. After the review of a wide variety of systems, including simple composting, co-generation options, and more, Sun Peaks Utilities selected Green Mountain Technologies' In-Vessel Composting System as the best option.
One of the factors that Sun Peaks found to be a particularly good fit for their site is the fact that Green Mountain's Containerized Composting System (CCS) can be expanded to include other compostable materials in the future.
"This creative system is used to take the exhausted biosolids from the wastewater treatment plant and combine them with locally available wood chips to create a Class A compost for use throughout the resort," said Pat Miller, manager of Utility Services for Sun Peaks Utilities Co., Ltd.
"In the future, we would like to also be able to divert food waste from our restaurants and other waste compostable materials as well. We save more fuel costs by utilizing the Thompson Nicola Regional District's roll-off trucks to empty our containers, in between their trips from the local waste transfer site to the landfill.
"By keeping as many of these materials onsite and processing them in an environmentally responsible manner, we save fuel costs while enriching the landscape around us," said Miller.
Using Green Moutain's Containerized Composting System, composting first takes place in controlled batches with three airtight vessels (CompTainers) which are loaded by conveyor from inside a processing building. The CompTainers are super-insulated to allow composting in the extreme cold environment, like in the mountains of British Columbia. The CompTainers can be moved and emptied by roll-off trucks which regularly come to the mountain to pick up recycling containers. Each CompTainer is then closely controlled to optimize decomposition, meet regulatory requirements and minimize odours.
According to Green Mountain, their unique aeration process integrates up to 50 CompTainers into a single system through centralized blowers and computer controllers.
"We're thrilled to be partnered with Sun Peaks Resort to help them with their waste management initiatives," said Michael Bryan-Brown, Founder and CEO of Green Mountain Technologies, Inc. "Given their location and altitude, our CCS system is an affordable and scalable solution for them."
Green Mountain Technologies, Inc.