New ROLO Box Dumper from SP Industries designed for heavy-duty applications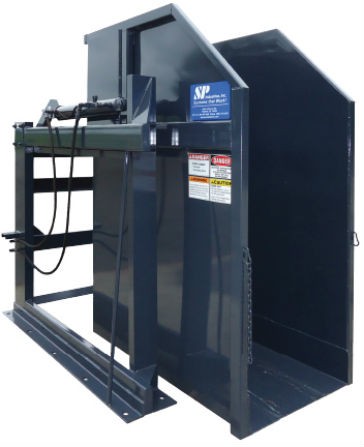 SP Industries offers the ROLO Box Dumper– a heavy capacity production dumper used extensively in auto parts production, forging facilities, recycling operations, distribution centers, food processing and waste handling. With a dump angle of 135°, this box dumper is ideal for carts, bins and cans, efficiently handling scrap metals, metal chips, corrugated materials and hospital waste. Material can be emptied from the ROLO Box Dumper directly into production, into smaller containers, onto a sorting tray, table or conveyor.
Custom fabrications are standard on the ROLO Box Dumper; cart attachments and scoops can be built to match specific carts/containers. Additional options include PLC controls, hydraulic lock systems for carts, thermo oil heater, side-entry scoop and dumper enclosures. The dumper has a structural steel frame and high-tensile steel pivot shaft for the ultimate durability and stability. Dual cylinder power adds to stability and increases lifting capacity.
Key specifications for the ROLO Box Dumper:
Maximum Dump Height: 84"
Minimum Dump Height: 24"
Dump Angle: 135°
No. Cylinders: 2
Maximum Capacity: 8,000#
Motor Sizes: 5 HP to 10 HP
Pump Sizes: 6 GPM to 10 GPM
Cycle times (sec.): 26 to 137
All SP Industries equipment meets or exceeds ANSI and OSHA specifications for safety.