EcoShred Vertec: a universal vertical shredder for scrap and metal processing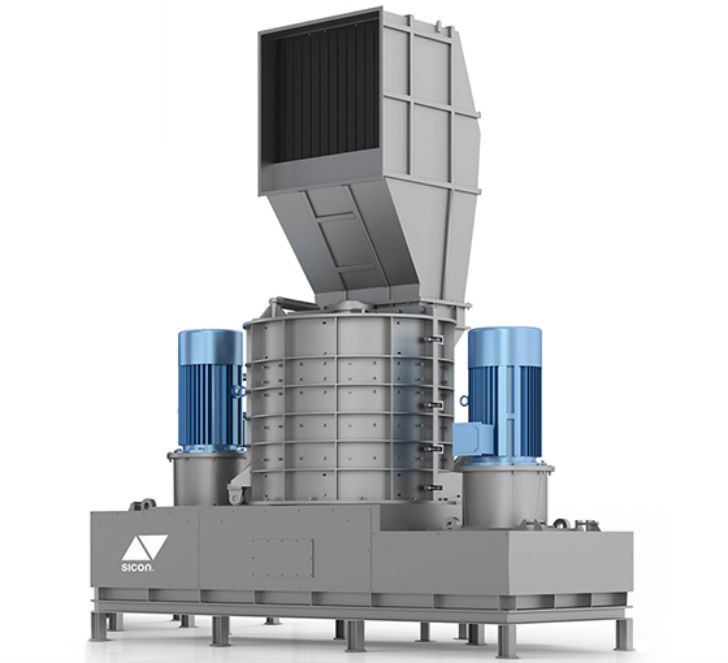 SICON's EcoShred Vertec is an extremely versatile vertical shredder available in four sizes and with different rotor configurations. An ideal field of application for this machine is not only scrap compaction but also complete material separation. Consequently, this machine is ideally suited for processing of:
electric motors
meatballs
electric and electronic scrap
commercial light mixed scrap
coolant scrap
If requested, SICON says they can easily expand the EcoShred Vertec by installing a matching feed line and optimum FE and NF metal separation to create an integral system. For mixed scrap processing, a rotary shear can be installed upstream, available in different versions and throughputs. As a result, the EcoShred Vertec is turned into a full-fledged shredder installation for throughputs of up to 15 tons per hour, at low investment costs.
According to SICON, with their modular metal processing solutions, the EcoShred Vertec can provide great benefits in the scrap processing sector. In the field,SICON says this has already been proven for processing of electric and electronic scrap: after treatment with rotary shears and separation of contaminated components. Furthermore, more careful processing takes place in the EcoShred Vertec for subsequent plastic and metal separation, which offers operators of scrap processing plants a uniquely flexible processing solution.
Related Articles
Traditionally, waste management companies have operated using a simple "management of waste" approach to operating a MRF. Throughput targets and continuous operation (minimal downtime) were the main driving forces. The industry has changed however, and the focus moving forward is now on optimizing system performance and reliability, in conjunction with increasing recycling rates and a drive for a "greener" and more sustainable tomorrow.
When considering the addition of, or upgrade to, an "intelligent" MRF, for municipalities or private operators, the main factors should always be the client's (operator) current requirements, and evolving market needs, which include throughput, reliability, output quality, and adaptability. Equally important is a full understanding of what is really expected from any proposed system. Having an engaged and focused mindset for the project with the client from the beginning, will impact and drive the entire design process. This then impacts the overall project result, through to the productive, efficient, ongoing operation of the facility itself.