Machinex' state-of-the-art MRF for Republic in Jacksonville is more than just single stream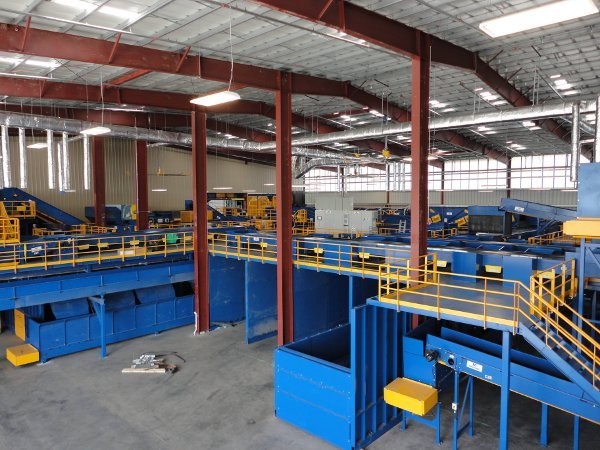 Plessisville, Quebec-based Machinex has built a flexible state-of-the-art Material Recovery Facility for Republic Services in Jacksonville, Florida. Inaugurated in May, the system started running at the beginning of April and the results have been excellent.
Machinex says they are very proud of the project which features great flexibility. From the tipping floor there are three different streams that can be processed. Residential single-stream is the future, the company says, and the system is currently capable of processing greater than 22 tph of this material while processing up to 8 tph of dual stream containers simultaneously.
Further, the system is designed to run commercial recyclables and single-stream without having to man the container line with a bypass back to the tipping floor.
"We believe Republic Services appointed Machinex for the project because of the design proposed which truly took into consideration all of the market conditions for Jacksonville that were presented to the bidders. With a combination of dual stream and the future conversion of single-stream, Machinex designed a solution to handle the needs of today with strong consideration of the growth for tomorrow. We brought them a different approach, outside the box," said Nicolas Belanger, President of Machinex Technologies.
Republic Services and the City of Jacksonville say they will be well served by the system. In future, Republic will be able to upgrade the system without any prolonged downtime because of its design. The company says it's the first Regional Material Recovery Facility to be designed and built from the ground up in Republic Services history.
Machinex and Republic Services teamed up in 2010 with the Lakeland MRF, and the companies are working on a single-stream MRF being built in St-Louis.
The system
Machinex says the Jacksonville installation will be one of the most technologically advanced processing lines on the East Coast. It starts with two infeed systems, and features screening technology with a triple deck OCC screen, a glass breaker screen, a dual scalping screen, a double deck ONP screen and 3D finishing screen. Machinex also incorporated three optical sorters, used for sorting plastics 1 through 7, and even for aseptic packaging. The final touch comes with a Machinex Mack Motion Floor, glass clean up system and dual rejects compactors. The company says it took a total of 9 weeks from the time the building was available until the start of the machinery and processing of material began.
In the early 1980s, Machinex became the first company in Canada to design machinery for material recycling facilities. Over the years, Machinex experts have designed and installed over 250 turnkey facilities in partnership with leading MRFs in Canada, the United States and Europe.