PRAB launches Spanish language website to meet increased global demand for scrap metal processing and fluid recovery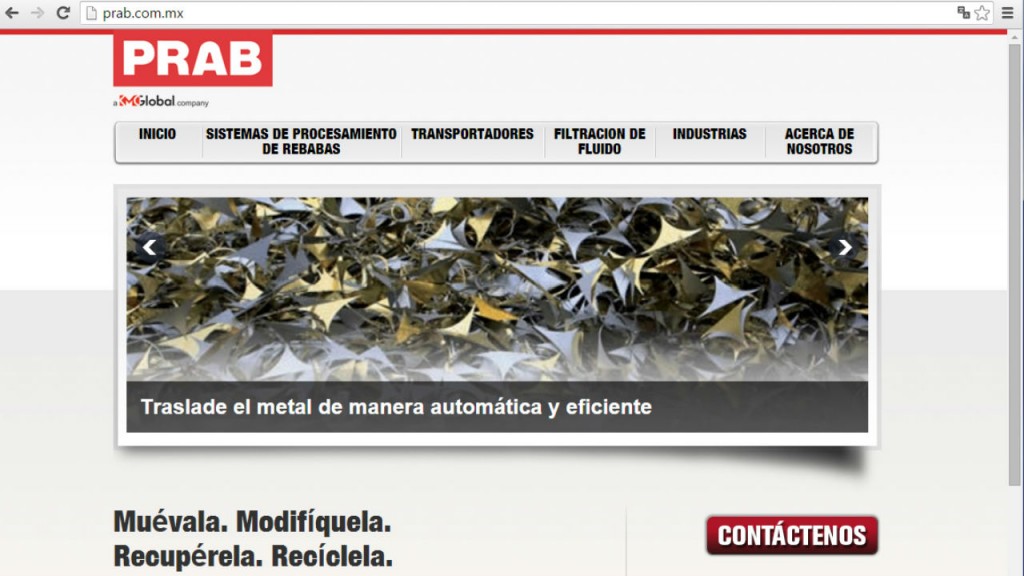 PRAB, a global leader in the automated processing of scrap metal and fluids serving the needs of industrial metalworking companies for more than 65 years, has announced the launch of a comprehensive Spanish language website. The website, www.prab.com.mx offers information on the effective methods for automatically processing all types of metal scrap while also describing the cost savings associated with the collection of metalworking fluids for recycle and reuse. PRAB engineers a wide-range of equipment and systems that automate the scrap management process in machining, stamping, laser, and die-cast operations.
"This website is a broadening of our commitment to serve our global customer-base in a user friendly manner," notes Mike Hill, PRAB Vice President of Sales and Marketing. We design and manufacture robust equipment that collects scrap metal at the source, transfers it for processing, reduces volume or collects flat scrap, and separates and recycles fluids. Automating scrap processing is a key component to competitive, safe, and cost-effective operations in today's industrial metalworking companies."
PRAB equipment is engineered to handle a wide range of material types; Aluminum, Brass, Steel, Cast Iron, Titanium, and high Nickle Alloys. Each material and operation all have their unique material characteristics and produce varying configurations of scrap. The speed, duration, temperature requirements, and output tolerances all have an impact on how the scrap is formed and the volume and type of fluids used. PRAB supports metalworking, die-cast, and metal cutting operations with the components designed to handle the industry's unique scrap management needs.
Crushers, wringers, conveyors, briquetters, magnetic separators, paperbed filters, tramp oil separators, and ultrafiltration are the core equipment manufactured by PRAB and are designed and selected by application to work together in a complete automated system.
For more information about PRAB and its equipment and systems offering visit www.prab.com.mx or the English version at www.prab.com.