Viking Energy turns waste railroad ties into electricity for Michigan households
Doppstadt combination slow-speed shredder and high-speed grinder key for biomass to energy processor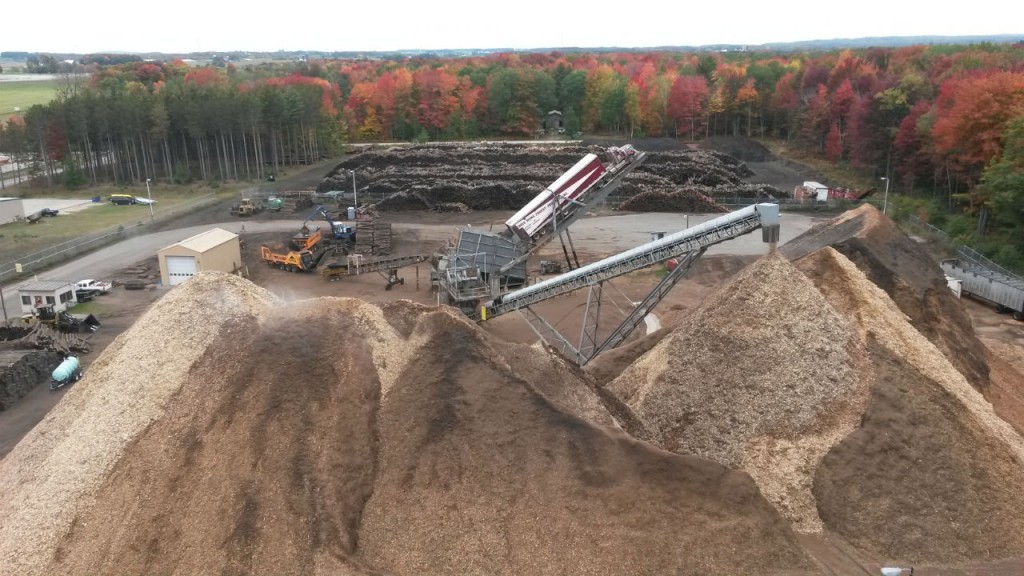 The northwest quadrant of the lower peninsula of Michigan is one of the more beautiful places one could visit in this country. Just outside of the Manistee National Forest near the city of Cadillac lies the tiny town of McBain. This is the home of Viking Energy, an 18MW energy plant powered by renewable biomass fuel. While most of the fuel used at the McBain plant comes from forestry byproducts, a meaningful percentage of that fuel is supplemented with used railroad ties that are brought in from around the Midwest.
Energy derived from biomass and other organic waste, and even municipal refuse, continues to grow in importance as a source of reliable power generation. Wind and solar may contribute a higher percentage of power to the grid, but biomass fuels have definitely come into their economic own in the last decade. As a result, more generators are looking to this seemingly never-ending supply as a means to contribute to the nation's insatiable appetite for energy.
Biomass fuels can be derived from numerous different waste streams, from clean construction wood, to agricultural residue to forestry slash. And in northwest Michigan, timber is big business. Not surprisingly, wood waste from the forestry industry is a very reliable fuel source for Viking Energy. But it also comes with a big challenge. "If you want to know the heating value [BTU rating] of wood, you have to ask what kind of tree it came from," explains Plant Manager Tom Vine. "Powering our generators with mixed wood fuel can create peaks and valleys in energy output which is not a very desirable condition for a power plant."
Having spent nearly 25 years in nuclear energy generation, refueling was a concern Tom used to only have to deal with every two years or so. But now that he oversees a biomass plant, refueling is something they are concerned with nearly every minute of every day. Power output depends explicitly on the heating value of the wood chips being fed to the boiler, and keeping that mix consistent requires a precise science of blending multiple sources to create an evenly burning fuel. That's where the railroad ties make such a difference.
"Railroad ties are extremely dry and extremely dense," Tom continues. "When we blend it with the higher moisture, less dense wood from the timber industry, we are able to generate a wood chip blend that burns with much more predictability. That allows us to regulate our power output and maintain a consistent feed to the grid."
The fact that Viking Energy is exclusively fueled by biomass is distinctive enough. But they are also producers of their own fuel, accepting raw materials from the market place and processing them on site into the 2"–3" wood chip specification required for an efficient burn in their boiler. The railroad ties are supplied by a rail maintenance company that performs work on the thousands of miles of track throughout the Midwest. "The U.S. railroad industry replaces about 21 million ties each year," says Tom. "So if they weren't burned for power, they'd end up in the landfill. And that's a lot of railroad ties." But with the recent completion of a rail spur leading to their property, Viking Energy is ensured a steady supply of those ties are offloaded directly into their shredders to be converted to fuel.
Having access to a nearly unlimited number of reclaimed railroad ties is great. But turning those rail ties into fuel is yet another challenge that falls under Tom's oversight. That task was previously handled by a high horsepower high-speed grinder, which got the job done but not without numerous issues. One being the tremendous cost to its high fuel consumption; the other its lack of durability in tackling the heavily contaminated rail ties. "Our original grinder could produce a decent fuel chip, but it just guzzled fuel," Tom admits. "And if one large rail plate were to get in there, it could easily take us down for half a day and cost upwards of $20,000 in damage. We certainly took care to clean the material prior to feeding, but even if just 1% of the contaminants get by us, that can do some significant damage."
The shredder and grinder of choice for Viking energy
After conducting a very lengthy process of due diligence on options for new equipment, Viking Energy finally settled on a Doppstadt DW 3060 slow speed shredder in the spring of 2014. About six months later, they also took delivery of a Doppstadt AK 530 high-speed grinder. The two machines in tandem are able to plow through nearly 250 tons of rail ties per day, with virtually no downtime or failures due to the material being processed. Another benefit has made an enormous difference to their bottom line too. "We are running both of these machines on less fuel than it took to run our previous high-speed grinder alone. The fuel efficiency of the Doppstadts is just tremendous."
Doppstadt DW series slow-speed shredders deliver low-speed, high-torque reduction through a tooth-and-comb mechanism that is capable of processing even the most robust source material. If the shaft encounters too much resistance in the hopper due to the presence of an unshreddable contaminant (such as a steel rail plate) the automatic breakaway system engages and the material is simply passed out of the shredding chamber. The comb quickly reengages and processing continues uninterrupted.
Because the DW shredders are designed to perform a primary material reduction, the output is typically a rough 12" to 18" spec, clearly not suitable for boiler fuel. But by discharging directly into the hopper of the AK 530 high-speed grinder, Viking Energy is able to produce a consistent, boiler spec fuel in a single pass through the two machines. An overband magnet on the DW discharge conveyor ensures any last metal contaminants are removed before feeding the AK grinder. The solution is a perfect fit for consistent, high-volume production of biomass-derived fuel for energy generation.
Tom turned to Alta Equipment to handle the sale and provide support for the machines. The attention and commitment he's experienced has exceeded expectations. "We do most of our own maintenance, but Alta has been able to step in and help, primarily on the 3060," he says. "We also appreciate that they have both the 3060 and 530 in their rental fleet. We recently changed out the wear plates on our 530 and were able to secure another machine for a short time so that we didn't lose those days of productivity."
When asked what he finds to be the most challenging part of running a biomass power plant, Tom unequivocally points to having a consistent supply of good, quality fuel. He sees their unique ability to process materials on site as real advantage. "You're forced to have a more local or regional fuel source, so you tend to be more engaged with your material suppliers," he explains. "That's where the operation we have with railroad ties is so important. By blending them in, it allows us to maintain a much more consistent stream." That's crucial to the stability of their boiler. "Trying to run on forest residue alone creates such yo-yo output from the plant."
But the challenges are precisely what Tom finds most appealing about his position. "With a small plant, the economics are much more challenging than on a larger scale. But being able to work on the efficiency and optimization and working to make our plant run better and more consistently is a challenge I always look forward to."