Emterra recognized for climate action leadership at awards gala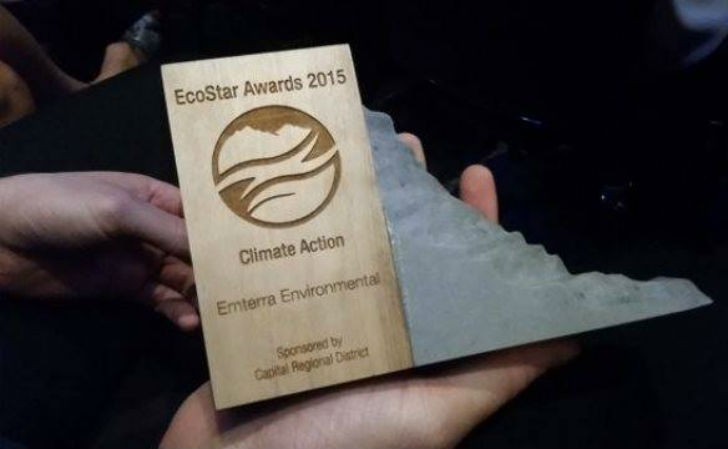 For its commitment to embracing green technologies and helping local communities divert more resources away from the landfill, Emterra Environmental has been awarded the 2015 EcoStar Award in the Climate Action category by the Synergy Sustainability Institute. The award was presented to Emterra on November 10th during an awards gala at the Inn at Laurel Point in Victoria, BC.
The 2015 EcoStar Awards recognize outstanding environmental achievements and leadership by businesses, organizations and individuals. These awards are given to local champions of initiatives, projects and innovations that contribute to a vibrant future in which local communities and ecology both prosper.
Emterra recently unveiled a brand new compressed natural gas (CNG) fuelling station and fleet in Victoria, British Columbia which services residents and businesses in the Capital Regional District. By replacing its old diesel fleet with 16 new alternative fuel trucks, Emterra is reducing greenhouse gas emissions by 20%.
"Receiving the 2015 EcoStar Award in the Climate Action category highlights our dedication to supporting waste diversion efforts in local communities and investing in alternative green fleet technologies that benefit the environment," said Ed Walsh, Emterra's VP of Operations in BC.
Emterra has been active in the Capital Regional District since the introduction of curbside recycling in 1989. Since then, the organization has grown and it now collects 18,000 tonnes of recyclable materials from residents and businesses per year in this region alone.
Emterra recently opened its newest CNG fuelling station in Mississauga, Ontario, which is the largest CNG fuelling station in Canada open to the public. Emterra now has a network of four CNG fuelling stations in Canada that is open to the public. By the end of this year, over 25 per cent of Emterra's fleet will be CNG-powered, making it one of the largest CNG fleets in Canada.
Company info
1122 Pioneer Road
Burlington, ON
CA, L7M 1K4

Website:
emterra.ca
Phone number:
905-336-9084
Read more