Mid-sized and large wheel loaders from Liebherr
Customized options, reduced fuel consumption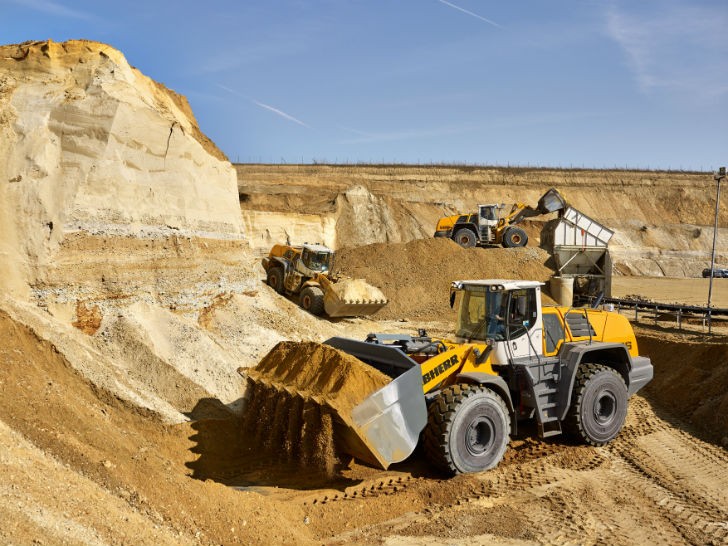 Large and mid-sized wheel loaders from Liebherr feature a hydrostatic driveline for improved fuel efficiency – consuming up to 25 percent less fuel per operating hour compared to conventionally driven wheel loaders. Liebherr installs the engine in the rear of the machine. This compact design means that the diesel engine and the variable displacement pump counterbalance each other and the centre of gravity shifts to the rear of the machine. Liebherr does away with any ballast and can achieve lower operating weights and higher tipping load potential.
The largest Liebherr wheel loader is the L 586 with an operating weight of 69,180 pounds and a tipping load of 45,040 pounds. Liebherr's largest mid-size wheel loader, the L 542, has an operating weight of 29,540 pounds and a tipping load of 22,485 pounds.
The cab offers a better all-round view and safety and signs, controls, seat and the Liebherr control lever are all ergonomically designed. With the Liebherr control lever, all working and travel functions can be operated with one-hand precision.
The hydraulic braking action of the drive reduces brake wear to a minimum. Continuous tractive force regulation decreases tire wear by up to 25 percent.
The Liebherr Power Efficiency (LPE) system lowers fuel consumption. LPE ensures that all work and travel processes of the machine interact in an ideal fashion. The system achieves the highest possible efficiency level from all elements, in which it proactively engages in engine control, enhances engine speed and adjusts the pivot angle of the hydraulic pump. As a result, handling capacity and economic efficiency is enhanced and operating efficiency increases.
Customers can configure the mid-sized wheel loaders according to their individual needs. For example, without additional cost, customers can choose between Z-bar linkage for standard operations and parallel kinematics for industrial use. For more customer-specific requirements, there are a multitude of equipment options available.
The Liebherr mid-sized wheel loaders can also be equipped with a fluff trap, reversible fan drive and large-mesh radiator. These options protect the wheel loader in dust-filled environments, such as recycling. The fluff trap eliminates coarse dust particles and helps preserve the radiator fins from rapidly becoming blocked. Due to the direction of rotation, the reversible fan blows dirt particles out of the radiator and cleans the cooling system. This safety feature reduces cleaning and maintenance costs.
Another equipment option for the mid-sized wheel loaders is the LIKUFIX hydraulic quick-hitch system. With LIKUFIX the operator no longer needs to leave the cab to change the equipment on the wheel loader. Equipment can be changed in a matter of seconds at the press of a button from the cab – fully automatic, secure and oil-leakage free.
Related Articles
(VIDEO) Vecoplan looks at the inner-workings of its VEZ 2500 shredder