The Benefits of Going Custom
Custom-built truck bodies designed to boost volumetric capacity and fuel economy, speed up cycle times and simplify overall operations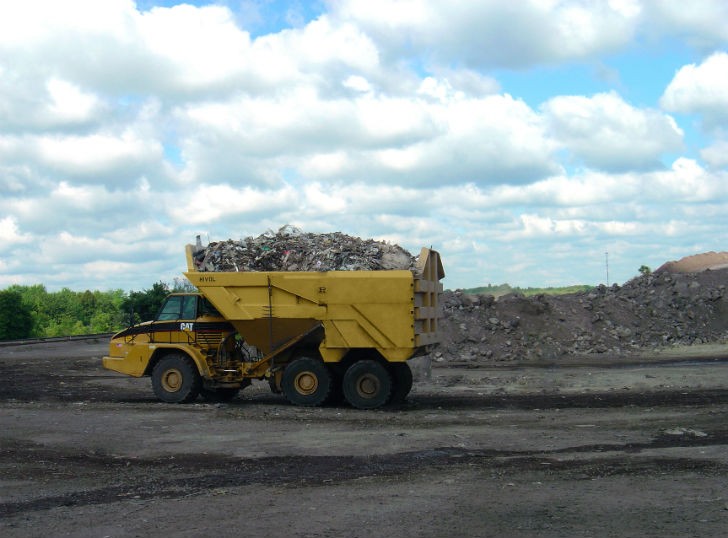 Humans produce waste. In fact, roughly 680 million tons of refuse is generated in the United States each day. And as the population continues to increase, so does waste production, making refuse management a real challenge.
Managers work day in and day out trying to minimize the impact of waste in their landfills, transfer stations and recycling facilities. Things can get chaotic in a hurry when thousands of tons of materials come in for processing each day. Equipment utilization is the last thing that should bog down operations. That's where custom solutions come into play.
The most common off-highway dump trucks in landfills and recycling facilities have a rated capacity of around 35 to 40 tons and a body that can hold roughly 30 cubic yards. But anyone who's loaded refuse or recyclables knows that nowhere near 40 tons fits in standard original equipment manufacturer (OEM) bodies. Refuse, especially that found in a municipal solid waste landfill, is light and fluffy, weighing an average of 650 pounds per cubic yard. If a 30-cubic-yard body on a 40-ton truck was filled to volumetric capacity with refuse, it only equals around 10 tons, which is just one-fourth of the rated capacity of the truck.
Using standard bodies is extremely inefficient because of the weight variable and having a finite amount of space. But most OEMs don't deviate from standard bodies because of the extra cost associated to producing them. So operators are left to work with the inefficiency or seek custom solutions. Custom truck body manufactures recognized this challenge and devised a solution that offers three times the volumetric capacity, 90 to 100 cubic yards, while meeting (not exceeding) the rated capacity of the truck.
Based on the standard tank capacity and miles per gallon of off-highway trucks, we can assume it costs around $500 per fill. So, for example, if you have five trucks working to process 3,000 tons of refuse per day, each truck makes 15 passes if hauling at rated capacity. Because smaller OEM bodies mean less volume, most loads are only one-third of the rated capacity. So in order to move all the material, each truck ends up taking roughly 40 trips per day.
With the increased volumetric capacity achieved with a custom body, you're hauling the same amount, but you are doing it at a faster rate for less money. If the five trucks from the above example were operating with 90-cubic-yard bodies, dump trips decrease to 20 per day for each truck. Assuming a 3-mile trip per dump load, custom bodies can save your operation more than $70,000 in fuel per year. Not to mention the maintenance and service savings that comes from fewer trips.
Increased volumetric capacity doesn't mean the truck can haul more than the OEM rated capacity. Doing so may cause damage or violate the truck's warranty. Loader operators should use an onboard scale to ensure a truck isn't overloaded and because each load size is different. Having large truck bodies helps prepare for when material is lighter, ensuring each load is maximized.
Not only do the custom bodies boost volumetric capacity and fuel economy, they speed up cycle times and simplify overall operations. It's all about efficiency. Because every landfill and recycling operation is different and poses unique challenges, custom refuse bodies are built for specific operational requirements. The width and height of the truck bodies are adjusted depending on loading equipment and surrounding structures. Bodies in construction and demolition processing facilities need to be built with more abrasion resistant steel than those used only in MSW landfills. Operations may choose to add a special lining to the floor and corners the body so refuse doesn't get stuck. These might seem like small details, but the little things go a long way in boosting operations.
The monetary benefits of going custom are plain to see, but operator safety is another important factor to consider.
Less Maintenance, Less Downtime
Equipment unavailability is detrimental to landfill, transfer station, compost and recycling facility managers. Staying up-to-date on routine maintenance is an essential piece of operations, and equipment that requires little maintenance goes a long way to minimize costly downtime.
Some OEM end dump bodies possess several hydraulic controls, pins and grease points, which work together to lift the body, drop the tailgate and bring the body back down. Even some OEM rear-eject bodies come stacked with moving parts, which makes them susceptible to breakdowns.
Custom body manufactures know that fewer moving parts mean minimal breakdowns and maximum uptime, meaning engineered models feature low-maintenance hydraulic controls, no grease points and tailgates that rise and fall at the rate of the ejector blade.
When a body is custom designed for refuse or recyclables hauling, there's no guessing game on how long it will last. In fact, some refuse bodies last more than 20 years, which is impressive when thinking about all the different materials it comes in contact with.
Most custom refuse bodies and ejectors can be outfitted on an off-highway truck the operation already owns to maximize savings. Though the initial investment is high, the return is seen after just a few months of use. It really is easy to see the benefits of going custom.