Ultra-high-reach excavator demolishes chemical boiler buildings safely and efficiently in six weeks
Volvo EC700CHR helps remove 2,500 tons of recyclable steel, concrete and scrap material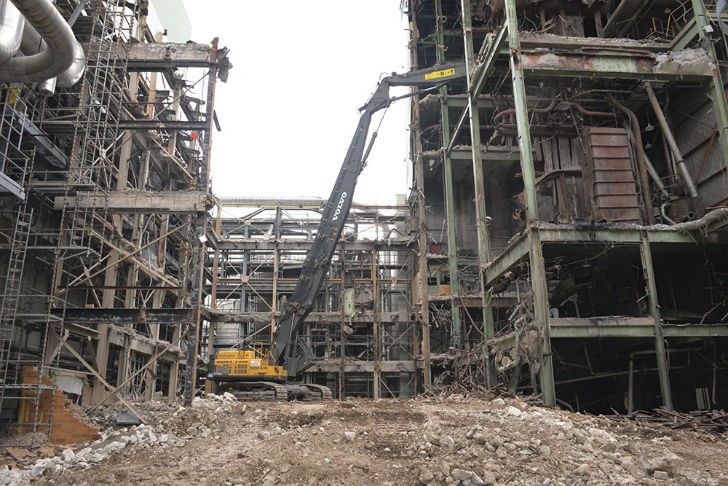 Since 1984, North American Dismantling Corporation (NADC) – a demolition expert based in Lapeer, Michigan, has been providing industrial demolition for manufacturing facilities. The company specializes in power plants, chemical plants and pulp mills across the United States and Canada.
In Spring Grove, Pennsylvania, NADC has dismantled and demolished two chemical boiler buildings and an electrostatic precipitator at the P.H. Glatfelter Co. papermaking facility, using Volvo Construction Equipment (Volvo CE) machines. A Volvo EC700CHR ultra high reach excavator was put to work to bring the buildings down from the top. This work was carried out to provide space for two new natural gas boilers, replacing three coal boilers. The job took six weeks and removed 2,500 tons of steel, concrete and scrap material – 94% of which was recyclable.
"A power plant is a unique beast in terms of what is required to bring it down safely," says Greg Goscenski, NADC site superintendent with 40 years' experience. "NADC is a total demolition contractor, which means we demolish the buildings and get rid of the waste through site remediation, including salvaging equipment and selling scrap. Environmental issues are the main concern when decommissioning a power plant or industrial boiler system, especially in older plants. Larger power houses are usually situated along rivers or in downtown areas with surrounding utilities and higher potential water contamination issues."
House of cards
P.H. Glatfelter Co. was founded during the Civil War and is headquartered in York, Pennsylvania. It is a global manufacturer of specialty paper products, such as tea bags, postage stamps and playing cards. Glatfelter uses its boiler system primarily for processing purposes. Low pressure steam and heat cooks the pulp and helps dry the finished paper. The company produces more power than it needs, with excess electricity being sold back to the power grid.
The company is investing $55 million into the boiler system upgrades and it received an additional $8 million in state funding through Economic Growth Initiative and Alternative and Clean Energy grants. These improvements meet new U.S. air quality standards and also make Glatfelter one of the largest users of natural gas in central Pennsylvania.
NADC removed two chemical recovery boilers built in the 1950s, one 40 meters (130 ft.) high and the second 30 meters (100 ft.) high, to lighten the overall weight of the superstructures. This was followed by dismantling stacks, combustion chambers, tube bundles and then the outer steel walls. This approach allowed NADC to maintain total control of the structure during demolition without impacting on normal operations.
The biggest challenge was the limited space NADC had to work within. The boiler buildings were boxed between two operational control rooms – with a slim seven-foot passageway between – and live pipes carrying boiling liquefied paper pulp and steam. "We have to take every precaution to not puncture any of the piping or buildings with falling debris," says Goscenski.
Shear ability
The main bulk of work was completed by a Volvo EC700CHR ultra high reach excavator equipped with a LaBounty MSD 1500 hydraulic rotating shear. The machine is the largest Volvo demolition excavator in the company's product line with an operating weight of 98 tons (196,189 lb) and maximum pin height reach of 32 meters (105.1 ft.).
The ultra-high reach excavator is factory-fitted with Volvo's demolition guard kit, which includes a frame-mounted falling object guard (FOG), double thickness side doors, Volvo's bolt-on side impact protection system, incorporating a punched steel walk-way, and full length track chain guards, the latter keeping demolition debris from lodging in the tracks. The EC700CHR replaced two other excavators in NADC's demo fleet.
"We were sold on the Volvo machine's versatility and size, which allows for easy assembling, along with mobilizing and demobilizing loading from site-to-site," says Goscenski, "When I started working in demolition in 1975, we had a wrecking ball and an excavator. Today the demands are much greater for high precision work. You have to invest in the equipment to do the work required. The EC700 is a more versatile machine for us. With the boom self-assembly you don't need a second excavator to assist and with the different configurations that are available it's like having two machines in one. For example, with the shorter configuration we can add a heavier shear on the end to give more power at lower heights."
Locked down design
The Volvo design uses a hydraulic lock mechanism release to convert the high reach boom to a standard excavator configuration in less than one hour. Additionally, the retractable undercarriage expands up to nearly a meter (3.1 ft.), increasing stability on uneven ground and making jobsite moves easier.
Inside the tilting cab – that pivots up to 30degrees – a standard camera captures the view from the top of the boom. NADC has also positioned a second camera mounted high on an adjacent building to cast an alternative perspective. If the operator cannot clearly see where the shear is manoeuvring, he can radio the office trailer for guidance. This camera feeds over the internet, so employees back at the Michigan headquarters can also check progress.
Working alongside the EC700 is a Volvo EC460B excavator with 9,500 hours clocked. It's used for material processing, along with a Volvo EC380EL excavator, equipped with a LaBounty grapple. On this job, Goscenski estimates a 10-15% saving in planned fuel consumption with the trio of Volvo excavators.
Volvo CE dealer, Michigan-based Alta Equipment Company, assisted NADC with the purchase of its Volvo equipment. As a traveling demolition company, NADC also relies on the support of the national Volvo dealer network.
Company info
Related products