New Era in Waste Management for Newfoundland
State-of-the-art MRF provides balance between manual labour and automated sorting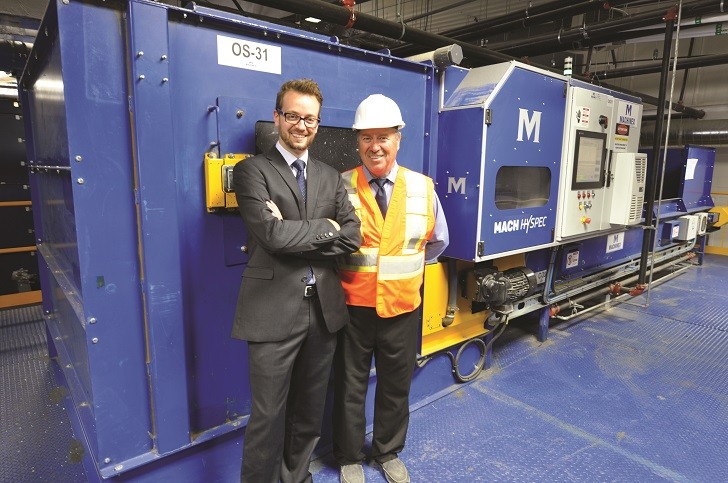 Central Newfoundland Waste Management (CNWM), in collaboration with the Machinex Group, officially launched its brand new state-of-the-art material recovery facility at the end of August, marking the beginning of a new era in waste management for Newfoundland. The Honourable Keith Hutchings, Minister of the Department of Municipal and Intergovernmental Affairs officially opened the new facility, which is the second MRF manufactured by Machinex in the province. The first plant opened in 2010 and is located at Robin Hood Bay in St. John's, Newfoundland. The new MRF and associated infrastructure was constructed at a total cost of $22 million.
"The performance of Machinex' sorting equipment has exceeded our expectations and they continue to improve our operations with their leading edge recycling technologies." Ed Evans
Located at a landfill site in Central Newfoundland, CNWM's new plant is able to process up to 12 tons-per-hour of dry residential and commercial waste. According to Machinex, their system provides CNWM with the most cost effective balance between manual labour and automated sorting equipment, using a bag opener, trommel, a MACH ballistic separator, ferrous magnet, three plastic perforators and a non-ferrous separator.
Also included in the system is a new MACH Hyspec optical sorting unit, as well as a Machinex II-Ram baler. Additionally, elevated tour platforms are installed within the building – a feature that provides a safe environment for the public to view the system in operation.
"Machinex's optical plastic sorters deliver impressive, reliable, troublefree sortation of mixed plastics," says Andrew Wort, plant operator for the Central Newfoundland MRF.
Due to its operational flexibility, CNWM says their new plant will process a wide composition of material while focusing on the recovery of recyclates such as paper, cardboard, ferrous, non-ferrous, PET and HDPE plastics bottles, mixed plastics, wood, film and textiles.
"The high performances obtained by the MACH Hyspec in the Central Newfoundland project allowed our commissioning specialists to primarily focus on the paper quality of the facility (as per the customer's guidance) and still deliver amazing recovery and purity rates of mixed plastic products #1 through #7," explains Jonathan Ménard, project director at Machinex. "This despite the difficult environment in which the optical machine has to operate. You can really appreciate the precision of the MACH Hyspec technology when you stand next to the machine's output conveyors. You have to struggle to see the amount of mixed plastic contamination or any mixed plastic products missed by the machine."
According to Ed Evans, CAO of CNWM, "The performance of Machinex' sorting equipment has exceeded our expectations and they continue to improve our operations with their leading edge recycling technologies."
"We here at Central Newfoundland Waste Management are very pleased to be working with the professionals at Machinex."
"This new generation of optical sorting technology is another great example of Machinex knowledge and Canadian expertise, which we are all proud of," adds Ménard. "It was indeed a pleasure to work with the people at CNWM during the design and implementation of Machinex equipment in Central Newfoundland.
"This being our second facility in Newfoundland shows our commitment to quality and excellence. We are indeed honoured to be part of this state-of-theart facility."
Related Articles
Traditionally, waste management companies have operated using a simple "management of waste" approach to operating a MRF. Throughput targets and continuous operation (minimal downtime) were the main driving forces. The industry has changed however, and the focus moving forward is now on optimizing system performance and reliability, in conjunction with increasing recycling rates and a drive for a "greener" and more sustainable tomorrow.
When considering the addition of, or upgrade to, an "intelligent" MRF, for municipalities or private operators, the main factors should always be the client's (operator) current requirements, and evolving market needs, which include throughput, reliability, output quality, and adaptability. Equally important is a full understanding of what is really expected from any proposed system. Having an engaged and focused mindset for the project with the client from the beginning, will impact and drive the entire design process. This then impacts the overall project result, through to the productive, efficient, ongoing operation of the facility itself.