Keynote Speakers Announced for COMPOST2016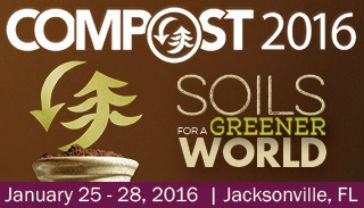 Celebrity gardener Joe Lamp'l and Environmental Protection Agency Assistant Administrator Mathy Stanislaus are set to inspire and inform the composting industry with compost use and the organics recycling regulatory outlook at COMPOST2016 in Jacksonville, FL Jan 25-28, 2016.
"Two of the most important issues for our compost manufacturers and allied members are covered in the work of these two individuals," said Rod Tyler, president of the USCC. "Whether you're a municipality in charge of picking up organics or a manufacturer working on selling the compost you've made, regulation and consumer education are make-or-break issues for our members."
Stanislaus's group heads the EPA's Sustainable Materials Management approach, a change emphasizing recovery of resources over disposal methods. Organics recycling will also be a critical component of EPA's new 50% goal for reduction of food scraps.
Lamp'l is the host of the popular Public Broadcasting System gardening show, "Growing a Greener World,' and has served as USCC's celebrity spokesperson for the past year. He is an advocate of tested, certified STA compost and compost for many applications.
The US Composting Council's mission is to represent the compost manufacturers and their suppliers, collectors, researchers, testers and educators. COMPOST2016, the 24th annual gathering and tradeshow of this industry community, advances the mission by educating attendees on best practices, current technology and the regulatory environment.