Buhler Sortex and NRT join forces to offer a 'one-stop shop' to plastics recyclers
Strategic partnership between global sorting experts combines the best of bottle and flake sorting technologies across Europe and North America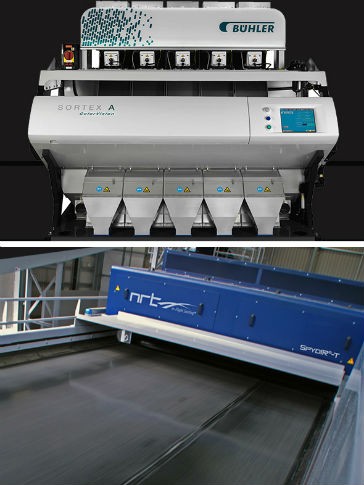 As the demand for plastic sorting solutions continues to soar, Buhler Sortex, a member of The Bühler Group, and US-based National Recovery Technologies (NRT) are entering a strategic commercial agreement to offer plastics recyclers a complete solution for plastic bottle and flake sorting. The companies are bringing together more than 100 years of combined expertise in optical sorting giving recyclers access to their proven technologies, engineering expertise and their extensive customer service and support networks.
Global plastics production increased by 10 million tonnes, to around 280 million tonnes in 2011, continuing the growth pattern that the industry has enjoyed since 1950 - approximately 9% per annum. Europe and the NAFTA region together comprise 41% of the world's total plastic materials production - driving demand for integrated bottle and flake sorting solutions, as companies strive to meet government recycling targets and corporate social responsibility pledges.
The partnership between Buhler Sortex and NRT marks a further milestone in their continuing expansion in the PET and HDPE sorting segment, across Europe and North America. It also strengthens their position as the leading joint suppliers of combined plastic bottle and flake sorting solutions to the plastics recycling industry, with leading market technologies such as In-Flight Sorting, PET Boost, Label Reduction Kit and Smart-Eject. They are now the first-choice technology partner for many plastics recyclers, with several contracts already in place with major recycling operators.
Charith Gunawardena, Head of Optical Sorting at Buhler Sortex says: "This landmark agreement signifies our confidence in the future growth of recycling. It also strengthens our industry references and reinforces our leading role in optical sorting, while demonstrating our commitment to providing customers with a complete bottle and flake sorting solution from two trusted leaders in their field."
With an extensive service support network in all major recycling markets, plastics recylers can depend on a comprehensive Buhler Sortex and NRT support network built on solid foundations of technology and service excellence. This will also provide access to both companies' wide range of capabilities, including system design, on-site management, installation and product training. The partnership will also include close collaboration with key members of the technology value chain.
Matthias Erdmannsdoerfer, President of NRT, concludes: "This significant partnership agreement is further acknowledgement of our commitment to supply and service leading plastics recyclers with a full portfolio of leading bottle and flake sorting equipment. We're excited to bring the industry's first complete offering to market that doesn't require a plastics recycler to compromise on bottle or flake sorting performance and provides high-quality, local support. We look forward to building a strong partnership with Buhler Sortex and our customers across Europe and North America."
Related Articles
Traditionally, waste management companies have operated using a simple "management of waste" approach to operating a MRF. Throughput targets and continuous operation (minimal downtime) were the main driving forces. The industry has changed however, and the focus moving forward is now on optimizing system performance and reliability, in conjunction with increasing recycling rates and a drive for a "greener" and more sustainable tomorrow.
When considering the addition of, or upgrade to, an "intelligent" MRF, for municipalities or private operators, the main factors should always be the client's (operator) current requirements, and evolving market needs, which include throughput, reliability, output quality, and adaptability. Equally important is a full understanding of what is really expected from any proposed system. Having an engaged and focused mindset for the project with the client from the beginning, will impact and drive the entire design process. This then impacts the overall project result, through to the productive, efficient, ongoing operation of the facility itself.