ADG delivers first Promeco system in North America to plastics recycler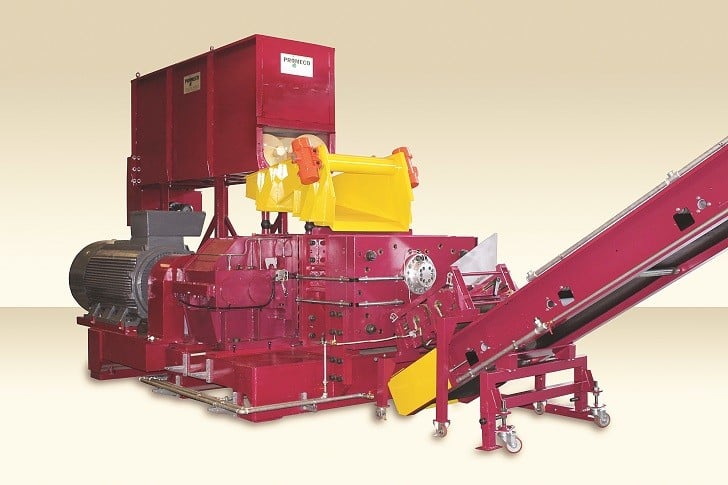 Somerset Recycling Services, Inc., based in Somerset, Kentucky, expects to realize a significant gain in efficiency and economy from a new Promeco PES600 densification system supplied to them by plastics-reclaim specialist ADG Solutions. This is the first installation in a North American recycling facility for Italy-based manufacturer Promeco SpA.
According to Sandy Guthrie, president of ADG Solutions, the PES 600 is a highly flexible system that can convert all kinds of plastics scrap – with up to 20 percent moisture – into strands which, after cooling, can be size-reduced in a standard granulator to yield uniform regrind that is easy to convey and process. The unit Somerset purchased is equipped with two short (15-inch) counter rotating auger screws and can process up to 3,300 pounds per hour.
Somerset is using their new densifier to reprocess mainly polyethylene (PE) and polypropylene (PP) film and fibre. The process is continuous and shredded material goes into a holding bin with two metering screws that feed material to an inclined vibrating table that guides the scrap into the open feed throat of the densifier. Twin counter-rotating screws compact the material and pressure and shear forces raise its temperature to between 380 degrees and 390 degrees F and forces it out a die. Water vaporizes during the process, resulting in final moisture content lower than two percent.
In addition to the PES 600, Somerset Recycling also recently purchased a Promeco calender that receives the strands of resin as they exit the die. The calender flattens the strands, forcing out trapped gas and beginning the cooling process. The flattened strands then are picked up by a cooling conveyor that sprays water on the material as it is transported to a Promeco KR shredder – specially designed for the shredding of hot densified plastics – for final size reduction.
Alan Keck, president of Somerset Recycling, says his company decided to work with Connecticut-based ADG Solutions because of their decades of experience in the field.
"I know Sandy Guthrie and trust him to help us find the best equipment for our needs. As for Promeco, I travelled to Italy and I saw their facilities and I talked with Paolo Rebai, the owner. I developed an extreme comfort level. Promeco is an engineering-based company and that's what we were looking for."
Keck says that, until their new equipment arrived, Somerset has been using tub densifiers and he anticipates that the new Promeco system will reduce labour requirements, energy consumption and maintenance costs while processing more product.
"We've been using these batch densifiers for 20 years," he says, "but they are slower and much less efficient than our new densifying extruder. We will continue to use them for a while, but we will gradually phase them out."
Somerset, with over 100 full-time employees and in excess of 102,000 square feet of facilities, sells its reclaimed material to plastics moulders and extruders. Depending on the source of the scrap and the condition of the resin after it has been reprocessed, it may be used to make products like plastic lumber, outdoor furniture, trash bins and more.
ADG Solutions says they specialize in helping companies process hard-to-recycle plastic waste from industrial, commercial and post-consumer sources. In business for over 35 years, the company engineers custom systems including washing, size reduction, densifying, extrusion, filtration, pelletizing and material handling equipment.
Promeco has over 20 years of experience in manufacturing and recycling different kinds of materials and is involved in waste-to-energy solutions and sustainability. ADG says the company is well known in Europe, has supplied machines and plants worldwide (ranging from Japan and Korea to Singapore and Israel) and recently opened a branch in the UK. Outside of plastics recycling, Promeco is active in North America in shredding, screening and organics processing.
Company info
2137 Flintstone Drive, C-D
Tucker, GA
US, 30084

Website:
adgs.net
Phone number:
678-292-6144
Read more