New Fuel-Efficient Terex Fuchs MHL350 F Material Handler Advances Efficiency and Improves Reliability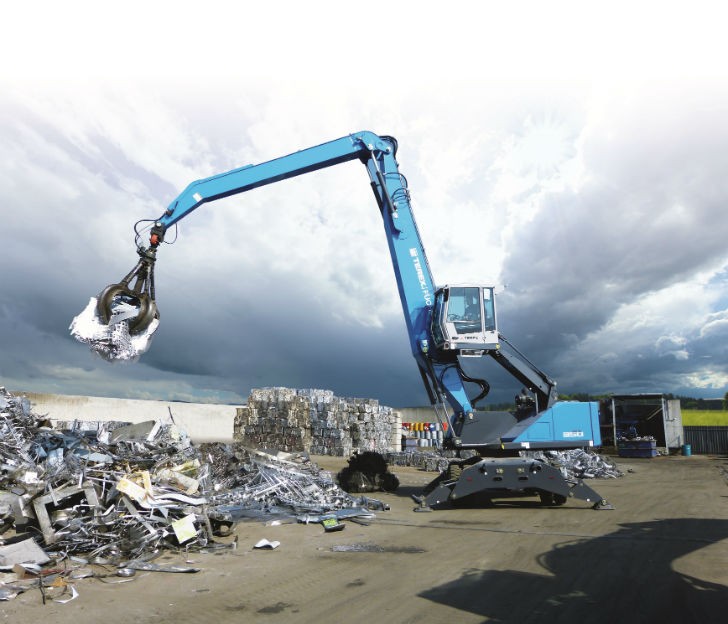 The new Terex Fuchs MHL350 F Series material handler includes an efficient Tier 4 Final (Stage IV) engine and refinements to the hydraulic system and upper carriage design that elevate operating efficiency and machine reliability. Purpose-built to withstand the extreme operating demands of scrap, waste and recycling applications, the new MHL350 F handler offers two different stick/boom configurations to meet customer needs: standard 52.5-ft (16-m) reach and optional 48.2-ft (14.6-m) multi-purpose stick that includes a second hydraulic cylinder to aid in sorting applications.
The machine's refined hydraulics package delivers quick response of attachment operation and fast work cycles, even under heavy loads. The MHL350 F handler's hydraulically driven fans for oil, water and intercooler automatically control fan speed to continuously maintain the optimum operating temperature range, even in extreme heat. A new upper carriage design better protects the hydraulic and fuel tanks, while larger vent openings in the metal cowling increase airflow to the engine area to keep the machine running cooler.
Powered by a new Tier 4 Final (Stage IV) engine, the powerful turbocharged 215 hp (160 kW) diesel engine uses selective catalytic reduction (SCR) technology to deliver an advanced, reliable and fuel-efficient method for meeting today's emissions regulations. The system design eliminates the burner used in active filter regeneration and employs passive regeneration of the diesel particulate filter (DPF) to save on fuel consumption.
All new F Series Terex Fuchs material handlers come standard with Eco Mode operation to further reduce fuel consumption and lower long-term operating costs. Control of this exclusive Terex Fuchs feature is conveniently located on the machine's multifunction button panel and allows the operator to match engine power to the task at hand. Operating in the "Eco Mode" or "Eco+ Mode" setting limits engine horsepower to 90% or 80% respectively, delivering up to 36% fuel savings. "While Terex Fuchs material handlers are designed to conserve fuel at 100% engine speed," says Terex Fuchs Technical Sales Manager, Steve Brezinski, "Eco Mode allows the operator to fine-tune power demand based on the need to increase machine flexibility in reducing costs."
Now joystick controlled, the machine's hydraulically elevating cab raises the operator's maximum eye level to 18.4 ft (5.6 m) to substantially improve the operator's sightline when loading/unloading high-wall trailers and rail cars for increased efficiency. Inside the cab, a new joystick design offers proportional control of grab rotation and open/close functions, places the most important machine functions at the operator's fingertips, and leaves multiple space openings for customized options. An expanded, 7-in (178-mm) touchscreen display improves operating convenience of the MHL350 F handler and displays images from the integrated reversing camera. The machine's new standard rear-view camera offers night vision to improve vision while operating the machine in low ambient light conditions. A new USB charger and additional storage space inside the cab enhances operating convenience.
When equipped with Terex Telematics, the MHL350 F material handler further improves machine efficiency, productivity and uptime. The system tracks critical operating data such as operating hours, fuel level and consumption, machine location, service events, and maintenance notifications. This data is then transmitted to a secured, password-protected website where it can be accessed at any time and from any location in the world where internet access is available. The user friendly website reports all the data in a logical, easily viewable and customizable fashion. Machine service event reporting can be tailored to provide alerts to specific key technicians who can quickly address the situation.
The Terex Fuchs MHL350 F material handler boasts many of the same features found on previous machines that have given this model its legendary reputation for delivering reliable performance in extreme applications. Its rugged double-row slewing ring design disperses forces over two rows of bearings to improve component service life and durability. Rigid hydraulic pipes on the stick, boom and undercarriage offer superior protection from damage. Steel plates shielding the hydraulic lines at the end of the stick offer additional protection against damage to improve system reliability. Inverted hydraulic cylinder mounting provides protection during trailer and rail car loading/unloading and reduces exposure to debris and moisture to improve longevity.