MRF retrofit results in significant increases in recovery of organics and previously missed aluminum cans and PET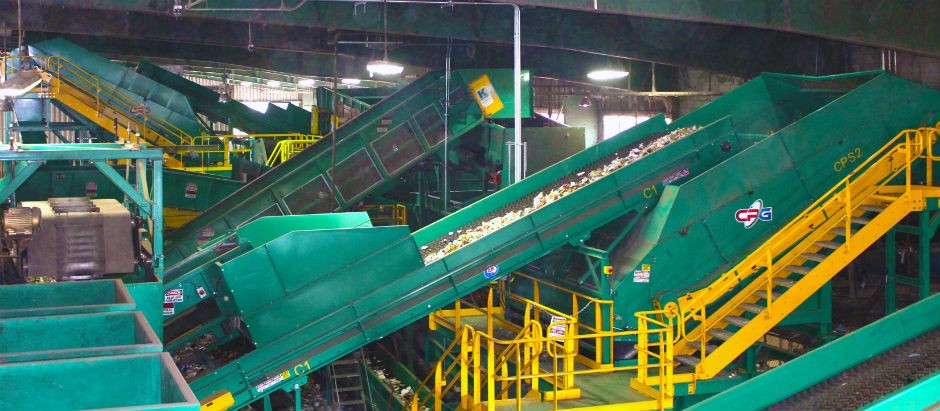 Bay Counties Waste Services (BCWS) of Sunnyvale, CA, recently retrofitted the Sunnyvale Materials Recovery and Transfer (SMaRT) Station's MSW system. The MRF was originally installed in 2009 and the retrofit was completed in May, 2015. The retrofit and phased installation took 6 weeks and was completed by equipment manufacturer, CP Group, of San Diego, CA.
The system currently receives approximately 760 tons of MSW, 126 tons of green waste, and 82 tons of residential curbside material per day. BCWS's retrofit objective was to increase recovery of containers.
"The retrofitted system has increased our recovery rates dramatically for all of our commodities while maintaining our material quality," says Jeff Nabhan, Facilities Manager for BCWS at the SMaRT Station.
The results of the retrofit consist of a 65% increase in recovery of organics, 98.8% recovery of previously missed aluminum cans, and 97.9% recovery of previously missed PET.
"Major retrofits are often more complex than new projects, clients place a lot of trust in us to get their system running with as little downtime possible," says Omneya Salem, Senior Manager of Project Management and Engineering, CP Group. "Considering material recovery goals are critical to a client's economic pro-forma projections, Bay Counties placed a lot of trust in CP's approach. I'm happy to be part of the team that met and exceeded those initial client expectations," Salem continues.
The system retrofit consisted of the installation of 2 new CPScreens on the MSW line for the separation of 2D paper, films, and residue from 3D containers and bulky waste. A new MSS CIRRUS optical sorter was installed on the container line for the identification and recovery of PET, HDPE, and other3 -7 material. The operations interface was improved, and the new CPScreens integrated with the existing MSW line. All new controls were implemented on the container line by CP Group's electrical division, Advanced MRF.
"I don't think we could have partnered with a better company to complete our retrofit," says Nabhan. "From the initial planning, to the final testing, CP offered a complete solution to every issue we had. They came up with new ideas that we hadn't thought of to improve our system. Hopefully we will get the chance to work with CP in the future with more expansions."
Related Articles
Traditionally, waste management companies have operated using a simple "management of waste" approach to operating a MRF. Throughput targets and continuous operation (minimal downtime) were the main driving forces. The industry has changed however, and the focus moving forward is now on optimizing system performance and reliability, in conjunction with increasing recycling rates and a drive for a "greener" and more sustainable tomorrow.
When considering the addition of, or upgrade to, an "intelligent" MRF, for municipalities or private operators, the main factors should always be the client's (operator) current requirements, and evolving market needs, which include throughput, reliability, output quality, and adaptability. Equally important is a full understanding of what is really expected from any proposed system. Having an engaged and focused mindset for the project with the client from the beginning, will impact and drive the entire design process. This then impacts the overall project result, through to the productive, efficient, ongoing operation of the facility itself.