GK sorting system provides needed efficiency for C&D recycler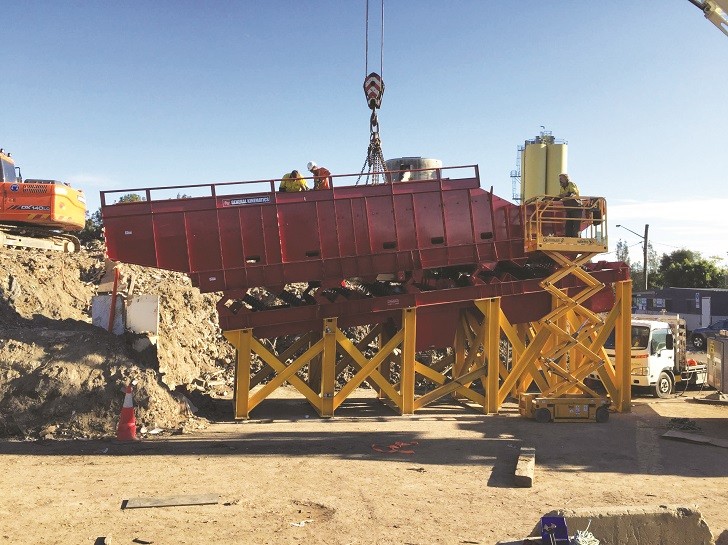 This past June, Illinois-based General Kinematics (GK) shipped components for a new C&D system installation for KLF Holdings, located in Camellia, New South Wales, Australia. KLF started in recycling approximately 15 years ago with a staff of two, and now produces a large C&D waste stream, consisting of wood, concrete and aggregate, metals, plastic and soils. With their previous system, KLF was processing approximately 30 to 40 tons per hour. The company operates on a small site, and says there are always large stockpiles of materials to maneuver. Running six days per week, it was a challenge to keep up with incoming material, and because their equipment and systems were being pushed to the limit, they were experiencing frequent downtime due to jump-ups and equipment failures. A system was required that could handle higher capacities.
Equipment for this new C&D processing system, designed in collaboration with GK, KLF and Skala Australasia, arrived at KLF's site in June, and processing began at the end of July.
According to General Kinematics' recycling industry manager, Dick Reeves, the customer is so far extremely pleased.
"The system has a compact footprint, relative to the tonnage being processed, is processing more material than expected, efficiency has greatly improved and output is cleaner than ever before," said Reeves. "Plus, KLF now runs five days per week, 7 to 8 hours per day and have experienced minimal downtime. They use Saturdays for cleanup and maintenance work since they no longer have to work just to keep up with materials coming in."
Equipment used in KLF's new system includes a GK Primary FINGER-SCREEN, used to scalp off larger materials and meter out the flow to expose recyclable materials. At 72 inches wide by 38 feet long this massive vibratory screen is designed to process 80 metric tonnes per hour, and was engineered to easily fit into an overseas container, for savings on shipping costs. The secondary screen used is a GK Dual Deck STM SCREEN, designed for 50 metric tonnes per hour, and which is used to further screen out fine soils, and middles fraction. This prepares materials for the third major component of the system, GK's DESTONER Air Classifier / Density Separation technology. Two GK DE-STONER units are used, employing vibration in conjunction with an air knife to separate out heavy aggregate and concrete materials. The DE-STONER reduces the heaviest particles from the waste stream to minimize material going to landfill.
"With their new system, KLF can now produce a very clean agg product," said Reeves. "Overall the new system provides much cleaner commodities, makes more effective use of the space, and has improved their recovery rates."