450 DX Scrap Chopper allows for more efficient, affordable recycling of scrap banding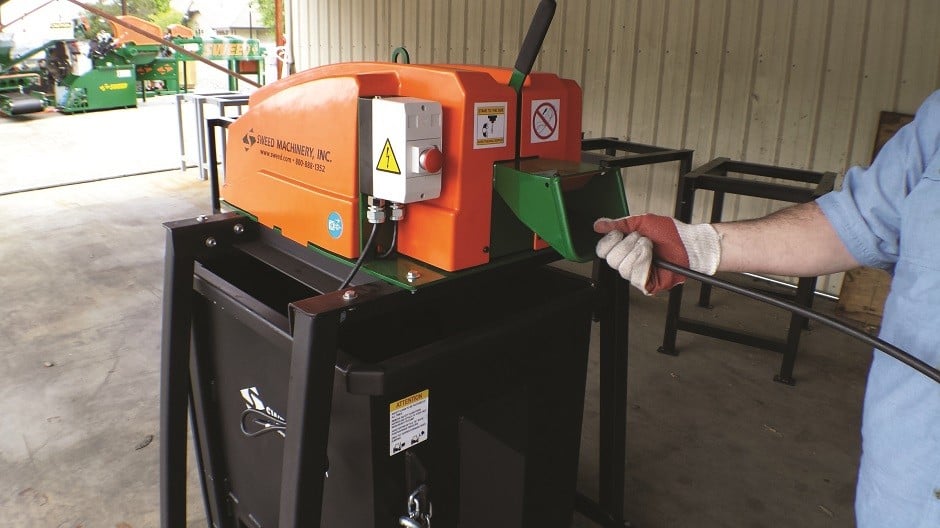 Scrap choppers are a cost effective way to meet waste recycling obligations and reduce disposal fees, while adding resale value to scrap product. Sweed Machinery's Model 450 DX is the result of a revamping of the company's 450 WM and 450 WM XHD models, and a combination of the best of both units.
The 450 DX Sweed Scrap Chopper processes high volumes of 3/4-inch steel banding with clips, plastic banding, lightweight wire and other various manufacturing byproducts. It is very versatile, making it an excellent chopper for in-line placement into a production line, and features a single-drive feedworks with a wide infeed, which makes feeding scrap material effortless, allowing a user to feed handfuls at once at approximately 106 feet per minute. One stationary and one rotating knife provide a standard cut length of about 3 inches, and a 1-hp motor provides cutting capacity for chopping through materials. The 450 DX can be customized for inline applications requiring tension control and custom cut lengths. It is also available in a dual-drive feedroll option (450 DDX). Having a dual-drive infeed chopper accommodates facilities with copious amounts of plastic strapping, or thinner material that may be more difficult to grip.
The new design of this unit features a restricted infeed funnel that increases operator safety while feeding material. The 450 DX sits on a sturdy Sweed stand that moves on stout caster wheels and is designed to sit over a Sweed self-dumping hopper. Both the stand and the hopper are sold separately. According to Sweed, additional benefits of a scrap chopper include reclaiming space for production, aiding in workplace safety and housekeeping, reducing dumping fees, and achieving zero-to-landfill goals.