Quebec-designed technology using dry chlorinators could change the way precious metals are recovered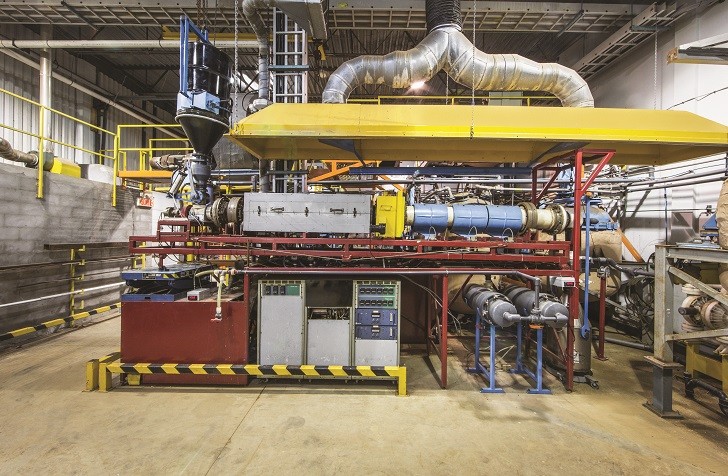 NovX21 is a green technology company based out of Quebec who says its mission is to change the way precious metals are recovered. The company's innovative, clean, sustainable technology recovers and recycles the precious metals in catalytic converters, a key component of vehicle pollution control systems. NovX21 says their technology is a quick, clean, energy efficient and affordable process that recovers three platinum-group metals; platinum, palladium and rhodium (commonly called "PGMs") as well as a catalytic converters' ceramic substrate.
There are two main stages in the processing of catalytic converters: the first (solids plant) converts the metals to complex salts, and the second (liquid chemical treatment plant) dissolves the salts to extract ceramic (an inert material) from liquid containing the metals in ion form.
NovX21's technology is based on the development of a dry chlorinator of unique design. The equipment is mainly composed of a reactor operating in a solid-gaseous phase, which was developed and has been rigorously tested on an ongoing basis at the company's demonstration plant in Saint-Augustinde- Desmaures near Quebec City. The equipment was built with the objective of being of significant size at the pilot scale, in order to constitute reliable equipment for commercial operations.
The company says a key aspect of this project is the building of a commercial plant, using 10 chlorinators identical to the one developed and used by NovX21 at its demonstration plant. NovX21 is currently in the process of building their commercial plant with an initial 10 chlorinators, for a nominal processing capacity of 500 tonnes of catalytic converter substrate per year, principally from automobiles. Plans are also in place to treat other industrial raw materials that contain PGMs.
At the prototype plant NovX21 demonstrated the technology's capacity to recover the six platinum group elements (platinum, palladium, osmium, iridium, ruthenium and rhodium) and has demonstrated that its process recovers 97 percent of the precious metals contained in the substrates treated. The company says they are constantly innovating, and are working on improvements to capture the remaining 3 percent (approximately) precious metal content. NovX21 says its metal recovery technology is applicable to up to 39 metallic chemical elements, and has the potential to recycle other materials containing metals, such as e-waste, flat screens, refractory industry waste, PGM-plated electrodes and fuel cells.
Related Articles
Traditionally, waste management companies have operated using a simple "management of waste" approach to operating a MRF. Throughput targets and continuous operation (minimal downtime) were the main driving forces. The industry has changed however, and the focus moving forward is now on optimizing system performance and reliability, in conjunction with increasing recycling rates and a drive for a "greener" and more sustainable tomorrow.
When considering the addition of, or upgrade to, an "intelligent" MRF, for municipalities or private operators, the main factors should always be the client's (operator) current requirements, and evolving market needs, which include throughput, reliability, output quality, and adaptability. Equally important is a full understanding of what is really expected from any proposed system. Having an engaged and focused mindset for the project with the client from the beginning, will impact and drive the entire design process. This then impacts the overall project result, through to the productive, efficient, ongoing operation of the facility itself.