Beka-Lube Introduces Precise, Single-Point Auto-Lubricator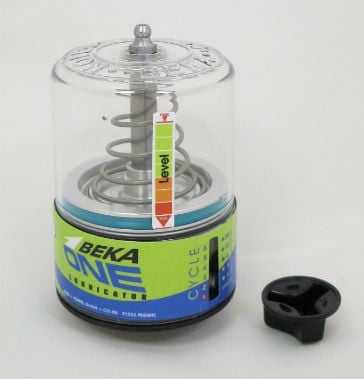 Beka-Lube Products Inc., has introduced a single-point lubricator, the BEKAONE, the new single-point lubricator reliably and precisely supplies grease to any existing lube point. It makes sense for hard-to-access and hard-to-service lube points in almost any application including: motors, drives, bearings, conveyors, compressors, and chains.
"It's easy to forget to check the lubrication every day," says Dave McDougall, Product Manager, Beka-Lube Products. "BEKAONE takes care of servicing hard-to-reach lubrication points on a regular basis, so you can forget."
BEKAONE will operate independently and automatically for up to two years. It's easy to install and refill. Set-up for lube cycle and dose is right on the pump itself. The pump displays how many cycles are remaining. BEKAONE's compact size ¾ only 76mm (2.99") in diameter, holding 120mls (4 oz.) of lubricant ¾ means it can fit into tight spaces. It also has class-leading, 10 bar pressure. Each unit can be refilled up to six times manually with just a grease gun.
Manufactured in Germany, the BEKAONE is tough enough for the Canadian climate. The sealed electro-mechanical pump and lithium ion battery are designed to operate efficiently in temperatures between -20 °C and +60 °C with a suitable lubricant.
Compared to manual greasing, BEKAONE automatic lubrication:
Saves time servicing hard-to-access and remote lube points
Improves coverage as lubricant is applied while equipment is operating
Improves safety and is more environmentally friendly because it eliminates leaks and spills
Increases component life
Decreases repair costs
More from Industry News
Single-Ram and II-Ram High-Capacity Balers
At Machinex, we've been designing sorting systems for over 35 years, so we know how essential it is for MRF operators to have a baler they can trust and not worry about its operational reliability. This is why we design and manufacture reliable single-ram and II-ram high-capacity balers to specifically help optimize their operations.
Watch the video of our expert who presents the main features of Machinex balers delivering these important benefits:
Easy & accessible maintenance
Reduced maintenance & bale handling costs
Energy savings
Optimal bale density
For C&D recyclers, waste haulers, demolition contractors and landfills, there is a growing opportunity to profit from rethinking processes. Although every operation is different, by streamlining the front end of the C&D operation processes with purpose-built technologies, recyclers can tap into new end markets, accommodate higher material volumes, stay ahead of regulatory restrictions, increase recovery rates and add commodity revenue, while decreasing labor and other costs.
Download the new eBook to learn about:
Finding opportunities in the alternative to landfilling C&D
How facilities can increase their profits from C&D
Using the right C&D processing technology in the right locations