SWANA's WASTECON 2015: "Inventing the Future of Solid Waste Management"
Over 2,000 attendees make it to Florida for one of industry's largest annual events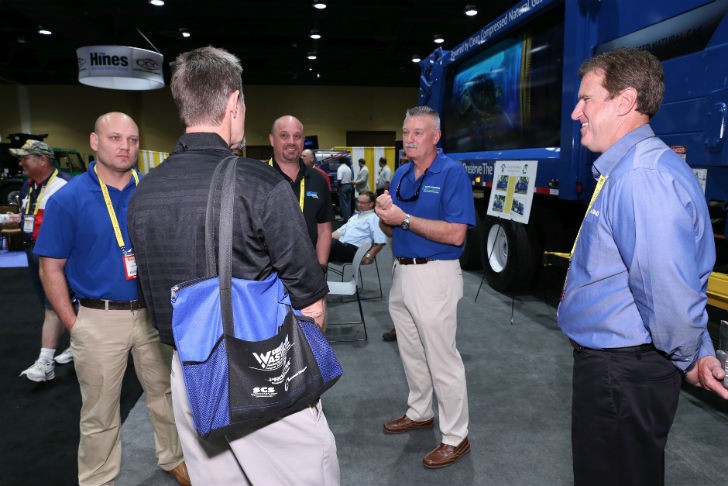 Held August 24th through 26th at the Gaylord Palms Resort and Convention Center in Kissimmee, Florida, the Solid Waste Association of North America's (SWANA) WASTECON 2015 hosted more than 2,000 attendees, featured a packed welcome reception, and an awards breakfast honouring some of the most successful companies in the waste and recycling industry. SWANA says they enjoyed a busy trade show floor, packed educational sessions, and hosted a successful, inaugural 5k run/walk for charity.
"WASTECON 2015 exceeded expectations for both exhibitors and attendees. We were very pleased by the crowded educational sessions, the energy on the busy show floor, and by the exceptional Mega Session participation," said David Biderman, SWANA executive director and CEO. "More than 2,000 people gathered in Orlando, and we look forward to providing an even better show in Indianapolis in
WASTECON's opening day, Monday, August 24, included facility/technical tours and a golf tournament, as well as SWANA's first National Solid Waste Design Competition. This student team competition to solve a "real world" problem faced by solid waste professionals is aimed at providing design experience for students interested in pursuing an education and/or career in solid waste management. WASTECON attendees were able to watch teams from four universities compete for the 1st and 2nd place prizes. Prizes were awarded on Tuesday, August 25, at the SWANA Awards Breakfast. Massachusetts Institute of Technology (MIT) took home the 1st place trophy, while Florida Atlantic University landed 2nd Place.
Ignite WASTECON was back this year, getting attendees "fired-up" for the show just before the Opening Reception by presenting a series of five-minute talks that included just 20 slides that had to auto-advance every 15 seconds. Attendees were treated to a casual and fun atmosphere at this unique event and speakers included: Christy Hurlburt, West Coast Regional Sales Manager, Enevo, Inc. and Chester F. Phillips, Sustainability Program Coordinator, Compost Cats, Project Director, University of Arizona.
The Opening Reception held in the exhibit hall (for the first time ever) on Monday evening, officially kicked off the week of education, networking and technology showcases.
SWANA Awards Breakfast honours "Best in the Waste and Recycling Industry"
On Tuesday August 25th, SWANA held its annual business meeting and awards breakfast. The event not only honoured outgoing officers, industry retirees and those organizations with technically and economically sound municipal solid waste management programs, but the ceremony also covered SWANA's annual meeting points, including finances, formally introducing the association's new executive director, David Biderman, who discussed next year's show in Indianapolis, membership growth and revisions to the organization's by-laws. Brian Tippetts, outgoing SWANA President, started the event with a welcome and recognized the past presidents in the audience as well as the UK representative who was attending the show. He reported the organization's highlights from 2014, noting it was one the most transitional years in SWANA's history and called to the stage newly minted, executive director, David Biderman, to chat about SWANA and its goals in the upcoming year and beyond. Biderman noted that to date SWANA has 8,320 members, a record high for the association.
"Recruiting new members and retaining them are my priorities as executive director," said Biderman. He also gave a special shout out to John Skinner, SWANA's retired Executive Director, who spent more than 40 years in the industry.
"This organization is strong; its future is bright because of the leadership that John brought in all of us." In addition, he noted that SWANA will host the 2017 International Solid Waste Association's conference and trade show in Baltimore and that at the moment SWANA's focus is on improving safety all across the industry and he is working to get the waste and recycling industry off of the list of "most dangerous jobs in America." He also emphasized working with the young professionals throughout the show in order to mentor them, teach them and help them understand the ins and outs of this great industry
After Tippetts introduced the new SWANA officers, Michelle Leonard, SWANA's incoming 2015-2016 President took the stage and discussed SWANA's valuable connection to the industry, its educational offerings and its new mission to help the industry transition from solid waste management to resource management through education, advocacy and research. "Our work is going to continue as we are going to continue to engage our existing members and future members, balance the needs of both our industry and individual members, reduce the duplication of services between SWANA and its chapters, enhance the perception and image of SWANA and attract new, energetic members to get involved," said Leonard. "We need everyone to make this happen. I want your help and participation so that we can continue to modernize and grow our organization to remain relevant to our young and long-term professionals alike."
Finally, SWANA's Excellence Awards were handed to those organizations and individuals that have and continue to help change the face of the industry as well as SWANA. Winners demonstrated effective technologies and processes in system design and operations, worker and community health and safety, and successful public education and outreach programs. The 2015 awards honored 31 programs and facilities in 12 different categories, spanning many facets of the municipal solid waste industry. Award winners represented the most innovative and dynamic organizations throughout North America as judged by their peers, and SWANA was proud to recognize their accomplishments.
Awards were handed out in various categories. Some notable winners included a bronze medal for the Regional Municipality of York, Ontario's "Better Blue Awareness Campaign", gold for the Niagara Region's "Illegal Dumping On-line Reporting Tool", and a bronze medal for collection systems for the City of Toronto "Parks Collection System. Metro Vancouver garnered two awards including a bronze for the City's "Integrated Solid Waste and Resource Management Plan" and a silver for their "Waste-to-Energy Facility". Additionally, the Region of Peel, Ontario took home a bronze medal for their ""Material Recovery Facility Upgrade", and a gold medal went to Lafleche Environmental Inc., for their compost facility in Moose Creek, Ontario.
Show Floor Highlights and educational sessions
WASTECON's exhibit hall provided attendees with a first-hand look at new and updated solutions from landfill technology to hauling solutions, recycling processes, management strategies and more. According to SWANA, this year's hall offered more for attendees to see than ever before. In addition, special product showcases were highlighted at different booths and allowed particular vendors to put on a short presentation about their products and solutions, reaching multiple attendees at once. On Wednesday, attendees were able to not only take advantage of the great sessions, but also explore a second day of the exhibit hall featuring the latest and greatest in industry technology trends and solutions. At 3 p.m., the trade show reception began on the show floor and allowed people to mingle in a relaxed atmosphere with food, drinks and good conversation.
WASTECON's Safety Summit kicked off on Tuesday morning, with Roadside Inspections led by Florida State Trooper Kevin Nelms, who gave participants tips on what to inspect during random inspections on trucks and trailers. He highlighted the parts that were looked at, including lugnuts, tires (the biggest problem), secure load, current and correct driver's license, no protrusions and more. He also emphasized that the driver must be paying attention during inspection just in case the trooper has questions that need to be addressed. He also stressed that drivers need to know their trucks and trailers before getting on the road and how extremely important it is to perform your pre-trip inspections.
Tuesday marked the first day of the technical education sessions. The Mega Session, Zero Waste in NYC: Challenges and Opportunities, was the first of many informative presentations given by industry experts. Kathryn Garcia, NYC Sanitation Commissioner, spoke about the challenges that the city faced and what kind of solutions they've implemented to help them dramatically reduce waste and recover resources by investing in infrastructure, implementing policy and making a selection of diverse services available to residents and businesses. Some of the programs discussed included developing a zero waste program for public housing, incentivizing residents to reduce waste, as well as source separating food waste in large hotels, venues, wholesalers, and manufacturers. After the initial talk, attendees enthusiastically asked Garcia questions about program implementations, ROI and more. After the Mega Session and a brief refreshment break, attendees flooded into the conference rooms to hear different topics, such as Perspectives on Collection Technology, The Thermochemical Pathway as a Waste Diversion, Keeping Food Out of the Landfill, Innovative Closure Options for MSW Landfills, Transforming Your Recycling Facility Into a State-of-the-Art Facility and much more.
Technical sessions began again early Wednesday morning, covering topics such as Turning Landfill Gas Monitoring Data Into Actionable Information, 10 Steps to Inventing a Greener Future: Maximizing Diversion and Dollars and others. These packed sessions gave attendees the chance to hear tips and hands-on demonstrations of problems, lessons learned, what things should be considered and additional information to contemplate and take back to their organization. The packed Mega Session, Using Innovation and Technology to Transform the Waste Industry, featured speaker Nate Morris, co-founder and CEO of Rubicon Global, who discussed how technology is empowering independent haulers and recyclers to grow their businesses. He explained some of the ways technology innovations in the waste and recycling industry have the potential to revolutionize the way consumers view waste and haulers and recyclers do business.
"Things have dramatically transformed and we have to move in that direction to make sure that we capture the opportunity for the industry," said Morris.
Wednesday's Lunch and Learn Safety Summit featured a very interesting discussion on the main causes of landfill, truck and composting fires, how to prevent them and the importance of not only educating your staff on it, but also those professionals in the surrounding areas (like firefighters). It was a great lunch and a great talk and everyone thoroughly enjoyed the session.
On Thursday, August 27, educational sessions wrapped up the show with the last Mega Session. Smart Trucks: New Collection Technologies engaged attendees and panelists in a conversation about the state of technology in the industry now and in the future. Moderated by Don Ross of Kessler Consulting and featuring Ken Beaver from Environmental Solutions Group, Calum Forsyth from Webaspx, Jason Gates of Compology, Chad Grecsek from the City of Deerfield Beach and Tony Romano of Sonrai Systems, this session gave attendees the information needed to run operations more smoothly, including the acknowledgement of the evolution of technology and how that affects industry processes, as well as having a standardization for describing different services, which can lead to more production, and better answers quicker and cheaper. In addition to the final Mega Session, other technical sessions were offered throughout the morning, including The Value of Dumpster Diving, OSHA and DOT Compliance Issues for the Solid Waste Industry and other informative sessions designed to keep attendees in the know.
Inaugural 5K Fun Run/Walk Donates Funds to a Great Cause
On Wednesday August 26, WASTECON held its inaugural 5K Fun Run/Walk at the Gaylord Palms, benefiting the cause—Give Kids the World, a 79-acre, non-profit "storybook" resort located in Kissimmee, where children with life-threatening illnesses and their families are treated to week-long all expense paid vacations. More than 75 people participated in this inaugural event. Running and walking around the hotel's track area. Because this was a successful event, SWANA says they plan on making this a regular part of WASTECON every year.
Visit www.swana.org for more about Wastecon and the Solid Waste Association of North America.