Dem-Con MRF wins Gold at WASTECON 2015
CP Group system key to recovery of 95% of targeted material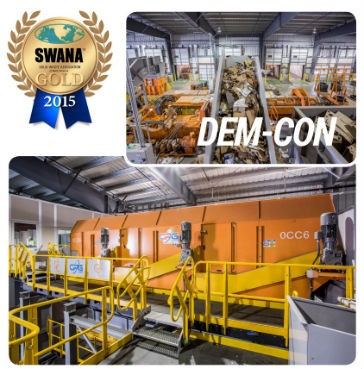 At this year's WASTECON 2015, held August 24th through 27th, Dem-Con Companies, LLC. was awarded a gold medal for its 20 TPH residential and commercial single stream recycling facility located in Twin Cities, Minnesota, as part of the Solid Waste Association of North America's Excellence Awards in Recycling Systems.
Since 1965, privately owned Dem-Con Companies had been known by their local Twin Cities neighborhoods as the go-to for recycling and disposal of construction and demolition debris. Late in 2013, Dem-Con and strategic partner Liberty Paper responded to the need for additional single stream recycling in the Twin Cities and upper Midwest by opening a new state-of-the-art system in a 70,000 square-foot facility, one of the largest systems of its kind in the state.
"As recycling participation has steadily increased in the Twin Cities area, we saw the need for a single-stream facility," says Dem-Con President Bill Keegan. "Minnesota has a requirement of raising recycling rates to 75%, and with more cities going to single stream, the market needed additional processing capacity," he continues.
San Diego-based CP Group designed, manufactured and installed the 20TPH processing system. Mixed single stream and commercial recyclables are processed, separated, sorted and baled by the latest in recycling equipment technology. The plant was designed to recover 95% of the targeted recyclable materials, and it is achieving that goal.
Dem-Con's facility provides Minnesota with more opportunities to recycle by allowing many haulers to offer single stream recycling at a competitive rate, minimizing the amount of waste going to landfill.
Education and outreach to the community is a priority for the Dem-Con team. The new facility has a state-of-the-art educational experience, including a "Green Grades" educational program targeted at 4th-6th graders. With over 1,700 visitors in year 1, the DCMRF is already on pace to nearly triple the visitor rate in year 2.
"We are fortunate to have customers who are forward thinking," Keegan says. "We are excited to provide these services to the Twin Cities and greater Minnesota and [to] be an active part of increasing recycling rates and diverting more materials from landfills."
Company info
13020 Dem-Con Drive
Shakopee, MN
US, 55379

Website:
dem-con.com
Phone number:
952-445-5755
Read more