Machinex MRF opens in Newfoundland, beginning new era in waste management for province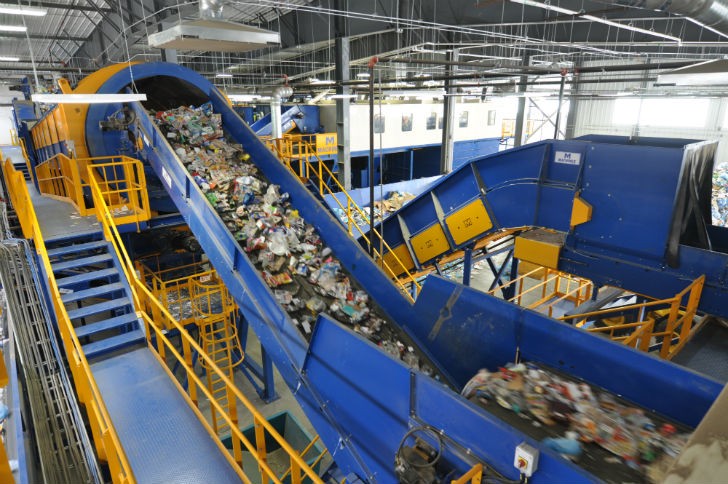 At the end of August, Central Newfoundland Waste Management (CNWM), in collaboration with the Machinex Group, officially launched its brand new state-of-the-art Material Recovery Facility (MRF), marking the beginning of a new era in waste management in the province.
Honorable Keith Hutchings, Minister of the Department of Municipal and Intergovernmental Affairs officially opened the new facility - the second MRF manufactured by Machinex in Newfoundland. The first plant opened in 2010 and is located at Robin Hood Bay in St-John's Newfoundland.
The new MRF and associated infrastructure was constructed at a total cost of 22 million dollars.
Located at landfill site in Central Newfoundland, the plant is able to process up to 12 tons per hour of dry residential and commercial waste. The system, designed by Machinex, offers the most cost effective balance between manual labor and automated sorting equipment including a Bag Opener, a Trommel, a MACH Ballistic Separator, a Ferrous Magnet, three Plastic Perforators and a Non-Ferrous Separator. Some of Machinex latest technology is also included within the system such as the new Optical Sorting unit MACH HyspecTM and the Machinex II-Ram Baler. The plant is additionally equipped with elevated tour platforms installed within the building, a nice feature that provides a safe environment for the public to view the system in operation. Due to its operational flexibility, the plant will process a wide composition of material while focusing on the recovery of recyclates such as paper, cardboard, ferrous, non-ferrous, PET & HDPE plastics bottles, mixed plastics, wood, film and textile.
"We here at Central Newfoundland Waste Management are very pleased to be working with the professionals of Machinex. Their expertise in innovative recycling solutions is another piece of the environmental responsibilities that our group has in Central Newfoundland. The performance of Machinex sorting equipment has exceeded our expectations, and they continue to improve our operations with their leading edge recycling technologies", mentioned Ed Evans, CAO of Central Newfoundland Waste Management.
"It was indeed a pleasure to work with the people at CNWM during the design and implementation of Machinex equipment in Central Newfoundland. This being the second Machinex facility in Newfoundland shows the Machinex commitment to quality and excellence. We are indeed honored to be part of this state-of-the-art facility which includes the latest technologies developed by Machinex", explains Jonathan Menard, Project Director at Machinex.