First CBI Airmax installed at Complete Materials Management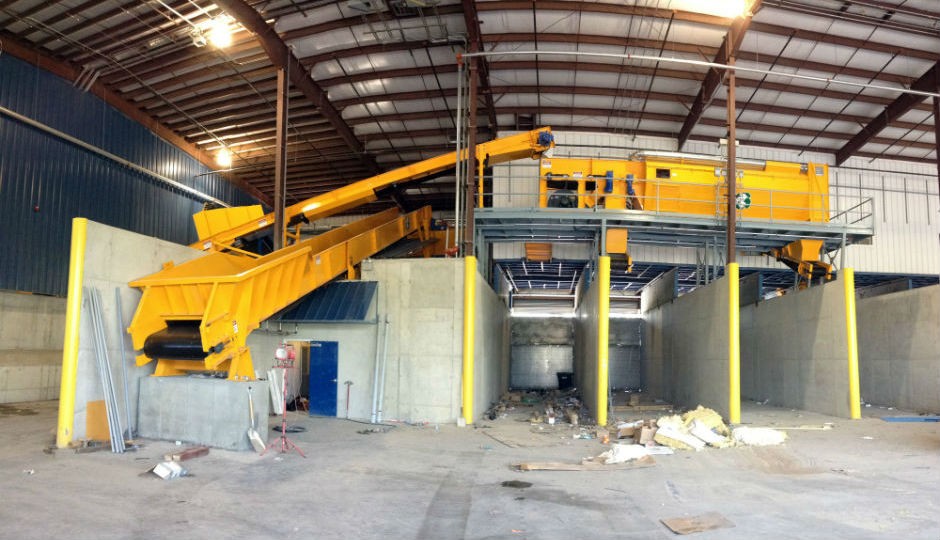 For over 15 years, Continental Biomass Industries has engineered and manufactured customized construction and demolition (C&D) recycling systems across the globe. While each of its in-line systems carry similar characteristics with occasional design tweaks, the recycling center at Complete Materials Management in Southbridge, MA stands as a landmark project. The 47,000 sq. foot facility, which is set to begin production by mid-August, will utilize the first CBI AirMax Material Component Separator ever produced.
As a substitute to standard air knife separators, the AirMax gives Complete Materials Management a dust-free, quiet and efficient material separator that is capable of handling the toughest C&D material in the North American market. It features an adjustable feed and adjustable air flow for multiple applications including C&D recycling for heavy/light separation, auto shredding for non-ferrous metals/light separation, plastic shredding for non-ferrous metals/plastic separation and compost facilities for rock/wood separation and wood/plastic separation.
The AirMax entered the market earlier this year and has given CBI's stationary product lineup a new dimension. In all, the unit requires only 32 HP, much less than traditional air knives found at other material processing facilities. The fast air flow inside the AirMax is constricted while it's performing the separating, so once material gets inside the chamber, air disperses quickly and the material falls onto the discharge conveyor. Its stands at just over 8' in height and 31'-10" in total length.
"A few years from now, I see the AirMax operating in multiple industries," said CBI Stationary Systems Manager Matt Skinner. "It is useful for C&D recycling, mulch clean up, compost cleanup, glass recycling separation and automotive fluff recycling. It's rugged enough to survive the US market and is small enough to fit inside a shipping container for shipping and transportation."
Complete Materials Management's C&D system includes proven CBI equipment such as the Taper Slot Screen and Grizzly Mill stationary grinder. CBI felt the AirMax was the ideal product to help C&D recycling centers get the most out of its raw waste material that is trucked in for processing.
"It's so universal in regards to what products it can be used in," said CBI Stationary Line Sales Manager Tim Griffing. "It's very versatile for the different products. The advantage of it is not only an air knife but it also works with a vacuum."
Additionally, the AirMax is ideally suited for glass separation. In single sort systems, glass is broken at the beginning of the line and are later screened. All the glass (one-inch or less in size), bottle caps and shredded paper becomes difficult to separate with everything crushed at the beginning. In that case, single sort systems need to get it cleaned up and that's what the AirMax is designed to do.
"It does everything a standard air knife does but it does it in a self-contained self-filtering package, so you don't have dust or air control issues, you don't have dirty air blowing everywhere," said Skinner. "It's a neat stand-alone package that does the separation. It has multiple adjustment points for tuning in what you're trying to separate."