Allied-Gator: in the spotlight
Our first-hand look at one the recycling industry's leading manufacturers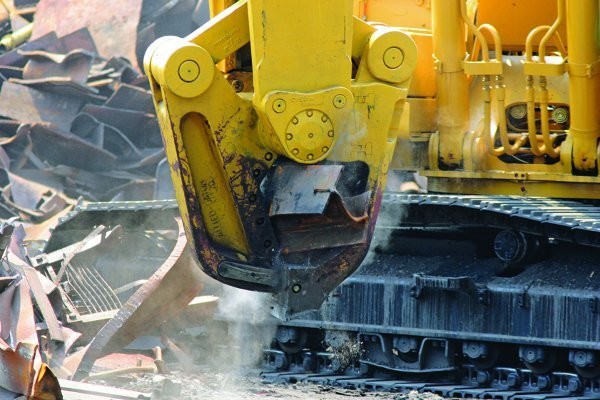 by Keith Barker
Youngstown, Ohio-based hydraulic attachments manufacturer Allied-Gator, Inc. began its operations in 1973. The company started out in a tiny, 900 square-foot brick building on a four acre piece of property located in the once booming steel town of Youngstown. Today, the company occupies a 25,000 square foot corporate office, more than 320 acres, and is set to move into a newly-built state-of-the-art 215,000+ square-foot CNC machining facility.
"It's more than just a business to us; our family has a heritage in this industry," says Mike Ramun, the company's Sales and Marketing Manager.
"Before 1971, there was a four-acre chemical plant on Poland Avenue in Youngstown, called Allied Chemical, where my father and grandfather purchased property to begin their business. Because everyone associated the location with the former Allied plant, they continued to use the Allied name. When they built their first mobile shear in 1977, it resembled the head of an alligator, and adding 'Gator' to 'Allied' seemed like a natural fit."
Since then, Allied-Gator has been continuously developing innovative equipment for the demolition and scrap recycling industries. In January, Allied-Gator unveiled its latest innovation – a completely redesigned, state-of-the-art Web site, designed to further educate the industry about the company's flagship product, the patented MT Series Multi-Tool. The MT is Allied-Gator's 4th generation mobile attachment design and signifies nearly 40 years of the company's innovation and commitment to mobile shearing technology. The site (www.alliedgator.com) features over 4.5 hours of compelling high-definition videos of the MT in action, as well as an extensive library of high-resolution photos, and an industry-first interactive product guide.
The MT Series Multi-Tool in Canada
"We see a wide variety of MT sizes being sold throughout the U.S., Canada, as well as other countries internationally," says Ramun. "The Canadian market is strong and growing very quickly. So is the Allied-Gator market presence in Canada. "Canadian recycling and demolition professionals are proving themselves to be very educated and extremely competent when it comes to their operations. In my personal experience, the professionals I have dealt with in the Canadian market have been extremely intelligent, mechanically inclined and willing to take the time to understand their equipment.
"They have a firm understanding of how the features and benefits of the MT will enhance their operations. They have been very perceptive and have successfully applied the exclusive technologies of the MT to their operations in order to profit in ways they never could with other equipment.
"Of course, every operation has a unique combination of needs, so we approach each customer's specific processing needs on a case-by-case basis."
"One of the MT's unparalleled advantages for the Canadian market is its ability to work successfully in severely cold conditions," continues Ramun. He explains that specifically due to its proprietary High-Alloy Steel CAST components and modular design, users can rely on the performance of the MT, even in brutally cold environments. And because the MT's cast material is completely solid, it is virtually impervious to the adverse effects that cold temperature conditions have on steel plate material and construction used in other attachment designs.
"Steel plate tool construction often fails in extremely cold environments due to weld failures and internal stress risers which are inherent to all steel plate fabrications," explains Ramun.
"In contrast, the MT's main components are pinned and/or bolted together, and do not rely on welds or steel plate fabrication for strength, thus allowing for maximum durability and quick and easy in-the-field serviceability by the end user.
"There are Allied-Gator MT units that have been successfully performing demolition and recycling work in some of the most extremely cold environments in the world, including temperatures as cold as -51 degrees C (-60 degrees F)."
The Multi-Tool
With sizes to accommodate any machine, from skid steers and compact equipment to the world's largest mass excavators, the MT Series Multi-Tool is offered in 11 sizes ranging from 800 to 52,000 pounds. It is covered by nearly 90 U.S. and foreign patents, both issued and pending, and is unique in both its design and performance attributes.
"For full-time scrap processing and demolition applications, the MT out-performs and out-produces every other processing attachment available on the market, dedicated or otherwise," says Ramun. "The MT cuts scrap and crushes concrete more effectively than any other shear or crusher, so its blades and teeth naturally last longer. Our customers are experiencing nearly double the blade life of other shear designs."
"Allied-Gator's MT Power Gain enables the tool to power through the cut, rather than chew on scrap, which maximizes blade life and dramatically reduces overall tool maintenance," he explains. "In addition, MT wear parts are very reasonably priced and readily available."
According to Ramun, the MT Series Multi-Tool's patented Power-Link and Guide System is an innovative and dynamic concept in leverage utilization. This system powers the tool jaws extremely efficiently by linking the tool's cylinder to a pair of levers, delivering the highest possible levels of power. Due to the force generated by this system, there is an ever-increasing power gain, rather than the less effective power curve or loss found in other designs. From a fully open jaw position, the MT Series Multi-Tool dramatically increases in power with every inch of closure, resulting in 99 percent mechanical-hydraulic power efficiency. Standard blade life on the MT ranges from 60 to 80 hours per blade edge, and even longer in strictly mild structural steel cutting applications, with four- and eight-way indexable cutting blades used throughout the jaw.
"The MT cycle speeds enable twice as many cuts per working hour as any other shear design, which equates to a tool that is twice as productive during those 60 to 80 hours." And when it comes to durability, Ramun says their MT is second to none.
"With every ounce of its original power and performance levels, the first MT Series Multi-Tool ever produced has now been continuously performing for over 24,000 hours in some of the most brutal scrap processing and demolition environments imaginable," he says. "Working effectively well outside the average lifespan of any other processing or demolition attachment of its kind, the first MT Series Multi-Tool has never experienced a component failure or a non-wear part replacement. In fact, this MT has outlasted three excavators and is now on its fourth carrier."
Ramun also points to the fact that the MT is able to open and close at extremely fast speeds, and is very versatile, with patented Quick-Change jaw sets that can be interchanged in the field in as little as fifteen minutes. Jaw sets include the MT Shear Jaw Set, MT Cracker/Crusher Jaw Set, (with available MT Rail Breaker Tooth Segments) and the MT Densifier Jaw Set.
"The MT's versatility has enabled it to emerge as the only attachment capable of continuously performing the ultra-heavy, special application needs of demolition and recycling professionals," says Ramun.
Using the MT Shear Jaw Set, users can process (full-time) hardened steel wire, heavy drag line cable, rebar, mandrel coil and stainless steel; with the MT Cracker/Crusher Jaw Set, users can process heavily reinforced concrete, cast and rail; and with the Densifier Jaw Set users can compact heavy steel sheeting and other materials that are too thick to be baled by stationary or mobile baling machines.
"The MT product line is designed and manufactured to incorporate our company's unique, hands-on and inside knowledge of the recycling and demolition industries," says Ramun. "Allied-Gator will be releasing new and innovative technologies to the industry in the coming years, which will continue to pioneer and advance the mobile shearing and hydraulic attachment industry."